Captain Morgan
Sponsored by

How to Gift Like a Champion
Sponsored by

There are many types of gift givers in this world, from the homemade, craft–y gifters ("A candle holder? Made from a tin can? I love it!"); to the last-minute gifters ("Hey, thanks for the … thing you clearly nabbed next to the register at checkout!"); to the classic re-gifters ("This looks just like the sweater Mom gave you last—I mean, I love it!"), with plenty of subspecies in between.
Of course there are also genuinely thoughtful, talented gift-givers, and we use the word "talented" on purpose, because gift-giving is a talent. Sadly, it's one that most people lack. But that's where we come in. Here, a super handy, cocktail-focused gift guide that works like one of those little trampolines they place in front of the hoop at halftime of basketball games; it'll magically spring you to a slam dunk gift for every person on your list.
Courtesy of Amazon
Urrgh. You wouldn't like your pal when he's thirsty. Or his drink is warm. Avoid both nightmare scenarios—and have some laughs in the process—by getting him (or her) this hulking, hilarious, and versatile drink cooler. It can hold (and cool), cans, bottles, and glasses.
As these gadgets inevitably take the world by storm, coasters will become a thing of the past, like steam engines, typewriters, and rotary phones. Because who needs a coaster when you can magically levitate your drink a half-inch above the table? No one, that's who. Just don't show one of these game-changers to fans of clown-themed hip hop duos still struggling with the concept of magnets. It will literally blow their minds, as this device uses two magnets, along with an electric field, to create its miracle.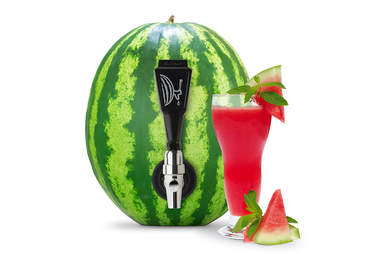 UncommonGoods
Take this keg tap kit, plug it into a large, hollowed-out fruit vessel such as a pumpkin or watermelon, add an appropriately seasonal batch cocktail (like this one) and—boosh—you have the makings of a party as nature intended. It's an ingeniously simple, easy-to-use gift that keeps on giving all year long.  
Whether your friends prefer a traditional Moscow Mule, or one of the many, many variations on the classic, their drink won't be complete until they own the mugs meant for it. That's where you come in.
UncommonGoods
Step up your friends' Tiki game with these stylish mugs that only look expensive. Pineapple is a Tiki staple that goes extremely well with rum, and it's also a symbol of hospitality and welcome dating back to Colonial times. Bring on the Rum Runners and Mai Tais.
You most likely have a Dancer, a Vixen and a Cupid in your crew, and you probably have a Rudolph, too. Help them keep track of their drinks in seasonal style with these practical party favors.
Advertisement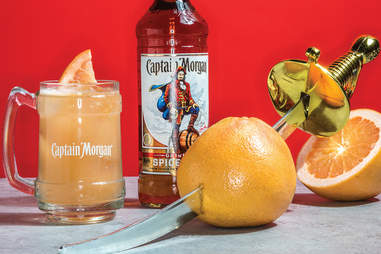 Courtesy of Captain Morgan
When it comes to gift-giving, they say it's the thought that counts, and whoever "they" are, they're right. So it makes perfect sense to put some thought into your gift. Don't just get your friend an airplane bottle of Captain Morgan Original Spiced Rum as a stocking stuffer; pair it with a can of cola or a mini tonic bottle and—boom—instant cocktail. That's a thought that will definitely count, big.
What's your holiday spirit? Ours is rum, which stars in Eggnog, Hot Buttered Rum, and any number of Hot Toddy variations, not to mention all kinds of party punches. You can't go wrong with rum this time of year. The same goes for the ugly holiday sweater, which has been elevated to an art form in the past decade or so. Get a bunch of them together and stage your own Ugly Sweater Fashion Show.
Courtesy of Amazon
Speaking of items that have been elevated to an art form, ice cubes have had their rad quotient spiked considerably in recent years. Check out these Skull and Crossbones numbers to add some swashbuckling flair to any drink, or these Death Star  and Darth Vader options for your Star Wars geek pals. For the nostalgic, you can grab Lego bricks, and for that Art History major friend who's still figuring out what to do with that degree, try these.
Take the already enjoyable activity of people watching to the next level with this ingenious spin on bingo. Gamers fill their card by spotting barroom flora and fauna such as a girls' night out, an excessive display of PDA, or a particular cocktail order. It's an inexpensive, easy, and fun way to improve a night out.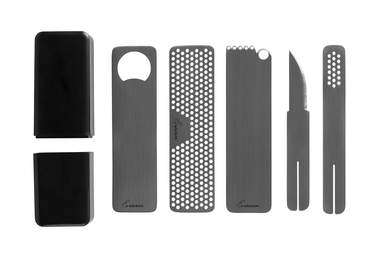 This pocket-size collection of bar tools may have been designed by MacGyver. It comes with a strainer, citrus zester, bottle opener, stirring stick, jigger, and bar knife—that's six tools in one compact package. It'll wow your home-bartender friends, and you may get a quality cocktail out of the deal.