5 Ways to Holiday-ify Your Gin & Tonic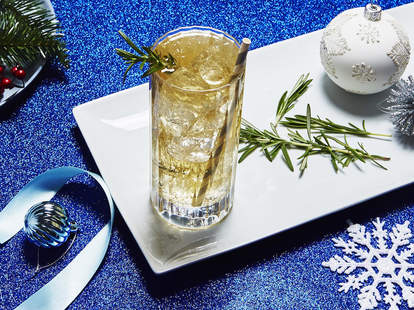 Gin & Tonics aren't just for summer days by the pool; the light and spritzy beverage is equally delicious come wintertime—it just needs a few simple adjustments. From easy syrups to festive infusions, here are five easy ways to holiday-ify your Gin & Tonic this season.
Use a Super Juniper-Heavy Gin
One of the most common tasting notes people use when describing a juniper-heavy gin is "Christmas tree." Well, 'tis the season to lean into it. If you're looking for a really Christmas-y Gin & Tonic with minimal effort, embrace gin's natural piney flavor by choosing an ultra juniper-forward gin. Some of our favorite bottlings include Sipsmith V.J.O.P. (which stands for Very Junipery Over Proof) and Bombay Sapphire.
Create an Easy Holiday Syrup
Sweeten up your G&T with a half ounce of a homemade simple syrup flavored with seasonal ingredients. For a fruity Gin & Tonic, make a cranberry syrup by steeping fresh cranberries in boiling water and sugar. Or for a rich, nutty G&T, make this fig and honey syrup, made with fresh figs, honey and water.  
Infuse Gin with Wintery Ingredients
If the standby gin on your bar cart doesn't cut it on holiday flavors, infuse it with wintery botanicals like cinnamon, clove and allspice. You can also turn a bottle of gin into trendy (yet traditional) Pink Gin by dashing in Angostura aromatic bitters, for a richly complex and warm G&T.  
Add Festive Bitters
Experiment with an array of holiday flavors in your G&Ts by adding seasonal bitters on top of the cocktail. They could be generic flavors like cranberry, peppermint and fig, or special bottlings such as Dr. Adam Elmegirab's Christmas Bitters (chocolate, cloves, cinnamon, nutmeg and orange peel) or El Guapo Holiday Pie Bitters (pumpkin, pecan, apple and sweet potato).
Garnish with Seasonal Aromatics
Instantly transform Gin & Tonics into holiday party-ready tipples by topping them with eye-catching garnishes. Skewer a sprig of rosemary with fresh cranberries for a garnish that looks just like mistletoe, or add in a cinnamon stick and star of anise, which will give the G&T a cozy aroma.