Fun fact: Hawaii is the only state in the nation allowed to farm coffee commercially, which means we've got the best locally grown coffee in America. But fun facts (and default props) don't stop the big chains from overpowering the independent coffee shops, even in our coffee-roasting archipelago. Over the past few years, Honolulu's coffee scene has been experiencing a renaissance, providing plenty of options to keep us caffeinated and happy. We rounded up our favorite local coffee shops to help perk up your day.
Manoa (& Kakaako)
Whether they're making espresso drinks like macchiatos or pour-over cups, this coffeehouse amps up its caffeine game with individually filtered, brewed-to-order cups of joe, because pre-made coffee doesn't exist here. Bonus: pour-over coffee lovers have a plethora of Stumptown roasts to ponder in addition to a Hawaiian coffee-of-the-day. The cups take about five minutes to brew, but the result is a cleaner, richer flavor that's sure to turn you into a coffee snob... if you're not one already. Stop by the original location to pair your caffeine fix with a breakfast & lunch menu shaped from local ingredients. And if you're on the go, the homemade baked goods are an excellent accompaniment.
Downtown (& other locations)
At first glance, this coffee shop's rotating sassy emoticon coffee sleeves might seem like the best part of the whole experience. Come on, who doesn't find a little bit of joy toting around a cup with a slanted-lipped emoji announcing "today was a meh kind of day"? They're basically made for Instagram. But besides its crafty mug sleeves, this coffee bar pumps out smooth, handcrafted orders of Verve coffee beans or custom-roasted Slayer espresso from a spacey-looking steam-powered machine to create a perfectly brewed cup. After a sip of a warm house blend or a cold-brewed iced coffee, it's enough to want to turn your emoticon frown upside-down.
Downtown
In this tiny coffee bar located on the ground floor of the Pioneer Plaza Building in downtown Honolulu, you'll find only 100% locally grown coffee, sourced from farms across the islands. This micro roaster offers up Thai lattes, maple white mochas, iced caramel cappuccinos with housemade caramel sauce, and also classic cups of black coffee, if you keep it simple. Pair your selection with homemade treats like a matcha green tea torte and consider your morning or mid-day exhaustion cured.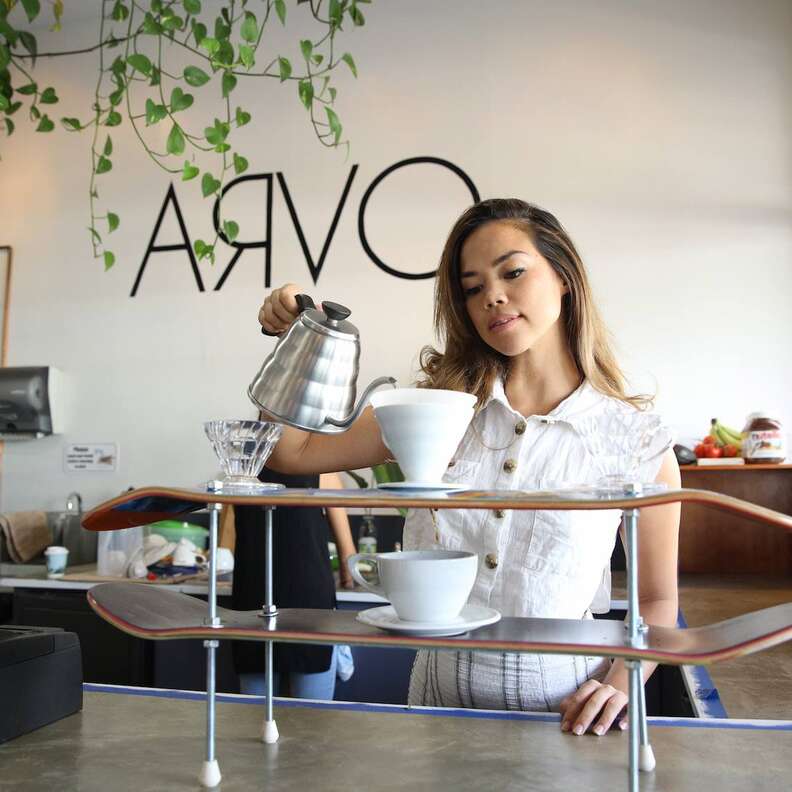 Kakaako
After Brue Bar vacated its pop-up spot at Paiko, it left a coffee-shaped hole in the botanical boutique, one that could only be filled by this Australian-style coffee shop. Get your java buzz the Down-Under way, with a Long Black (think super-strong Americano) or a Flat White (like a latte, but with less foam). If a liquid breakfast or lunch isn't enough to get you moving, the café is home to some pretty eye-pleasing and delicious snacks, like loaded avocado toasts and matcha chia seed pudding layered with fruits and edible flowers. And although "arvo" is Aussie slang for "afternoon," this joint offers a caffeinated pick-me-up in the mornings, also.
Waikiki (& Downtown)
Sure, its flagship store began in tourist-powered Waikiki, but the family-owned coffee shop knows its beans, as well as its customer service. Dapper, bow tie-wearing baristas whip, grind, brew, and pour signature blends made exclusively from locally grown beans. Those looking to satisfy a sweet fix can find liquid happiness with a Kai Latte, served with mac-nut whipped cream and a chocolate-covered mac nut topping, while coffee purists can relish pour-over coffee or a smooth 12-hour cold brew. For those looking to avoid the Waikiki traffic, a new Downtown location opened a few weeks ago, offering up with the same island flavors.
Downtown (& other locations)
One of the godfathers of coffee on the islands, this coffee company has been roasting high-quality local coffee since 1992, when Honolulu's coffee scene was nearly non-existent. What began as a small kiosk in Downtown Honolulu has expanded to include stores on Hawaii Island, Maui, Guam, Japan, and China, all serving the same ripe coffee cherries hand-plucked from its Kona coffee farm. Last year, the company opened the Honolulu Coffee Experience Center, which combines an educational coffee museum with a piazza-style café. But at any location, you can find everything from hot, 100% Kona French press coffee, to delicately designed latte art, to signature drinks like an iced Nutty Hawaiian. This coffee chain remains one of the best places in Honolulu to grab a consistently delicious cup.
Moiliili
The cozy café, located just a couple blocks from the University of Hawaii, is not only a comfortable study spot for the kids, but a specialty coffee house utilizing organic, fair-trade beans. Frappés and iced drinks are on the menu, but the shop's crowning glory is its hot lattes, with a golden caramel-colored crema, often the canvas for some truly lovely espresso art.
Kaimuki (& other locations)
Once a food truck that toted its beans and brews from curbside to curbside, this independently owned local coffee shop put down not one, but three brick-and-mortar roots in Honolulu. Find classic cups like cortados, lattes, Americanos, and espresso, sourced from local and mainland roasters. Add house-made syrups like lavender or macadamia nut for a customized pour, and be thankful you don't have to hunt down its truck anymore to get a daily caffeine buzz.
Sign up here for our daily Honolulu email and be the first to get all the food/drink/fun in town.
Summer Nakaishi is a freelance writer for Thrillist who's been known to take accidental naps after a cup of black coffee or two.