Sure, the bars you're about to read about aren't Honolulu's most important bars, but they're not bad places, and they don't encourage bad behavior... it just always seems to end up that way. These are the kinds of places where all of a sudden it's 4am, and instead of taking Charley's Taxi, you're walking home wearing someone else's rubber slippers and... um, not much else. These are Honolulu's eight best (worst?) bad decision bars.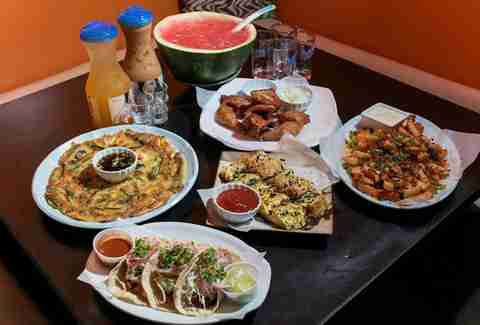 Kakaako
A bar named for complimenting a woman's rear in Korean slang is probably not the best place to start making good decisions. Especially not after the daily happy hour from 5-8pm, when you can start drinking fruit-flavored soju that tastes like your favorite childhood ice cream. Before you know it, you'll be ordering the watermelon soju (half a large watermelon, gutted and filled with distilled rice liquor) and a straw. It's only a matter of time before you'll be singing karaoke on the main stage, proving to your friends that you do too remember all the words to "Gangnam Style." Now if only you could remember all this when you wake up.
 
Waikiki
Maybe this economy-friendly bar is your first stop on your evening jaunt, or maybe it's your last ditch effort to shake it next to a warm body. Either way, this 18-and-over spot offers $1 drink specials all night long and plays music way past the curfew of that girl you're checking out. With drinks so cheap, if you bring $20 with you and leave with empty pockets, it's probably time to go home instead of climbing in the back of your new friend's pick-up truck, and joy-riding through cop-ridden Waikiki.
Downtown/Chinatown
Maybe you came to Honolulu's classic dive bar during First Friday or maybe you thought you'd get a quick cheap drink before heading down the street to Manifest for handcrafted cocktails or Bar 35 for its 200-plus beer menu. But maybe that one drink turned into two, then four, then... oh, who can even remember how many Jell-O shots or PBRs you consumed? You had fun though, probably.
Waikiki
By day, this Lewers Street institution moonlights as a cafe, where you can gorge on loco mocos and kalua pig nachos and sit back and watch a football game. By night, the upstairs pub morphs into an entirely different animal, where college kids, locals, military men, and tourists throw their inhibitions to the wind by way of nightly drink specials, and wind up covered in what they hope is sweat on the packed dance floor, and eating pulled pork bacon hot dogs at 4am from the food cart downstairs. The latter of which actually sounds pretty great.
Waikiki
Located in the lobby of The Modern Honolulu, with plush furniture and live acoustic music, this upscale drinkery is a sit back-and-relax type of bar rather than a hold-my-hair-back all-night rager. It's a grown-up bar with grown-up prices and grown-up bad choices: with handcrafted cocktails going for at least $13 a pop, before you know it, you're spending your grocery money on another round of Champagne Hazes, and just hoping that the hottie over there gives you a reason to spend your rent money on a room.
Kakaako
Although this watering hole operates as more of a lounge during daylight hours, as its name indicates, the popular Restaurant Row spot is really more of a nightclub than a bar. And it's almost impossible to discuss late-night bad decisions without mentioning the club (and its previous incarnations) that spawned so many great "what was I thinking" moments. We get it. It's hot, it's loud, it's crowded... and there's usually a $20 cover, which means you're determined to get your money's worth, whatever that means. And besides, thanks to the roaming lingerie-clad cocktail waitresses and three bars, making bad decisions at this place is so easy, it's almost not your fault. Almost.
Waikiki
You're on a boat! On the open ocean, with an open bar, and nothing to do but watch the sun set off the waters of Waikiki Beach, sipping Champagne, beer, or spirits, and/or all of the above. After squeezing out the most booze from your 90-minute cruise, let's call power-napping on the beach at 7pm, "plan B."
Waikiki
True to its name, this cash-only dive bar is tough to find, tucked away in a back alley, veiled in the shadows of Waikiki. Perhaps you started the night here with power hour, when beers and wells are $1 from 6-7pm, then planned to bar-hop downtown or to Kakaako, where the bathrooms are clean and the floors are less sticky, but stayed for the bargain-priced drinks. Or, most likely, you just somehow found yourself here at 6am, when the drinks are still stiff and the music is still loud, and you can forget that the sun is coming up over the Pacific.
Sign up here for our daily Honolulu email and be the first to get all the food/drink/fun in town.