Honolulu's Best Beer Bars
Courtesy of Pint and Jigger
Honolulu is rocking a serious beer game these days. In the past five years, our city has undergone a veritable beer transformation: once dominated by green bottles, we can now boast one of the most exciting beer scenes in the country. Five local craft breweries have opened on Oahu in the past two years alone, brewing exciting beers filled with local ingredients like guava, poha berries, pomelo, and Hawaiian chocolate. Add to that the hundred-plus breweries that have gained distribution to the state in the last 18 months, and Honolulu is seriously buzzing about beer. Plus, since the city's pretty small, you're never far from a great bar -- now with an amazing lineup of tasty beers.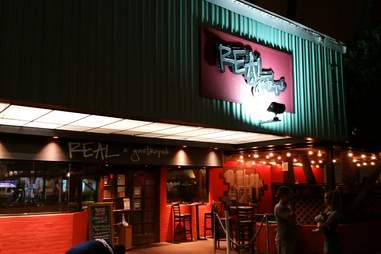 Courtesy of Real A Gastropub
Kakaako/Ward Village
This gastropub was among the first to kick-start the good beer revolution in Honolulu. Offering 36 taps and a constantly rotating selection of beer from all over the world, you can find rare gems here -- some that are hard to find even on the mainland. This is one of the few bars in the entire Pacific to regularly get Cantillon bottles and draught.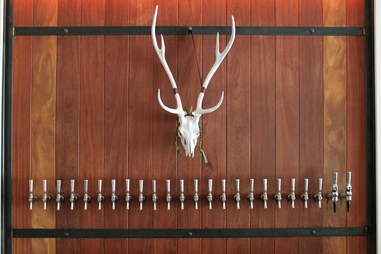 Courtesy of Square Barrely
Downtown
Burgers and really good beer: do you really need anything else? OK, it also has a great whiskey list and TVs for watching all your favorite sports. This place gets packed during lunch, so take advantage of the after-lunch slowdown to stop in for a pint or two. The gigantic communal table is great for getting together with a group of friends.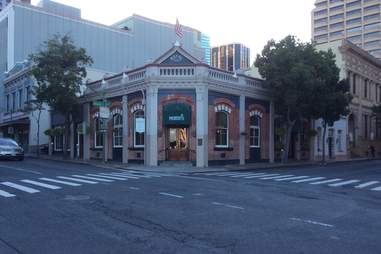 Courtesy of Murphy's
Downtown
This Irish bar is a local institution, and while it serves more than just Guinness, it's worth going here for a perfect pint of the black stuff, too. You'll always find something locally brewed on tap, including recent one-off releases from Waikiki Brewing Company. Opt for the bar area so you can chat with some of the friendliest bartenders around -- and have the chance to play some shuffleboard.
Courtesy of Pint and Jigger
Makiki
Some of the best modern pub food on the island can be found at this bar, which also comes fully loaded with great beer and super-high-quality cocktails. Look out for rare beer releases and mystery taps: it never reveals what the mystery tap is before you order, but don't worry -- the beer is always top-notch.
 
Downtown
The best pizza in Honolulu, plus great beers from breweries like Sierra Nevada, Deschutes, and Lagunitas, means this place is basically heaven on earth. A comfy, East Coast-style bar, the walls are lined with sports memorabilia, making this one of the most laid-back bars in town.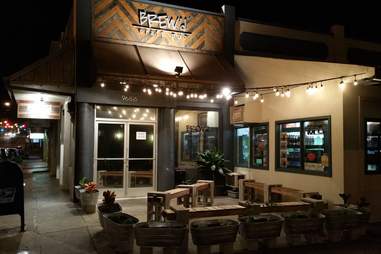 Courtesy of Brew'd
Kaimuki
This small -- and often crowded -- pub is a favorite for local beer enthusiasts. The coolers are loaded with hard-to-find bottles, while the 20+ drafts rotate almost daily. Don't miss the beer-braised brisket poutine, which will do nothing less than soothe your soul.
Courtesy of Puka's
Kahala
OK, this isn't exactly a local business. But Whole Foods Market at Kahala Mall recently opened this beer-centric bar, thus stepping up its beer game significantly. It's worth ordering a flight of beers just to have it delivered on a mini skateboard. Why not?
 
Kailua
​We know: another bar at another Whole Foods Market. But it has 24 taps pouring great beer -- often heavy with local favorites from Maui Brewing Company and Lanikai Brewing Company -- as well as food and beer specials. It's kind of perfect for doing a little shopping and then hanging out at the bar after. Plus, slippers are totally acceptable.
Courtesy of Hideaway Club
Barbers Point
OK, so you have to either be in the military, or know someone who is, to get onto the US Coast Guard base. But we swear, it's so worth it. An amazing beer selection in both draft and bottles, Hideaway Club also has an expansive outdoor patio where you can enjoy the sea breezes and a sand volleyball court. This place is totally a hidden gem -- if you can get there.
Sign up here for our daily Honolulu email and be the first to get all the food/drink/fun in town.
Tim Golden is a Certified Cicerone, experienced home brewer, and owner of Village Bottle Shop & Tasting Room in Honolulu. He can be found promoting Hawaii's beer scene at BeerinHawaii.com. Follow him @beerinhawaii.