Now that it's officially fall… um, nothing's really changed here in Hawaii, except there may be a few less tourists around for the next couple months, which means it's the perfect time to hit Oahu's best beach bars. Sure, some of 'em are the kind touristy spots it might be a bad decision to hit in the middle of summer/winter, but for now you can happily say screw walls/air-conditioning and do some day drinking by the ocean at one of these nine beachside boozers...
With an infinity pool positioned, well, at the edge of Waikiki Beach, this adult-only spot lets you wade al fresco as you sip cocktails and watch boats, surfers, and tourists frolic on the horizon. While the bar is open to the public, swimming in the pool is for Sheraton Waikiki guests only. So next time you're in the mood to treat yourself, book a staycation, then make like the tourists do and jump in the water and sip a lilikoi mojito or Mai Tai, and let your troubles drift away.
Perched alongside the walkway by the Army Museum and handball courts, you can get your day drinking on from 11am-6pm, under a shaded umbrella, just steps away from the beach. This small Hale Koa hut offers affordable beers and cocktails without too much Waikiki "paradise tax"-style inflation. But, with its self-proclaimed "Best Mai Tai on the Beach" going for less than $10 a pop, you can taste-test one or three and decide for yourself.
Like other beachfront bars lining Waikiki Beach, during sunlit hours, you can relax in the open-air patio, watching surfers and stand-up paddlers weave through the water. But right before the golden hour, seats fill quickly with guests lining up for prime sunset views and to watch former Miss Hawaii winners shake it to live Hawaiian music. Tables are first-come, first-served, so come early and relax under the shade of its century-old kiawe tree and sip a classic Mai Tai as graceful hula dancers curl their hands and hips as the sun sets on the horizon.
Named for the father of international surfing, this popular Waikiki hangout fills up seats and standing room space at all hours because of its easy seaside access, casual beach dress code, and of course, panoramic views of the Pacific. Like its name suggests, you can walk up to the bar in your bikini and board shorts sans rubber slippers and cool down with a frozen or icy cocktail before jumping back into the ocean. Just remember, surfing under the influence is probably not a good idea.
Tapas restaurant by day, spiked afternoon tea bar by afternoon, and nightclub/bar at night, the Sheraton's other beachside watering hole livens up Waikiki Beach with a daily pau hana happy hour, nightly live music and DJs, and Tiki torches that cast a flickering glow over the beach, as well as the crowd of both locals and tourists that typically packs the indoor and outdoor patio seating. There is also a section of roped-off, newly renovated, poolside VIP cabanas, where you can avoid the crowds and party like Cinderella with bottle service until the clock strikes midnight (or 1:30am on Fridays and Saturdays).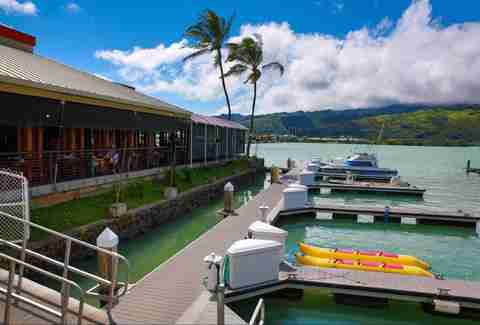 If you're looking for a waterfront setting specializing in island-brewed barley and hops instead of orchid-garnished spirits, try the Big Island craft beer company's nearly 12-year-old Oahu bar. Docked on Koko Marina, the pub is one of the few island restaurants or bars accessible by boat. The newly redesigned pub now features 48 taps, an expanded kitchen and menu, and an even grander view of Maunalua Bay.
This Leeward poolside bar is located in the middle of the Aulani Disney Resort and Spa, steps away from the Ko Olina Beach. Designed to look like a modern fisherman's seaside dock, the open-air shack has a high, thatched ceiling and is covered with fishhooks, cowry-shell lures and shark-tooth knives… and is also equipped with flat-screen TVs playing sporting events. Maybe it's not exactly the happiest place on Earth, but with a cold cocktail in hand, a calming beach view, and the ability to stay up to date on your fantasy football stats, it totally comes close.
Embrace the umbrella drinks and kick back and enjoy the ocean view from some prime real estate, because this beachside restaurant/bar is all about location, location, location. Positioned right on the beach, this eatery is situated in Turtle Bay Resort by Kuilima Cove, and is well known for being one of the only places on Oahu where you can actually dine and imbibe with the sand between your toes, and for being… ugh… featured in Jason Segel's 2008 romantic comedy Forgetting Sarah Marshall.
Tucked away on the west side, this hidden beachside bar is located on an Army recreation center, but is open to the public. With only a short concrete wall and a slated fence separating you from the tide, this waterfront bar is perched as close to the tide as you can get without getting wet. After a hot day at Yokohama or Pokai Bay, cool down in the shaded lanai with fresh poke and a cold beer, listen to live music, and watch the sunset on the calm, blue waters.
Sign up here for our daily Honolulu email and be the first to get all the food/drink/fun in town.
Summer Nakaishi is a freelance writer for Thrillist, who does NOT enjoy piña coladas. Sex on the Beach, maybe. But never piña coladas.