When you imagine yourself drinking in Oahu, the first thing that comes to mind is probably a candy-colored tropical drink -- almost certainly garnished with a hibiscus. But if you live here, Mai Tais can get old -- sometimes you'd rather have a nice glass (or OK, let's be honest: bottle) of wine. So we rounded up a collection of our favorite wine establishments across the island -- establishments where your glass always appears half-full.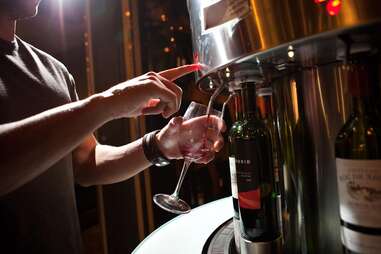 Ala Moana
Can't decide between the tempranillo or a cabernet? Or a pinot noir or zinfandel? At this wine-bar-tucked-inside-a-design-center, you don't have to. With over 80 labels to peruse and pour at your leisure, all you do is fill up your Amuse Wine Card (mentally setting a monetary limit before you start sampling is probably a good idea), circle the pouring dispensers like a predator stalking its prey, and sip all the 2oz tastings you damn well please.
Kaimuki
If you call yourself an oenophile (it means wine connoisseur, you sickos), you probably come to this cozy Market City bar on a regular basis. Maybe you're here for the classic, European-style wine cellar atmosphere, or maybe for the great happy hour wine list and food specials, but you're definitely here to enjoy one of the most extensive selections of French, Italian and fine wines on the island. Even if you're a casual sipper of wine and can't smell the difference between an oaky glass or a peppery pour, the knowledgeable staff at this twelve-year old eatery are sure to help you find the right flavors to suit your palate.
Downtown
When this Restaurant Row restaurant shuttered its doors after 15 years of business, wine enthusiasts across the island symbolically poured one out in memory of the rustic Italian tapas restaurant with the carefully curated wine list. Luckily, the mourning period didn't last long: Master Sommelier Chuck Furuya resurrected the restaurant in 2015, maintaining the fine wine reputation they're known for. His reasonably succinct wine list lives on, with eclectic wines from around the globe available by the glass.
Kakaako
A raw vegan restaurant might be the last place you'd expected to find a top-notch wine list, but at Greens & Vines Gourmet, you can pair your Living Lasagna or Kaffir Miso Pad Thai with biodynamic, organic, sustainable, and/or vegan wines. Depending on the weather, you can relax in their indoor seating area or on their outdoor patio, enjoying a cool meal and a glass of wine the next time you feel like going temporary vegetarian.
Waikiki
To get to this self-described hole-in-the-wall wine bar (Il buco is Italian for "hole"), you'll not only have to drive into Waikiki, but also burn your smartphone battery by GPS-ing your way to the Waikiki Sand Villa hotel -- without getting distracted by their glowing pool. Alas, your quest will not be in vain when you find the intimate, open-air wine bar and their rotating menu of Mediterranean bites and extensive 120-plus label wine list, supplying wines by the glass, carafe, and bottle. The options include grappa, which -- combined with the dark wooden ceilings and candle wax dripping down the gray brick walls -- makes it easy to pretend you're in a dusty, old Italian wine cellar. Minus the dust, of course.
Downtown
Before there was a HASR Bistro, there was a boutique wine shop, specializing in hard-to-find wines from around the world. These days, the wine shop and bistro share the outdoor patio as well as their wine collection, with select labels available by the glass, so you don't have to commit to a whole bottle -- although you'll probably want to. As an added bonus, wines purchased at their wine boutique can be opened in the restaurant sans corkage fee, and as a double, extra bonus: every Tuesday and Friday, you can stop by the wine shop for complimentary tastings starting at 5pm.
Ala Moana
Part coffee shop, part café, part grab, and go deli, part lounge, this all-in-one eatery also moonlights as a Pinot bar by night, with a single-minded dedication to all things Pinot. Why Pinot? Because it's owner Hide Sakurai's favorite type of wine. While they'll sell you a glass of Prosecco, you don't come to a place that has "PINOT BAR" spelled in wine corks mounted behind their bar. But if you're a fan of the wine made famous in Sideways, you'll likely find happiness with a glass of Pinot blanc, grigo, or noir.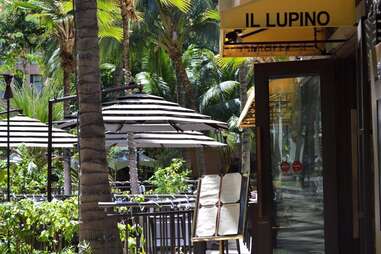 Waikiki
Whether you're in the market for a glass, a $30 bottle, or a $1,000 splurge, you can cheers to a successful day of shopping and beach-going over a massive selection of bottles at this Italian eatery, located on the bottom floor of the Royal Hawaiian Center. The wine list is so large it needs a table of contents, which you might find intimidating at first -- but it's ultimately helpful when you're narrowing down what part of the world you want your liquid fermented grapes to hail from, we promise.
Waikiki
Start your night off more elegantly than usual in the Moana Surfrider's lounge. You can sample exotic flights of wine in their-open air patio while the house pianist tinkles the ivories until 9:30pm every night. Plus: views of their iconic, 75ft tall banyan tree come gratis.
Sign up here for our daily Honolulu email and be the first to get all the food/drink/fun in town.
Summer Nakaishi is a freelance writer for Thrillist, and likes manchego cheese with her wine.