Sometimes, you find a bar by following the giant glowing sign with its name on it. Other times, you find a bar by walking through a really creepy looking, unmarked door without being sure whether you're in a bar or the opening act of a horror movie. While these excellent Houston drinkeries may not be "secret," they are hidden away enough so that you would never find them without help. And we're providing just that:
River Oaks
This hidden makeout haven, which opened in 1972 and moved to its current shopping center location in 1976, may be under new ownership, but its iconic, unassuming blue door remains. Go behind it to see why this hideaway gained a cult following that lasted 40 some odd years, despite having just its name written across boarded up windows in its original iteration. Also do it to make out upstairs, as is tradition.
Montrose
The sans-sign building that houses this lower Montrose hideout is just as elusive as the condemned elixir that it's named after. But don't let the vaulted door and dark, moody aura fool you -- the inside is as sultry and inviting as ever. Hit the low-lit lounge to sip flaming cocktails and get a glimpse into why absinthe played muse to the artists of 19th century Paris.
Midtown
Head to the front patio of eatery Cook & Collins, climb the staircase, and follow the neon key sign to unlock Midtown's most worthwhile secret. With powerhouse beverage guy Chris Frankel behind the concept, the clandestine bar has a short, but expertly curated collection of classic and house cocktails, plus an intimate, laid-back feel that stands out from its party-hard neighbors.
Downtown
Walking by, you may think this place is a custom tailor shop. That's because it is. But it's also a drinkery. Let us explain: the space once housed a bustling custom men's clothing shop in the 1930s, when Tailor's Row occupied Market Square. When business declined, owner Michael Shapiro added a bar to the shop to keep the business afloat. And guess what? It worked! Now you can get a whiskey and your pants hemmed!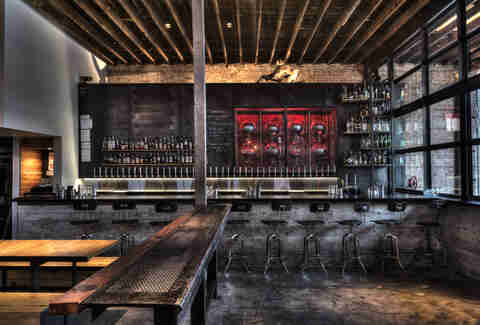 Midtown
One of Houston's greatest beer bars feels slightly off the grid thanks to no sign out front and the ivy veil that blankets half the building. But you'll want to step inside to get a look because it's also one of Houston's most beautiful bars. Stop by for 40+ craft brews and all kinds of cocktail goodness, plus a pretty excellent house pretzel.
Downtown
They say you shouldn't judge a book by its cover. We say you shouldn't judge a place by the name on its sign. Because if you did, you'd be missing out on one of Downtown's coolest watering holes. Opened in 1999 and named after Dean's Credit Clothing -- a 1940s department store whose space the bar now occupies -- the hip space boasts reclaimed woods and furniture, plus the oldest electric elevator in Texas (and the 3rd oldest in the country). Though the bar's been revamped under the name Dean's Downtown, the sign and eclectic, old school vibe of the original are still in tact.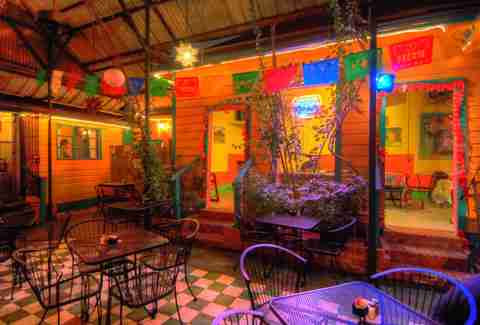 Warehouse District
If you want to enter this Northside Downtown institution, you'll have to submit to the longstanding tradition of knocking on the bright red unmarked door. Once you're let inside, you'll be greeted with a kitschy café, bar, and live concert space complete with frozen margs, a back patio, and classic Tex-Mex.
Downtown
Look past the giant neon Clark's clothing store to find this covert haunt, which manages to combine one of the most oddball looks with one of the friendliest feels (because having a bathroom with an extra chair across the toilet is friendly!). With stiff, cheap drinks and underground performances of music and art, the hole-in-the-wall is something everyone should experience, hopefully multiple times.
Fourth Ward
From the outside, this unmarked dive looks like an ordinary house. From the inside, it looks like an episode of Hoarders got sloppy and threw a really awesome rager. Enter at your own risk (which is absolutely zero risk, but it sounds cool).
Midtown
You still find a sign for The Mink hanging outside this discreet speakeasy. Though that spot has since closed, don't let that stop you from entering this dark, fresh space, which features a shotgun-style alleyway and a variety of vibes throughout the buildings that flank it. Whether you want '90s hip-hop and live alt-rock, or steak night and vintage cocktails, this alley bar has it.
Downtown
Right next to the sign for the Law Offices of Tucker Graves (can we just take a moment to recognize the best lawyer name to ever existed, ever?) lays an inconspicuous door. Go through it, then climb the dark and narrow, super creaky staircase all the way to the top. On the left, you'll see another weathered, wooden door. Open it. Now go inside and order something sexy. You just made it one of the best craft cocktail bars in Houston.
Rice/West U
In Norse mythology, Valhalla is a great hall where "Odin receives the souls of heroes fallen bravely in battle." On Rice campus, Valhalla is an underground lounge where "graduate students receive the beers of the heroes who make the beers." Though the hush-hush bar -- located underneath the steps of Keck Hall -- is not really hush-hush anymore, it still feels fun to sneak into the dark, cavernous lounge that has been keeping students quenched for over 40 years.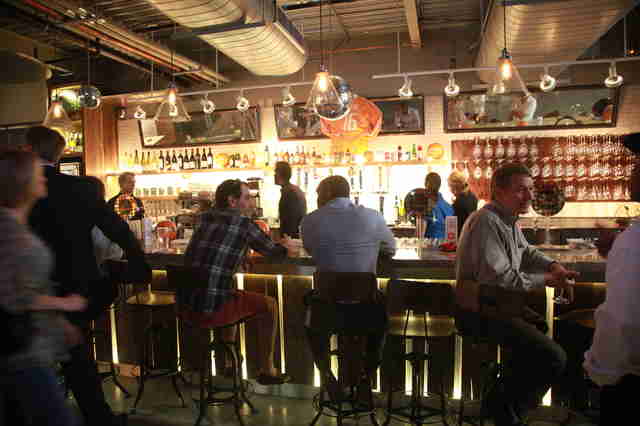 Downtown
You may think Phoenicia Specialty Foods is just an excellent place to grocery shop while watching fresh pita slide across a giant conveyer belt. And it is. But it's ALSO a place to get a delicious drink while eating za'atar spiced fries and listening to live music. Just head to their in-house MKT Bar for good times.
Downtown
Just a stone's throw from Market Square, hidden inside the 1910 Southern Pacific Railroad Building and adjacent from the Bayou Lofts lobby, you'll find this throwback to another era. It's the place to completely lose track of time over an Old Fashioned and SECRETS THAT YOU MUST TAKE TO YOUR GRAVE. Or just over the Old Fashioned, whatever.
Sign up here for our daily Houston email and be the first to get all the food/drink/fun in town.
Brooke Viggiano is a Houston writer who still can't get over the name Tucker Graves. Follow her musings on Twitter @BrookeViggiano.