As important as it is, we know this whole social distancing can get a little repetitive -- but you know what totally helps with that? Booze! And you know what helps out the hospitality industry at the same time? Local booze! With that in mind, we've scoured the streets for spots offering pick-up and delivery on craft beers, bottles of wine, and even DIY cocktails (and ICYMI, we've got you covered with the best food delivery in Houston, too).
Warehouse District
Houston's oldest brewery has been through it all with this city, so of course it's still alive and kicking during these hard times, bringing you a dose of happiness in the form of six-packs and special bottling selections. In addition to selections ranging from Orange Show and Art Car IPA to a 12-ounce Russian Imperial Stout Aged in Bourbon Barrels, you can snag To-Go Combos including a Pizza + Six Pack ($22), Two Burgers + Hand Cut Fries + Six Pack ($33), and a Whole Chicken + Two Sides + Six Pack ($36).
How to order: Call 713-686-9494, order online, or stop by its curbside pickup from 11am-8pm
East End (& Uptown)
Both the Navigation and Uptown locations of this fajita-slinging Tex-Mex institution have rolled out "Ninfarita Kits": a DIY margarita setup featuring Jose Cuervo Tradicional Silver, limes, and salt. Get 'em in sizes ranging from one glass (with an "airplane-sized" bottle of booze) to a gallon, which has 18-20 servings. All sizing options are available for curbside pick-up and delivery with the purchase of food.
How to order: Call 713-228-1175 (Navigation) or 346-335-2404 (Uptown) 11am-8pm daily, or order at Grubhub and DoorDash
Heights
Wine, beer, and G&T and Old Fashioned Cocktail Kits are up for grabs at this super popular neighborhood Italian spot. Those G&Ts come with muddle-your-own mint, express-your-own grapefruit, and gin and tonic water to measure and pour ($50 makes 5 drinks); and the Old Fashioneds sport Bourbon or Rye, plus Angostura bitters and turbinado ($40 makes 4 drinks). Order them for curbside pick-up (or delivery in certain areas) along with black pepper spaghetti, wood-roasted cauliflower, and Revival pepperoni pizza.
How to order: Call 713–637–4095 or 832-203-7890, after 5pm call 713-637-4095 or 832-203-7890, ask about delivery in the Heights, Montrose, Timbergrove, and vicinity
Heights
The Ranchwater punch at modern icehouse Eight Row Flint can get you through some tough times. Made with sotol blanco (similar to tequila), salt, lime, and Topo, nothing is more refreshing on a hot quarantine day. Order taco truck eats and tack on a cocktail kit by the 5- ($45) or 8-count ($80), or go for the equally appealing house margarita ($45 for 5, $70 for 7) and Old Fashioned kits ($56 for 7), all of which are available for delivery in the area from Shepherd to Studewood, I10 to 610.
How to order: Call 832-767-4002 for delivery only (closed Mondays)
EaDo
New York-style "Meatzilla" and Korean BBQ short rib "K Pop" pizzas deserve to be enjoyed alongside some good drinks -- you know this, we know this, and Vinny's knows this. That's why it's offering to-go beverages in the form of Old Fashioned ($35), Aperol Margarita ($34), and Mimosa ($30) kits, craft beers and mix-and-match six packs, and zero proof mixers like Cherry Limeade, Strawberry Lemonade, and Blueberry Electric Slide.
How to order: Call 713-750-9433 (closed Mondays) for pick-up or delivery (4-7pm) in EADO, Downtown, Midtown, Montrose, and vicinity
Montrose
Everyone's favorite Champagne-soaked brunch spot has cocktail and mimosa kits to keep the party going. Cocktail Kits are $8 each and include all the ingredients to make some drinks like Margaritas, Rum Punch, and Carajillos; and Mimosa Kits are $18 for a bottle of sparkling wine and a trio of fresh-squeezed juices. You can also score an additional 10% off its already discounted wine program.
How to order: Call 713-722-6899 to place your order between 11am-8pm for pick-up (or delivery within a 5-mile radius)
Midtown
This sexpot wine bar may be closed for the time being, but it's still open for to-go orders, with a 35% discount on all its wines and beers, to boot. Couple your selections with charcuterie, cheese, panini, and desserts delivered straight to your car.
How to order: Text or email your order to 713-529-VINO (8466) or orders@13celsius.com; you'll get a confirmation text back when your order is received and a time to pick it up, just text when you arrive
Montrose
Pick up Frozen Negronis (gin, campari, aperol, sweet vermouth, grapefruit, orange), Frozen Hurricanes (white & dark rums, lemon, passion fruit), and Frozen Mojitos (lime, rum and mint) to pair alongside eats from Underbelly Hospitality's Georgia James and The Hay Merchant. Food ranges from a 30-ounce Dry Aged Long Bone Ribeye from the Meat Market to the house favorites like the Cease & Desist double cheeseburger and Korean braised goat and dumplings (available in take-and-bake form). Even better, the entire Georgia James wine list is 20% off.
How to order: Place your orders online
Heights
The Eureka Heights Drive-thru is up and running, with new brews like its Norwegian-style Pale Ale AXHAT back in stock. Satisfy your inner viking by hitting the drive-thru weekdays 1-7pm and Saturday-Sunday from noon-7pm; and check out its Facebook to find fun "social distancing" events from the brewery, including Wednesday night online trivia and a "Laces Out" running club to help you get off the couch and go for a run.
How to order: Place a six-pack and/or crowler order online
Montrose
Because Chef Hugo Ortega & Co. have a pretty good handle on what the people want, his namesake Montrose haunt has made its excellent margaritas available to-go for both curbside pick-up and delivery. You'll get everything you need to make Hugo Ritas at home, a 375ml bottle Blanco Tequila, fresh squeezed lime juice, and housemade orange-agave nectar cordial for $44 with food purchase. Mezcal 'rita and sangria kits are available, too.
How to order: Order online or call it in at 713-524-7744
Shady Acres
The historic wild game lodge and restaurant has added six make-your-own-cocktail kits to its curbside to-go menu. Build martinis with bleu cheese-stuffed olives and lemon peels soaked in dry vermouth ($40 for 4), Old Fashioneds with maraschino cherries and orange peels soaked in bitter-sweet mix ($40 for 6), and Bloody Marys garnished with pickled green bean, pepper-stuffed olive, and lime. Wines are also 50% off, and beverage director/sommelier Marc Borel is on call for info and recommendations. For pick-up, pull through the valet entrance and they'll bring the order out to your car with a $20 food gift card for your next dine-in visit.
How to order: Call 713-861-8666, order, and pay
Northside Village
This Mexican-American dive rocks curbside pick-up and delivery on its full food menu (get the burger), family meal specials (get the wing box) and booze with any food order from 11am to 8pm. That includes beers, 375ml bottles, and mixers to make things like Milagro Tequila margs, Deep Eddy Moscow Mules, and Maker's Mark Old Fashioneds (each are $25 and serve six). It's also rolled out a pretty cool "On My Tab" program, where companies can put meals on their tab, and for every $6 spent, one meal is donated back to help feed hospitality workers, first responders, healthcare professionals, and folks who have been laid off due to COVID-19.
How to order: Call 713-842-7188
Montrose
After ordering housemade rigatoni bolognese from sibling establishment Paulie's, tacking on wines from Camerata is the next logical step. The wine bar is temporarily transforming into a retail bottle shop, rocking an online marketplace with up-to-date inventory and descriptions, free delivery within 610 (minimum order of $50), and eats and bottles available to take home.
How to order: Holler at 'em at 713-522-8466 or order online
Boulevard Oaks
Houston wine importer French Country Wines has expanded its delivery zone in order to reduce in-person shops (and curbside pick-up is available, too). Now you can get an array of Bordeaux, Burgundy, and Chablis delivered for free inside the 610 Loop (noon-4pm Mon-Fri) and outside the Loop (25-mile radius) for a $12 delivery charge. The shop is also Monday-Saturday from noon-6pm.
How to order: All orders can be made and paid for online, use the code 'goodjuice15' for 15% off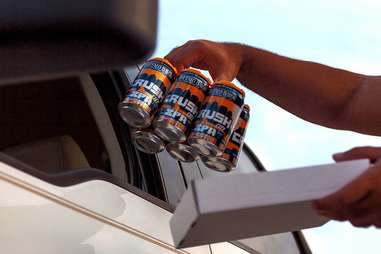 Arts District Houston
With an incredible new three-story location (with views of the skyline!) that we cannot wait to frequent once the madness is all behind us, the BuffBrew crew is still pumping out creative beers for us all to enjoy, available to-go at the brewery along with tasty pub grub (44 Farms all-beef pepperoni pizza, falafel wraps, and Happy Meal combos that come with a sandwich, fries, and 2 cans of beer). Just roll up to grab curbside delivery between 2-10pm, seven days a week.
How to order: Order online or call 713-714-3335
Heights
This Cali-inspired tasting room has created "Front Porch Packages" for you to enjoy in the safety of your own home (or your front porch, if you've got one). Pick one up to feast on meats, cheeses, and accoutrements like berry marmalade and roasted almonds while you sip increasingly discounted bottles. 1-5 bottles get you 15% off, 1-5 bottles with a minimum $20 food purchase or 6-11 bottles scores you a 20% discount on the wine, and 12+ bottles earns you a 25% discount.
How to order: Call 832-618-1233 for curbside pick-up
Sign up here for our daily Houston email and be the first to get all the food/drink/fun in town.