Did you know that there is actually cool stuff in Houston outside of Downtown, Montrose, and The Heights? Shocking, we know. Well these unexpected watering holes, sitting in slightly more suburban areas, prove exactly that. From north of the wall in Spring to the gardens of Pearland, the bars provide a treasure map of sorts, with the buried treasure being the discovery that you can, in fact, survive life in the Houston 'burbs. Lost mines and happy times await.
Pearland
That castle on East Broadway you've always gawked at is King's Biergarten, your go-to stop for biers, brats, and beer pretzels that you should most definitely dunk in Hofbräu Dunkel bacon cheddar sauce. Before it was a castle, it started as a snack stand selling beer and brats next to a car wash in 2009 and it expanded into a sprawling biergarten that locals flock to today. Here, you'll find all types enjoying half-liters of Hacker-Pschorr Hubertus Bock -- including a ton of families, because parents need lazy afternoon beers even more than you do. The Austrian and German beer hall has plans to open up a second location, King's Bierhaus, off T.C. Jester at the start of 2017. Until then, looks like it's a quick trip to the suburbs of Pearland.
Clear Lake/Webster
In perhaps one of the most perfect examples of Houston's "Mutt City" culture, all-American craft beer takes a trip through Saigon at this local Vietnamese gastropub. Sure, you can get craft brews nearly anywhere these days (we're just waiting for the day when they start selling them at Aqua Car Wash). Nobi, however, is considered to be in the craft beer elite. Sip snifters, tulips, and pints from its 200+ bottle & draft beer program -- one that's on par with any top beer bar in the loop -- and pick up a growler to go on the way out. But first, you'll want to partake in the Vietnamese portion of this experience, with char-grilled pork, pickled jalapeño, and queso-coated nachos and fries, banh mi-style hot dogs and Sunday-only pho.
Lazybrook/Timbergrove
It may feel like it's in the middle of nowhere (probably because it is), but this newly minted sports bar is the Pub Fiction of the 'burbs. Meaning it draws in a hefty Sunday Funday crowd, which is impressive given its location. Perhaps it's the expansive, flat screen-lined patio, seasonal 22oz suds and cool craft cocktails, and rotating selection of food trucks. Or maybe it's the Pop-A-Shot games; or the envy-worthy table set at the bar's center that is a legit adult swing set. And if you're not into the food truck of the day, take a walk to the excellent taco stand just up the street.
Memorial
Though most say you can't judge a book by its cover, you probably could judge this European-style cocktail spot in a similar manner. Nestled away in Hotel Sorella, the luxe bar and lounge oozes sex appeal. There's the twinkling ceiling and sleek indoor fireplace, for starters. Then there's the open-air courtyard, inviting infinity pool hugged by draped cabanas and mood-setting lanterns, and live music on weekends. Oh yeah, and the drinks. Those are pretty good, too.
Spring
Spring already had great barbecue, and it got its first taste of great craft beer in 2014 with the opening of this suds lover's ale house. There's 47 taps, including two casks, that are constantly tweaked and turned, and in true H-town form, there's a heavy promotion of local and Texas breweries. Sip pints of Brash Brewing's Milk the Venom Imperial Stout or Real Ale's 20th Anniversary Imperial Rye. Don't know what you want? Have a tasting sesh with 4oz flights; and when you find something you like, grab a growler or a few bottles to go.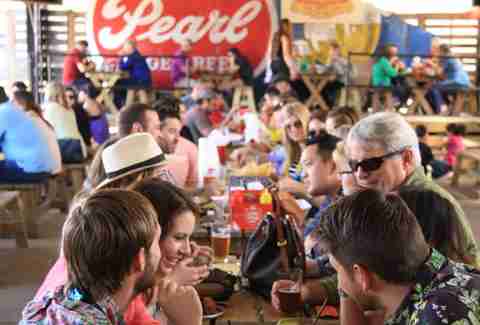 Garden Oaks/Oak Forest
Reppin' a fantastically huge patio, full bar & kitchen and roster of entertainment that runs the gamut from live jams and crawfish boils to corn hole and late-night fireside chats with your pup, this indoor/outdoor bar is pretty much the definition of easy-livin'. Go for the top-notch selection of bourbon and beer -- there's an enviable lineup of Texas and Kentucky brown stuff and 42 beers on tap, two of which are cask-conditioned. Then stay for the top-notch selection of bourbon and beer because you're probably going to be here for a while and it'd be hard to just have one. Then get a burger stuffed with poblanos and sloppily stacked with bacon, chiles, cheese, and a fried egg because that's awesome, too, and you're doing awesome things today.
Spring
Yes, there's a vintage Tiki dive in the Houston suburbs, and yes, the city's newest rum-fueled bar is worth the trip. Before opening up shop, owner Mark Voros traveled around the country to discover vintage recipes, some of which are 70 years old. Now, his bar whips up authentic and imaginative versions of classics from the South Pacific. Say Aloha! to Old Fashioned Voo Doos, splashed with apricot brandy and cream; or go Okole Maluna with some secret-recipe 1950s Zombies.
Garden Oaks/Oak Forest
A different kind of filling station, Petrol has been satisfying the hearts, minds, and stomachs of local beer nerds ever since it entered the scene in the harrowed days of 2007. With an IDGAF attitude, no frills demeanor, and true dedication to highlighting real microbreweries (sorry Hopadillo lovers, you'll no longer find any Karbach, here), it has become an absolute Houston classic. Bring a bud and make your way through the list of "Younglings," "Padawans," and "Jedis," an array of interesting, hard-to-score suds that even the uninitiated beer drinker can get behind. Just make sure to also smash the fan-favorite Rancor burger while you do so.
Memorial
You don't even have to enjoy bowling to have a good time at this Texas-born stud. Though we bet after a few handcrafted cocktails or colossal German-style beers, you probably will. The boutique bowling alley and drinking hall keeps four of those German-style (and local) beers on a rotating tap, along with the usual suspects and the not-so-usual red and white wine poured straight from the barrel. Get hot fried quail and a "dog pile" of mini hot dogs to keep you going while you share a few pitchers of Velvet Mules and attempt to knock over some pins. It's kind of B&B you can get behind.
Galveston
You can go to the island to spend some time in the sand, but you can also go to take a Daiquiri Time Out. The beachy dive is owned and operated by Brad Stringer -- you may recognize him from local favorites Boheme and Johnny's Gold Brick -- and he's dead set on bringing Galveston a classic, island-style cocktail culture. Be sure to order one of the bar's specialty daiquiris (duh), like the pineapple daiquiri made with Plantation Pineapple, pineapple, lime, and sugar; or the seriously boozy Zombie on tap, with Plantation 3 Stars, El Dorado 8 year, and Plantation overproof, plus refreshing hints of lemon, lime, pineapple, and passion fruit.
Clear Lake/Webster
When it opened earlier this year, Preamble hoped to ignite a #CocktailRevolution in the quiet Clear Lake area (its motto: "We the people, have a right to superior cocktails"). Its plan seems to have worked. The theme here is post-modern, Prohibition-style, with classics like the Ramos Gin Fizz and Corpse Reviver #2 playing nice with more seasonal inspirations, all of which are concocted using top-notch in-house mixers, syrups, and juices. Take the Colonial Old Fashioned, for example. The rye whiskey drink gets a fall smooch with allspice dram, apple bitters, and maple syrup. Superior cocktails, indeed.
Magnolia
We don't know who this Deacon Baldy guy is, but we like him. Part food truck depot, part watering hole, and part chill as hell, zero-frills backyard, this fairly new-to-the-scene spot offers 40 beer taps -- from 8th Wonder Haterade to Copperhead Red ale, plus craft cocktails (including build your own mules) and wine, if that's your thing. Food trucks like Cousins Maine Lobster and Luca Manfè's farm-to-streets Italian truck The Lucky Fig have signed on for permanent spots alongside a lineup of daily trucks. Just be warned: It's only open 'til midnight on weekends.
Lazybrook/Timbergrove
Anyone who knows anything about Houston will not be surprised to find not one, but two Vietnamese beer pubs on this list. Hanging out at the unassuming treasure Hughie's Tavern is kind of like hanging out at Cheers... if Cheers had 20 rotating taps, Viet-Tex-inspired grub and a way cooler crowd. Stop in the neighborhood hangout for a different special -- think $3 Texas beers, reverse happy hours, and $2 fire sales -- every day of the week (except Sunday when it's closed), and grub on some shaking beef and Vietnamese barbecue wings while you're at it.
Sign up here for our daily Houston email and be the first to get all the food/drink/fun in town.