Though we'd highly suggest getting to know every bartender in this city, we really highly suggest acquainting yourself with these innovators of all things boozy. Not only does this seriously creative crew sling the most masterfully crafted cocktails in the city, they are also pretty cool people. Here's exactly who you want to become your new bartending BFFs.
Leslie Ross
Canard
Address and Info
Heights
Working as everything from a dive bar cocktail waitress to hand-selling a portfolio of boutique spirits, Leslie spent her time conquering Houston's best cocktail bars and restaurants. She's now the HBIC and bar director for the Treadsack group, where she oversees six unique concepts, including her own badass bar, Canard. You can find her there with her team, stoked about their latest menu, Cocktail Exotica -- their take on Tiki with lots of French spirits, over the top garnishes, and really complex and fun flavor profiles. Be sure to ask her where the name of her specialty cocktail (below) came from because the story is pretty cool and this rockstar is knowledgeable as hell.
Specialty cocktail: "Absinthe & The Sisters Henriod- an incredibly approachable and refreshing cocktail featuring Pernod Absinthe, Celery Cordial, Celery Shrub, Celery Bitters, Canard's House Parfait Amour, topped with Rosé Champagne served in a Pontarlier Absinthe glass, complete with edible Parfait Amour and celery seed absinthe spoon."
Where she drinks when she's not working: "I like to keep it simple when I'm not at Canard. I love seeing what they have got going on down at Alex Gregg's bar Moving Sidewalk, especially when Shannon is there! And sometimes, when the stars align just right, you can find most of us at Grand Prize Bar with a cold Lone Star and a shot of Green Chartreuse."
What she loves about Houston: "Our adopted slogan is FYHA ( F**k Yeah Houston's Awesome) and I couldn't agree more. I really feel that Houston is in this perfect point in time. Our food and beverage community is the strongest it has ever been, and there is just so much talent in this city! I'm proud to live and work in a city that has as much to offer as Houston!"
Jessica Johnson
Wooster's Garden
Address and Info
Midtown
One of the fastest (and coolest) cocktail bartenders in the city, Jessica pulls off double duty as General Manager and full-time bartender at the high-end & high-volume cocktail bar, Wooster's Garden. Somehow, she even manages to make friends with all her guests as she works on a six drink stack.
Specialty cocktail: "Bells & Whistles - Cordial of Carrot-Tarragon-Coriander shaken with Grapefruit Juice. Catch the recipe on her blog ladybartender.com."
Where she drinks when she's not working: "Public Services. There's just nothing like sitting on an art-deco couch, listening to decade music, while enjoying a glass of bubbles and brandy."
What she loves about Houston: "The access to food from so many different nations. Dim sum for lunch, biryani for dinner, fajitas for second dinner!"
Tommy Ho
Anvil Bar and Refuge
Address and Info
Montrose
Houston born and raised, Tommy has been in the service industry nearly a decade now. For the past two years of said decade, he's been keeping patrons quenched at the be-all-end-all of Houston cocktaileries, Anvil. His dedication to the craft shows in every concoction he dreams up and you swiftly take down.
Specialty cocktail: "Currently on Anvil's summer menu, which just debuted, I've developed the Peddling Fiction, a refreshing blueberry and rum cocktail with hints of spice."
Where he drinks when he's not working: "Whenever I have a little time off, I like to head downtown and visit Nightingale Room, Moving Sidewalk, Captain Foxheart's Bad News Bar and Public Services."
What he loves about Houston: "I love that Houston is a diverse melting pot. I constantly get the opportunity to learn new things from people of all walks of life."
David Perez
Lei Low
Address and Info
Heights
This Houston Heights native got into bartending through beer, which eventually catapulted him on an adventure through cocktails and into the world of Tiki. A self-proclaimed big history nerd and the beachbum, you can find him as the head purser at Lei Low, sharing his passion for flavor and rum one tiki-fied cocktail at a time.
Specialty cocktail: "Song Bird - an exotic themed drink which includes Ed Hamilton Jamaican pot still black, Zaya Gran Reserva, Maraschino liqueur, Campari, Grapefruit juice, Lime juice, Donn's mix #2, and Bittercube's Jamaican #1 bitters."
Where he drinks when he's not working: "Where you drink in Houston when not working? Public Services for a fine glass of sherry. Mongoose versus Cobra to sip some ale."
What he loves about Houston: "Houston is my home. It feels like we've both grown up together. All the changes in the city are bittersweet but it's never lost its spirit to me. Running through the bayous, eating pupusas at a gas station, finding a tiki bar in an unassuming shopping strip, going to chinatown for dim sum, sweating your weight off during the summer are all reasons (among others) why I love this city. It maintains its character and diversity even through all the changes and growth it's going through."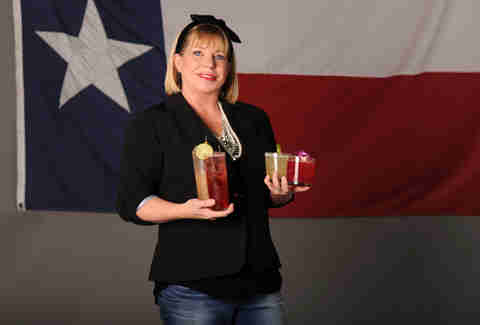 Laurie Harvey
Cherry Pie Hospitality (address and info)
Various locations
This seriously creative cocktail all-star knows how to keep Houstonians quenched and happy. After serving as the bar manager at Triniti, Laurie's current position as Beverage Director for Cherry Pie Hospitality, where she oversees all things liquid for restaurant concepts including State Fare and the coming-soon Pi Pizza. Her passion lies in creating culinary-based, original cocktail creations using the highest quality fresh ingredients and spirits available, and she spends a lot of time playing with funky new flavor profiles.
Specialty cocktail: "The Garden Variety because of its longevity and evolution. It has been on every cocktail menu in every program I have written in some form or fashion. It is light, spicy and refreshing with a Thai spicy vodka, lemongrass, ginger, cucumber, and citrus classic served with a cucumber garnish."
Where she drinks when she's not working: "My favorite place to drink when I am not working these days would be Wooster's Garden in Midtown. The menu is always original and interesting without being stuffy or presumptuous. Spirit options are always on point."
What she loves about Houston: "My favorite thing about Houston is the diversity and size. There are endless neighborhoods to explore for new inspiration!"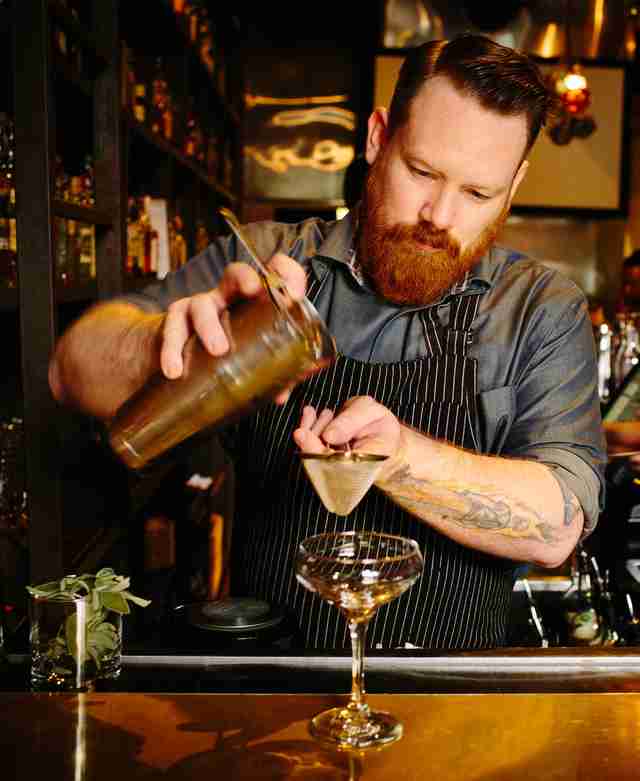 Alex Gregg
Moving Sidewalk
Address and Info
Downtown
Alex is a bartender of 16 years and hometown boy (yes, we'll count Galveston as hometown) with some serious pedigree. After sharpening his skills at Anvil and winning a bunch of competitions and awards, he now owns Moving Sidewalk and Ice Age, a hand-cut ice company that he started with fellow bar guy Aaron Lara. You can find Alex at the bar being totally stoked about their new summer menu, which is dedicated to the venerable Daiquiri, and continuing being the man with collaborations throughout the city. Like the collaboration cocktail that Alex worked on with Sean Beck featuring Sotol, Moving Sidewalk's Strawberry Basil Soda, a few other things and some hand cut, perfectly clear cocktail ice from Ice Age that's currently available at Hugo's.
Specialty cocktail: "The Watermelon Daiquiri on the menu is probably my favorite. Its super simple, and straight forward, comprised of Cana Brava White Rum, our house made Clarified Lime Cordial, Fresh Lime Juice, and a Cold Process Watermelon Syrup. The only problem with that one is drinking less than three."
Where he drinks when he's not working: "Poison Girl, Grand Prize, Anvil, Lolas, Little Dipper, Houston Watch Co."
What he loves about Houston: "The food. All the food. Also our diversity. The food is diverse too. Did I mention food? ( I say this as I recently stopped eating out every day... )."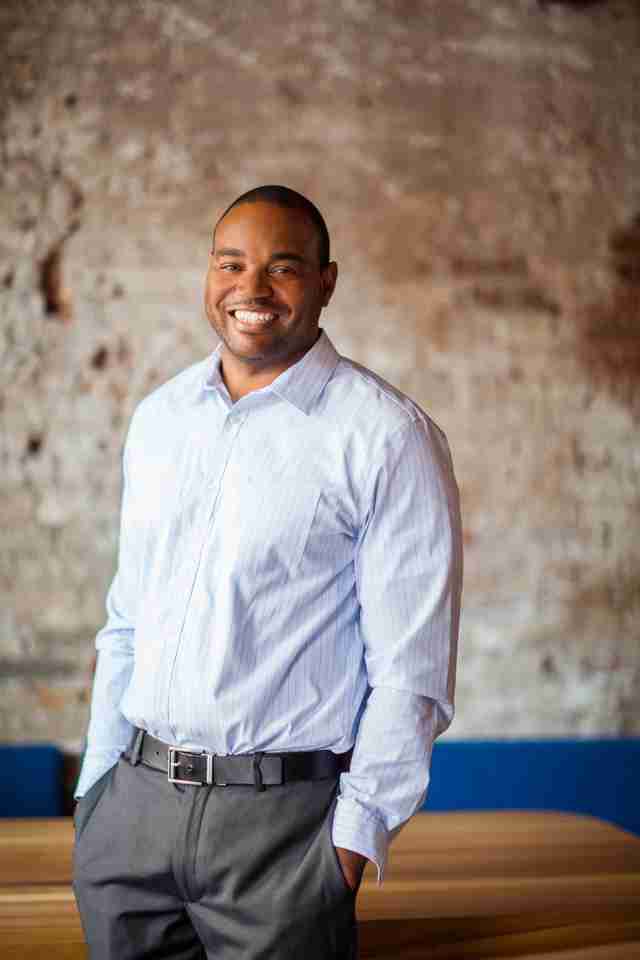 Mike Criss
The Nightingale Room
Address and Info
Downtown
A jack of all trades, Mike Criss is a former accountant, Anvil alum, and live music enthusiast who now owns and tends The Nightingale Room. He's from Los Angeles, but we won't hold our jealousy against him.
Specialty cocktail: "Inconceiva-Bowl at The Nightingale Room. It serves 3-4 people, and we set it on fire. It's made with overproof dark Jamaican rums, Falernum, lime, honey and house made grenadine."
Where he drinks when he's not working: "They are a lot of great bars in Houston. One my favorite places is Poison Girl. It's perfectly divey with an awesome whiskey selection."
What he loves about Houston: "Houston has some of the most talented and hard working people that are willing to push things forward. It's a large city with small town feel. It's an awesome place."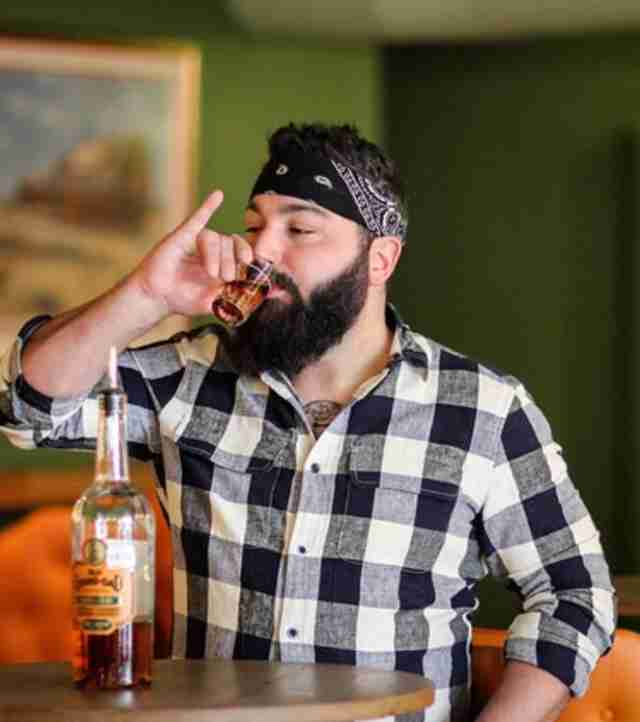 Brad Stringer
DTO
Address and Info
Galveston
After honing his skills as a private bartender and at hot hangouts like Boheme and Johnny's Gold Brick, Brad's now the owner/operator at his new beach dive, Daiquiri Time Out (DTO). He's dead set on introducing Galveston to classic, island-style cocktails made with fresh juices and house-made syrups, so check it out for a refresher course.
Specialty cocktail: Pineapple Daiquiri: Plantation Pineapple, pineapple, lime, sugar; and Zombie on tap: Plantation 3 Star, Eldorado 8 year, Plantation overproof, lemon, lime, pineapple, passion fruit, bitters, turbinado.
Where he drinks when he's not working: "Houston Watch Company, Moving Sidewalk, and Johnny's Gold Brick. They all offer expertly crafted cocktails in a relaxed atmosphere."
What he loves about Houston: "I recently moved to Galveston, and I love the island feel. The locals are supportive and ready for the cocktails we're introducing."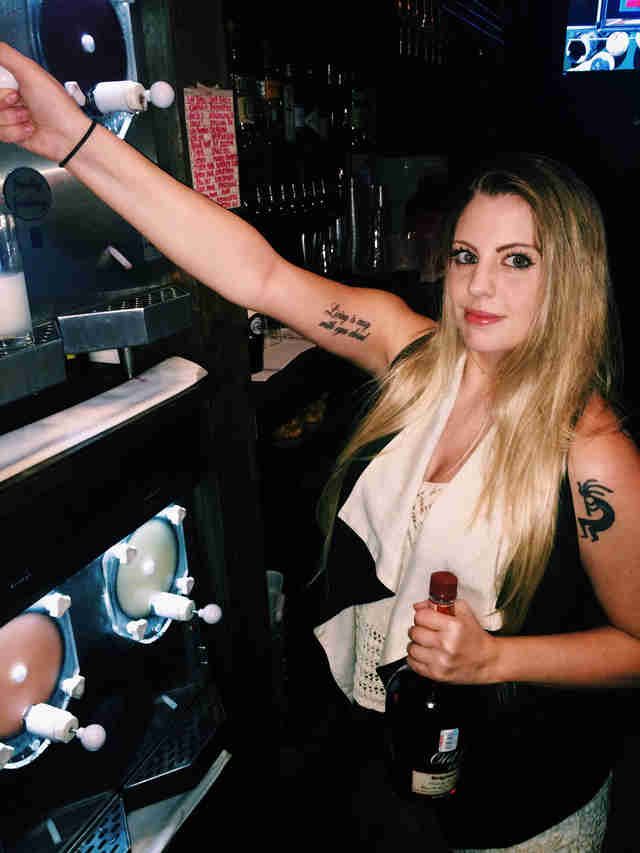 Anna Wilkins
Eight Row Flint
Address and Info
Heights
Four years in the business set up Anna for her current sitch, slinging whiskey-fueled cocktails at the popping Eight Row Flint in the Heights.
Specialty cocktail: "Recently I've been working on a cobbler, which I call Peche D'ete that features peach jam and cognac."
Where she drinks when she's not working: "Whenever I'm not working, you might find me sipping on a cocktail at Anvil or enjoying the patio weather at Henderson Heights on Washington.
What she loves about Houston: "I think my favorite thing about Houston is that, even though I've lived here practically my whole life, I am constantly surprised by new places that I stumble upon. It's exciting to know that there will always be new discoveries to be made while living here."
Justin Ware
Johnny's Gold Brick
Address and Info
Heights
Justin has a history in the hospitality industry dating back to 2008, when he had his humble start at local sports bar while attending Texas A&M. He's made his way through fine dining serving and bartending, wine sales, management, and even has some kitchen work under his belt, but his true passion lies in cocktails with creativity and flavor. After staging a few shifts at Anvil and being a part of the opening staff at Julep, this talent moved to the affordable craft cocktailery JGB, where he is general manager and master cocktail creator. But his swag doesn't stop there. He loves himself a good challenge, so much though that he was a national finalist for Diageo's World Class competition.
Specialty cocktail: "Currently on the menu is 'The Upward Swing.' which includes Espadin Mezcal, lemon juice, house made sweet pepper jam and Pale Ale with a salt and cayenne rim. Very Michelada inspired."
Where he drinks when he's not working: "I enjoy making my rounds at local cocktail bars, Lei Low, Bad News Bar, Moving Sidewalk, Anvil, Houston Watch Co and Ninja Ramen (yes for the ramen and an awesome cocktail or Asian beer) are among my most frequented. I love trying new cocktails people put out and seeing some of my peers whenever possible."
What he loves about Houston: "The multicultural nature of most people. Houston is a very food and drink driven city therefore most people who are interested in the craft side of cocktails are very open to strange and different things.This makes our job much easier to make interesting cocktails. Another of my favorite parts of Houston is that the Houstonian population is friendly as well as incredibly welcoming. Southern hospitality at its finest!"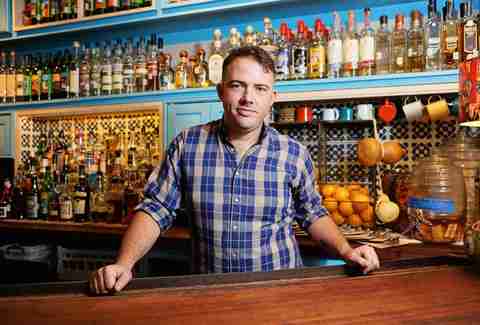 Mike McMullin
The Pastry War
Address and Info
Downtown
Mike's a fourth generation Texan, though that's not to say he's stayed put in Texas. He's lived in seven different states over the course of his lifetime. Ask him about it as he's teaching you the intricacies of mezcal at The Pastry War.
Specialty cocktail: "A Blackstrap daiquiri, which uses Blackstrap rum instead of white rum."
Where he drinks when he's not working: "You'll find me at Bad News Bar, Moving Sidewalk and Lei Low.
What he loves about Houston: "The haters, the hustlers, the Quaids and The Drells."
Robby Cook
Barringer Bar
Address and Info
Downtown
Born and raised in Houston, Robby has been behind a bar for over 16 years. Two years ago, he and his wife Chieko opened Barringer Bar, where the old-school, Houston-centric vibe is just as cool as the flawlessly executed classic cocktails. You can catch Robby and his wife Tuesday through Saturday nights either behind the bar or hosting while there crew of amazing bartenders serve up delicious classic libations using fresh juices and top-notch technique.
Specialty cocktail: The Bitter Fool: gin, Punt e Mes, Campari, lemon, and house-made orgeat syrup (a sweet syrup made from almonds, sugar, and rose or orange flower water). The luscious bitter cocktail was one of Robby's favorites he devised for Campari week this year, and you can now find it on the regular menu.
Where he drinks when he's not working: "Most Mondays you will find me at Pastry War sipping on Mezcal. One of my favorite bars in Houston that has one of the biggest Mezcal selections in the country."
What he loves about Houston: "Houston is my hometown, my city! It is a huge diverse melting pot of a city where you can find just about anything you can dream of if you just look. It also retains a wonderful southern charm and hospitality and can feel like a small town at times."

Sign up here for our daily Houston email and be the first to get all the food/drink/fun in town.