Over the course of the last 12 months, Houston's best bartenders have changed the way we think about drinks, the way we drink our drinks, and the way we undoubtedly cure hangovers the next day. Some are bar professionals, industry vets that may not work behind the bar all the time, but nevertheless are the creative force behind game-changing beverage programs. Others are young-gun 'tenders winning over our hearts, minds, and livers through their enthusiastic spirit and spirits. This isn't a lifetime achievement award, but rather a way to thank the creative geniuses who, this year, earned accolades thanks to their undying dedication to all things boozy.
Alba Huerta
Julep
Address and Info
Washington
Houston is lucky to have Alba Huerta, who some may say is the best bartender in Texas, and who others say is the best bartender in the country. With her belt buckle holding up Anvil, The Pastry War, and her own bar, the always-sophisticated Julep -- which opened in 2014 to pretty much the best reviews ever and has been rocking top-bar lists ever since -- you'd think maybe she'd sit back and rest on her laurels for a hot second. Not Alba. She's slingin' harder than ever, constantly reinventing the Southern roster at Julep, shining her light onto this year's Texas Monthly Whiskey Affair, and stepping in to redevelop the drink menu at Houston institution Ninfa's on Navigation. Raise your Pappy and say "cheers" to many more years of Alba topping lists.
Josh Bearden
Arthur Ave
Address and Info
Heights
You wouldn't think a red-sauce Italian joint -- albeit a hip one -- would have one of the most visionary cocktail programs in the city. But it does, and that's thanks to bartender Josh Bearden and beverage director Lainey Collum (more on her next). Bearden, whose background includes serious locales like Julep and Prohibition Supperclub & Bar, is a rising star in Houston's cocktail scene. The vision at Arthur Ave is an American bar with kitschy Italian influences, infusing The Boot's flavors into classic American tinctures in a way that seems like it was kismet (like the Martini Caprese, with Josh's house vermouth, juniper gin, and white balsamic vinegar). Sit at the bar and watch as Bearden perfects the White Russian soft serve, which requires a deft hand in order to balance all that booze and cream. You can take solace in the fact that he nailed the recipe.
Lainey Collum
Arthur Ave
Address and Info
Heights
Lainey may not be the sole reason Arthur Ave is as impressive as it is, but as beverage director, she's a nice slice of it. Before she got there, she had stints at The Pass & Provisions and The Hay Merchant, then made even more of a name for herself as she breathed life into Prohibition Supperclub + Bar. There, Lainey mixed nostalgia with decadence and put on a show through barrel-aged Old Fashioneds and original inventions blending fun stuff like bourbon, aged tequila, and coffee bitters. Her imagination undoubtedly expanded in 2016. Earlier this year, she co-hosted a Purple Rain-inspired party at Zimm's after the loss of Prince; and then came Arthur Ave, where her dreamed-up concoctions include an amaro fizz with homemade limoncello and Aperol; or the house herb-infused gin & tonic that you'll probably end up ordering every time you dine. Make your best effort not to, because there's so many masterpieces to try (there's even a house amaro in the works).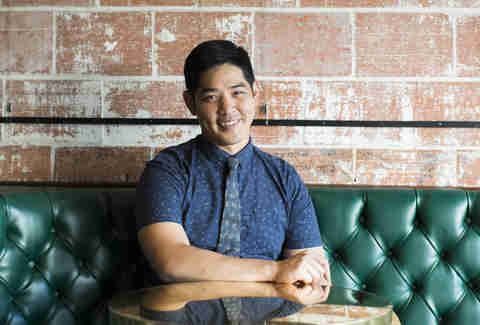 Jessey Qi
Anvil Bar & Refuge
Address and Info
Montrose
Fact: Jessey will travel to Scotland tasting Scotch at 50 distilleries for two weeks straight just so he can pour you some when he gets back. That's how passionate the Anvil assistant general manager is about his craft (it doesn't hurt that Anvil supports the travel program, but still). The Scotch lover wanted to be able to describe every label he poured from first-hand experience, and he did so at the highly coveted Lessons from Scotland tastings earlier this year. His travels didn't stop there. Qi spent a week turning Chicago's Lost Lake, a fellow James Beard Award semifinalist, into a "Texas Tiki Disco" bar along with Anvil owner Bobby Heugel and general manager Terry Williams. As long as he keeps bringing his valuable experiences back home, we're cool with that.
Elyse Blechman
Captain Foxheart's Bad News Bar & Spirit Lodge
Address and Info
Downtown
Another rising star, Elyse is constantly reinventing her game, with an effervescence for the beverage industry that is downright infectious. Just ask anyone who walks into Bad News Bar and declares her their favorite, or ask any of the bars around town that welcome her for lessons as a brand ambassador for Aviation Gin. Of course, there's also the annual Speed Rack competition, a national competition featuring top female bartenders that she's already started training for, despite the competition not taking place until next year (not that we're surprised about that). Captain Foxheart's owner Justin Burrow may have stepped back behind the bar a bit after a staff shake-up late last year, but with talent like her on the team, he may not have to for long.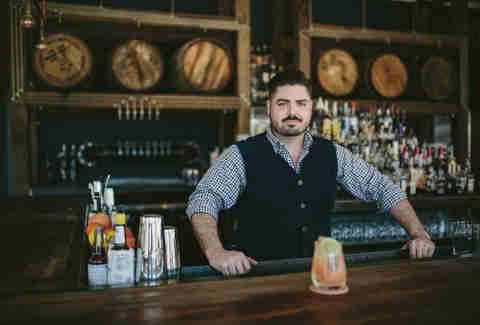 Morgan Weber
Agricole Hospitality/Eight Row Flint
Address and Info
Heights
Along with Ryan Pera, Morgan is the mastermind behind Agricole Hospitality, which was already running game with Revival Market and Coltivare before opening up the whiskey-soaked, revisionist icehouse Eight Row Flint at the end of last year. In addition to being the bossman, he's in charge of nurturing the hospitality group's cocktail programs, and his distinguished work at Eight Row Flint earned him a spot in this list. The deep lineup of whiskey, cocktail, and proprietary single-barrel selections of bourbon cherry-picked by Morgan himself and served straight from the cask via custom-built taps has allowed the program to rival other well-established ones in the city. The bar has also been popping off a Tuesday night outdoor cooking series featuring everything from rabbit paella to cold picnic chicken, and Weber seems to pair the menus with the perfect beverage every damn time.
Leslie Krockenberger
Moving Sidewalk
Address and Info
Downtown
It's been a hell of a year for Leslie Krockenberger (née Ross). More accurately, a hell of a few years. After killing it as Treadsack's bar director, in which she morphed into Superwoman and miraculously created standout beverage programs for three bars simultaneously, she went on to open the first concept of her own, Canard. Not surprisingly, the French-smooched stunner opened to rave reviews, even being named one of Playboy's "50 Best Bars in the U.S." despite only being open since March. Leslie has amicably parted ways with Treadsack and Canard since, moving on to join the already-powerhouse team at Moving Sidewalk, which has obviously welcomed her with arms open wide as hell. Co-owner and drink guru Alex Gregg mused, "Her creativity, her intensity, attention to detail, ability to think outside of the box -- hell, even her tattoos! -- fit right in." Somehow, in the midst of all this, she also found time to get married abroad. Now that we think about it, is she Superwoman?
Tommy Ho
Anvil Bar & Refuge
Address and Info
Montrose
Completing the rigorous training program at Anvil requires that you pass a "Blind 50" spirits test, where you have to use your sense of taste, smell, and touch (maybe) to identify 47/50 spirits correctly. That may seem nearly impossible, but of course Tommy passed. He's one of the fastest in the business, and he's straight-up inspirational when it comes to thinking up cocktails, always playing an integral part in Anvil's seasonal rollouts. In the summer, it was the Peddling Fiction, a refreshing blueberry and rum cocktail with hints of spice. This fall, it's a clever Pandanime, with rum, apple brandy, pandan, cream, and orgeat. If you can't make it to Anvil, good news! You can craft his spirits at home, as he shared his recipe for Minch's Lure -- a delicate Scotch, sherry, and pear brandy tincture -- with the JBF.
Alex Negranza
Anvil Bar & Refuge
Address and Info
Montrose
You shouldn't be surprised that three Anvil bartenders made this year's list. The team there is serious about continuously educating themselves, and allowing up-and-coming talent the room it needs to thrive. Now a senior team member, Alex has thrived this year without a doubt. For starters, he won the national 2016 Eater Young Gun award and championed Negroni Week. But it wasn't just that. He told Thirsty Mag, "Between the Eater award, being a senior staff member at Anvil, being the Negroni Week Chapter Lead, Education Chair of the United States Bartenders' Guild chapter here in Houston, working with Bar Institute Austin for outreach in Houston, and planning Anvil's pop-up at the conference, all on top of being a Global Brand Ambassador for Scrappy's Bitters… it's a lot." Looks like he can handle it.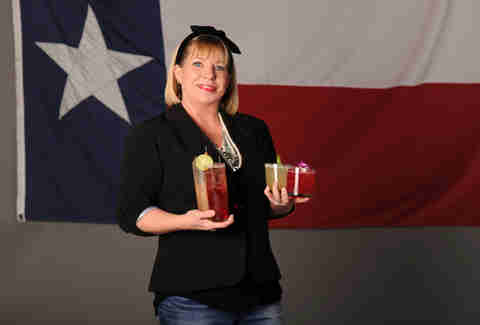 Laurie Harvey
Cherry Pie Hospitality
Address and Info
Various locations
A few years back, Laurie Harvey brought Triniti and Sanctuari Bar's beverage programs to the forefront (along with Leslie Krockenberger); and now, she's doing it all over with Cherry Pie Hospitality. As beverage director, the experimental cocktail queen oversees all things liquid for State Fare and Pi Pizza, two 2016 concepts that benefit endlessly from her expertise. Her cocktails feel polished, but unstuffy. A cinnamon- and cayenne-spiced Pineapple Express frozen with a Grizzly Hawaiian pizza? Uhh, yes please. Black-Mission-fig-infused Manhattan with a smoked, root-beer-glazed double pork chop? Hell yeah! Harvey's passionate about fashioning smart cocktails that stand on the highest-quality fresh ingredients and spirits available. That way, her funky, never-tired flavor profiles shine like the celestial bodies they are.
Sign up here for our daily Houston email and be the first to get all the food/drink/fun in town.