While these days, you can go practically anywhere and get a craft beer -- have you seen the "walk-around beers" at Whole Foods? -- a truly great beer bar is still a precious, amber-hued commodity. So we've rounded up the most impeccably curated spots -- the hoppiest places in Houston, if you will. Bottoms up.
Downtown
42 mindfully selected taps, half of them pouring local suds, line the wall of this handsome Downtown craft beer spot. But you'll find way more than just beer here (thus the bovine part of the equation). Shimmy up to the massive, industrial-style bar to grab a pint of the good stuff along with Kobe beef burgers, beer-can chicken, and your new favorite brunch item: a fried bologna croissant, stuffed into a waffle maker, then drizzled with queso, dubbed the "Croissaffle." Also, $5 happy hour.

Midtown
Imagine a garden filled with hammocks. Now imagine said hammock garden with a sick collection of craft beers, on-site food trucks, and a pizza place next door that will bring the hot & fresh pies right on over. Now, stop imagining, because THIS EXISTS. Even better? Everything here is local, on draft, and starting at $3 a pop. Plop yourself in a hammock, or grab one of the brewgarden's picnic tables to enjoy a game of Clue or regular-sized Jenga while you imbibe.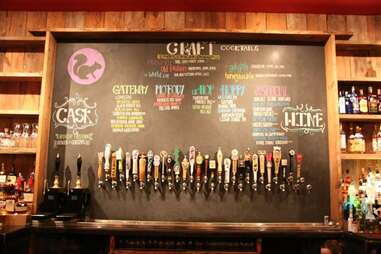 Garden Oaks/Oak Forest
Live music, a sprawling patio, and a full bar & kitchen complete with superior Texas pub fare helps keep everyone happy; while a top-notch selection of 42 beers on tap -- two of which are cask-conditioned -- helps keep YOU happy. And that's what's most important, isn't it?

Midtown
Beer nerds have mad love for this totally chill craft beer & cocktail garden, which rocks 49 carefully chosen on-tap brews that run the gamut, from the dark, malty, and hoppy to the sour, funky, and alluring, plus some intricately crafted cocktails. Grab a pint along with some badass pub grub, like 44 Farms burgers, or pretzels & beer cheese sauce. On Sundays, the "Food Truck Brunch" offers recovery from today's hangover while you work on tomorrow's.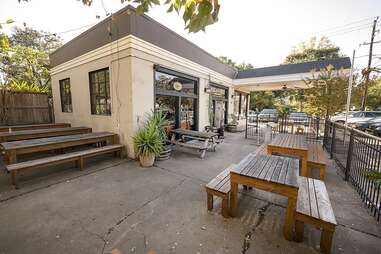 Garden Oaks/Oak Forest
This no-frills converted gas station -- one of the first full-fledged craft beer bars in Houston -- boasts a solid rotation of exciting, hard-to-score brews. Come here to geek out and fill up by the pint, or, if you're really getting after it, by the growler. But be warned: no one's looking to hold your hand here. You'll have to make your way through the list of "Younglings," "Padawans," and "Jedis" all by yourself.

Montrose
Head to this Montrose wunderkind for beer done right. Nay, done flawlessly, because Kevin Floyd, co-owner and CEO of all-things-barley, hand-selects the bar's rotating list of 80 taps and five casks himself. Even your light-beer-guzzling buddy will be turned on by the bar's dynamic selection of fine-as-hell brews. If not, you may want to rethink that friendship.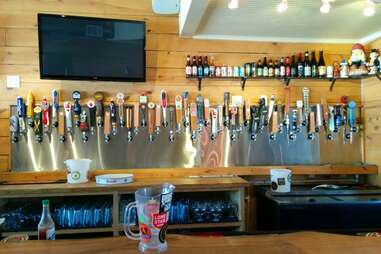 Heights
This beer-house may just be the most laid-back and unpretentious in the city. House-made shandies are perfect in the Houston summer time, while cheap happy hours, beer launch parties, and an extensive 50-tap list of interesting brews, offered in the form of snifters, tulips, and pints, are perfect all the time.
Multiple locations
Beer nerds and newbies alike flock to The Saucer for one of the city's most all-encompassing beer lists (there's even an in-house cellar for aging bottles and kegs). But, more importantly, folks come here on the regular to make their way down the UFO club's list of 200 beers, earning them a coveted gold plate on the bar's ceiling or wall.
Rice/West University
True story: that gigantic Ginger Man that your friend dragged you to after NYC's SantaCon has its humble roots right here in Houston. This quaint-house-turned-pub has an excellent mix of local and European brews by the draught and bottle, not to mention one of the coziest backyard beer gardens in the city.
East End
60+ taps line the wall of a dark blue shipping container at this wild game hot dog joint. And the craft beers that those taps hold (some of which are brewed in-house in three-and-a-half-barrel fermentation tanks) are just as thoughtfully wild as the wieners themselves. Load up a venison sausage, grab a pint or five, then partake in whatever action -- be it a horror movie night, BOGO burger frenzy, or growler giveaway -- that's going on in its dope yard that day.

Midtown
This handsome, Brooklyn-esque bar boasts an eccentric list of over 40 craft brews alongside equally as cool cocktails. But we don't care about the cool cocktails. We care about the beer, and rightfully so. Its excellent program covers all styles of suds, including lost old-school beers that are hard to find elsewhere. We appreciate the effort.
Montrose
Any true beer geek has been to at least one of this classic watering hole's beer tasting dinners -- where pours from a different brewery are thoughtfully paired with chef Joe Apa's badass food each month. $50 will get you a spot at the table -- but if that's too steep, stop by almost any night of the week for live local acts, a seriously good pub burger, and a cheap pint from their constantly rotating tap and bottle list.
Washington
This isn't your ordinary sports pub. Sure, it has TVs flanking every inch of the wall, some pretty freaking good wings & burgers, and a packed house every Sunday... but it also houses one of the largest selections of brews in the city -- with 365 beers, which it rotates through on the regular so "you won't get bored." Thanks, guys.
Clear Lake
Hardcore connoisseurs know that this brewhouse -- complete with Vietnamese fusion pub fare (think char siu pork nachos and butter garlic wings), and a 200+ bottle & draft beer program that is on par with any top beer bar in the loop -- is well worth the trip to Clear Lake. But the best part, besides drinking a snifter, tulip, or pint while downing a Vietnamese hot dog in a chill-as-hell atmosphere, is that you can also grab a growler to go on the way out.

River Oaks/Woodlands
You gotta love a bar that champions Texas beers... especially now that is it has two locations. The upscale pubs strive to keep true to its name by focusing on Texas-made brews, wines, and spirits. At both the freshman and sophomore locations, you'll find 48 taps (along with 50+ bottles) lined up along one side of the striking bar, and some cougars lined up alongside the other. It's a win-win.
Sign up here for our daily Houston email and be the first to get all the food/drink/fun in town.
Brooke Viggiano is a Houston writer holding out for a Frankenbrewpub that has 50+ taps, a garden of hammocks, and burgers with beer cheese. If you build one, invite her @BrookeViggiano. Or, you know, just say "hey," anyway.