While you can pop in just about anywhere and find a frozen margarita with an upside-down cerveza inside, Houston's cocktail scene goes far beyond that fun -- if likely terrible -- decision. So we've put together a lineup of the best of the best, the game-changing craft cocktail bars where you should most definitely be drinking right now as you make great life choices.
Downtown
The team Boomtown Coffee and the dudes behind Lei Low, Bad News, and Grand Prize Bar turned this "Big Easy meets Houston" hangout into a place you... really want to hang out in. Justin Burrow's stunner of a cocktail program -- made up of boozed-up coffees and sophisticated, NOLA-inspired libations like the Corpse Reviver No. 2 or a smooth Vieux Carré -- is definitely one to watch.
Montrose
Though it wasn't the first (and it won't be the last) cocktail bar in Houston, Bobby Heugel's Anvil was the first to put the Houston beverage scene on the map. Hit the ever-evolving, cool-as-hell industrial space for expertly crafted, spirit-forward cocktails made with house-made sodas, infusions, liqueurs, and sometimes flames. Those cocktails, by the way, will be made by some of the most talented bartenders around (many of the Anvil alumni have gone on to open and run fantastic bars of their own). Keep things fresh by making your way through the bar's "100 list," a refreshed library of classic drinks the barkeeps think everyone should try at least once in their lifetime.
Downtown
Be prepared to feel the effects after just one of spirits guru Justin Burrow's boozed-up, old-style cocktails. Have a Cognac & Scotch laced with elderflower and bitters, or a well-executed Manhattan -- which you'll probably need after taking down the grapefruit-infused "Sparkling Garbage" cocktail. Just be careful navigating that dark, creaky staircase.
Washington
Bourbon boss Alba Huerta's powdered sugar-dusted juleps aren't the only reason to visit this refreshing Southern-style cocktail bar. There's also the laundry list of meticulously-crafted twists on classic concoctions -- think bitter and bold Sazeracs or hot and sour Creole rums -- and seafood towers flowing with freshly shucked Gulf oysters. That's already more than enough reasons.
Midtown
Caffeinated and island-style dranks are the poison of choice at this laid-back Midtown spot, conveniently located right off the light rail stop. Owners Robin & Robin, who worked together at Poison Girl before opening up shop, have created a sophisticated menu featuring all sorts of handcrafted Tiki cocktails. Get acquainted with their frozen bamboos, Hot-Buttered Rums, and Dark 'N Stormys.
Montrose
This sultry 'Trose newcomer spits out elaborately rendered craft cocktails and punches in a handsome two-story setting. Look for a duo of said punches (served in a glass, half-bowl, or full-bowl) alongside a lineup of tinctures mixed with things like house-made ginger beer, bitters, and syrups. And don't miss the "Progressive Happy Hour" to stylishly booze-up on the cheap.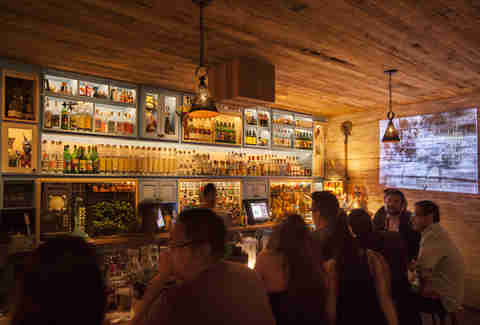 Downtown
Since opening in 2013, this softly lit, totally cool mezcaleria -- from heavy-hitters Bobby Heugel and Alba Huerta -- really took Houston's cócteles game up a notch. With a careful, rotating selection of small-batch tequila and mescal that's broken down by agave, their ingenious margaritas and cocktails hit that sweet spot between seriously delicious and sneakily strong.
Heights
Tiki-freaks flock to this tastefully cheesy island-style drinkery, where they can suck down fancified Tiki drinks splashed with bitters, Herbsaint, ginger beer, and lemongrass. It also doesn't hurt that said drinks are housed in showy drinking vessels complete with hula girls, naked mermaids, and FIRE. Okole Maluna!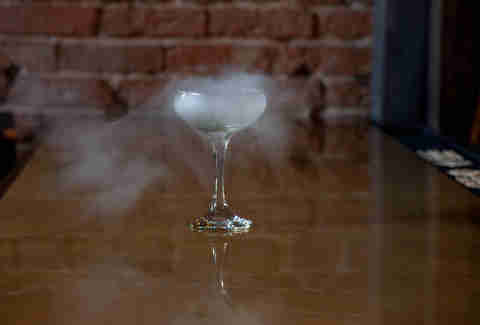 Downtown
Hand-carved ice, liquid nitrogen-chilled glassware, and homemade bitters and syrups are just a few of the features at this sexy cocktailery. The beverage program is constantly evolving with freak-out-worthy cocktails like the late Anna Nicole Smith, a cocktail that morphs from a classic White Lady into Corpse Reviver No. 2 as the absinthe melts. But you should probably start things off the old-fashioned way, with a reliably great house Old Fashioned, complete with a hand-chiseled, crystal-clear cube of ice that adds just the right amount of chill.
Museum District
Because when you can get one of the city's most fully loaded, crazy-good frozen cocktails in a grungy two-story bar complete with a rooftop, pool table, and kick-ass jukebox, you do that. Go for whatever sneakily strong drink is mixing in the frozen machine at the moment, whether it be a gin & prickly pear number created for a special pop-up dinner, or a knock-you-off-your-stool strong mango marg that you smash through a tamarindo straw.
Heights
The guys behind Grand Prize Bar and Moving Sidewalk teamed up with powerhouse restaurant group Treadsack (of stars like Down House, Hunky Dory, & Bernadine's) to open this vintage joint in the Heights. Perfectly poised concoctions include a stellar frozen marg and a Tom Collins, among eight other classics (all 10 are $8 a pop). Perhaps the most intriguing is its cocktail-in-a-shot-glass, the boilermaker. The mini whiskey-and-maraschino-cherry cocktail comes with a sugar rim, an Angostura-dipped orange, and a Lone Star chaser for good measure. And just an FYI: there are also house picklebacks.
Heights
Named after the heirloom corn that was the first corn ever distilled into whiskey in the US, this modern icehouse and lounge in Greater Heights carries more than 100 selections of whiskey, including proprietary barrels of bourbon hand-selected by beverage director Morgan Weber that get showcased in an alluring rickhouse-like structure behind the bar. Though whiskey's the star of the show, there are plenty of other fancy made-to-order choices: from the aged rum and Tiki bitters-infused Haitian Divorce, to a crazy-good house julep. Also, there are gourmet tacos, so the whole experience is pretty bomb.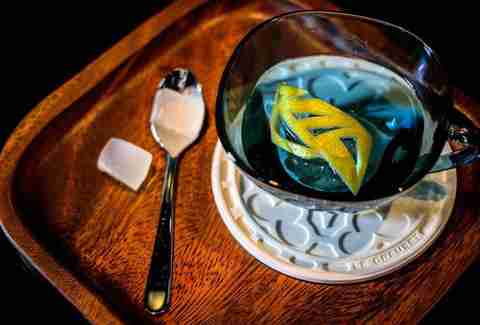 Heights
Powerhouse craft-cocktail queen Leslie Ross has been killing it as the beverage director for Treadsack. It looks like her hard work has paid off, as her first very own concept is killing it as well. The vibe is intimate -- with only 50 or so seats -- and the interior is lush, with French-smooched accents. The tincture queen herself impresses with impossibly good concoctions, from a beautifully done Old Fashioned to seasonal drinks backed with Chartreuse, vermouths, ports, bubbly, and special touches like essential oils, delicate adornments, and house-made sodas. With neighbors like Treadsack's Foreign Correspondents and the new coffee spot Morningstar, this newly developed strip is one of the coolest new destinations in the Heights.
Midtown
Not only does this totally cool bar and beer garden have 49 brews on tap, it also comes fully loaded with an incredible lineup of fancified cocktails. The barkeeps pull out all the stops here, with showy concoctions that range from the bittersweet and robust to the tropical and Tiki, and they'll always take the extra step. Expect things like fresh-squeezed juices, infusions of fruit smoked with wood chips from repurposed whiskey barrels, and house Fireball, with a kiss of cinnamon, molasses, and straight-up bourbon. A lineup of cheffy bar eats makes it an ideal place at which to lose track of time.
Sign up here for our daily Houston email and be the first to get all the food/drink/fun in town.