The Most Overrated and Underrated Cocktails, According to Houston Bartenders
LESLIE ROSS

| JULIAN BASJEL
LESLIE ROSS

| JULIAN BASJEL
We're creatures of habit. So when it comes to drink orders, we're sure you have your predictable, all-too-obvious go-tos. The drink order you shout out after panicking because the bartender finally looked at you, and the mob behind you is worse than a bunch of Beliebers trying to push their way to a selfie with the back of JB's head after a concert (ahhh, Friday nights in Midtown, so lovely). Well we turned to some of Houston's most knowledgeable bartenders on what you should and shouldn't be ordering to break up your drinking routine. Hope you didn't spend too much money buying everyone those sick Moscow mule mugs last Christmas.
Heights
Overrated cocktail: Dirty vodka martini
"I mean, as much as I really want to say the Moscow mule here, I have to give the nod to the dirty vodka martini. If for no other reason than the sheer disappointment of the order. A guest approaches, and confidently asks for a "martini," and I get this little glimmer of hope in my eyes. 'Preference of gin?,' and they look at me weird and go, 'Gin? Ugh. No. Tito's, extra dirty,' and a little piece of me dies. Like, it's watered-down neutral spirit with green salt water. It's disgusting, and the antithesis of cocktail culture. I've tried so hard over the years to embrace and elevate it, giving dashes of this or that to try and impart some sort of balance (sherry vinegar currently), brining my own olives to bring some actual flavor, and it's always just this awkward green mess. It's a drink that's beyond repair, and it needs to die."
Underrated cocktail: Wet gin martini
"The flipside to this tale of two martinis is the (far-) older cousin. Not the 5oz of kind-of-cold-gin-in-a-glass thing the steakhouses have championed for years, but a properly stirred martini with a healthy dose of quality vermouth (and a hint of orange bitters). It's the perfect aperitif when made properly, but that almost never happens. Instead, we started finding new and inventive ways to put as little vermouth into the glass as we could, so we could still call it a "martini." Rinsing the glass, atomizing the vermouth, seasoning the ice , it's all bullshit. Vermouth is essential to a great martini. It plays with the botanicals of the gin, it adds mouthfeel, and makes the drink not so incredibly boozy. It's underrated because people just haven't had it. On the rare occasion I can talk someone into trying a 3:1 or 4:1 martini, it's been nothing but smiles, every time. Seriously. Try it."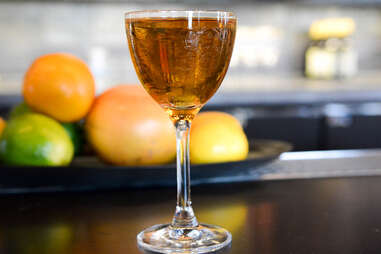 Heights
Overrated cocktail: A margarita!
"Why? Because not every bar uses fresh ingredients, like lime juice, you know, from actual limes. Many places, even restaurant bars, choose to use preservative-laced, shelf-stable "mix", which is no bueno. Between that, and inexpensive, low-quality 'tequila', you could be left with a bad taste in your mouth."
Underrated cocktail: The Martinez
"This vermouth-forward precursor to the modern-day gin martini is a lovely way to wind down at the end of the day. Lower ABV than a Martini, but all of the lovely layers of flavor from the sweet vermouth, Old Tom Gin, maraschino liqueur, and a dash of Boker's bitters. This cocktail is perfect before, during, or after dinner!"
Montrose
Overrated cocktail: Moscow cule
"Ginger beer is great and all, but why not mix it with gin, or whiskey, or anything else for that matter? Something with more character that complements the flavor of the ginger, unlike vodka…"
Underrated cocktail: Vieux Carré
"A classic New Orleans cocktail that gets pushed to the wayside due to the enticing Sazerac. The Vieux Carré is the perfect nightcap, blending rye whiskey and cognac together."
Downtown
Overrated Cocktail: Moscow mule
"As a bartender, I see the birth and lifespan of most cocktail trends. Some are obviously more lasting than others, whether it be that a particular cocktail is universally pleasing, or maybe conducive with particular climates or seasons. But one cocktail trend that keeps building steam to seemingly no end is the Moscow mule. This drink is overrated in the sense that it's fad popularity is absolutely eclipsing an entire category of cocktails featuring ginger beer, with a hell of a lot more flavor and intrigue. Sure, no two Moscow mules are the same when considering how many types and styles of ginger beer saturate the market and are available to both bar programs and the general consumer, not to mention some programs make their own in-house. No matter the case, the problem is that we as bartenders aren't using this basic AF order to springboard our guests to something radical like a Suffering Bastard, or El Diablo, or Gin Gin Mule, or Bourbon Buck."
Underrated cocktail: A ginger beer cocktail with something more than vodka & lime juice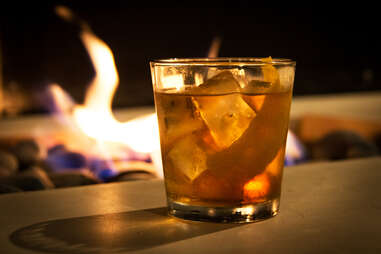 Montrose
Overrated cocktail: Fire-flavored whiskeys
"Just.....no."
Underrated cocktail: The Sazerac
Simple and delicious. Most people seem to get turned off because of the absinthe rinse, and that is a shame. All of the components combined lend for a beautifully blended cocktail that has all the complexity anyone could want without being too busy.
Downtown
Overrated cocktail: Moscow mule
"It's simple to make, and you can find one anywhere nowadays. Also, you don't need it in a copper mug. Please stop asking why we don't have them."
Underrated cocktail: A well-made martini
"I mean this in the purest sense of what a martini is. No flavored vodkas (in fact, don't use vodka at all). Pick a really tasty gin and a high-quality dry vermouth, mix 2oz of gin to 1oz vermouth in a mixing glass, and stir. Add a lemon zest and enjoy. It is ridiculously smooth and refreshing."
Downtown
Overrated cocktail: Moscow mule
"I have nothing against the Moscow mule. I enjoy them myself. But the way I think of it, if you go to a restaurant specializing in seafood, you wouldn't order a grilled cheese. You would look at the menu, or ask the recommendation of the server/chef on what you should order. Don't go in to a bar and order a Moscow mule "grilled cheese." Look at the menu, talk to the bartender, tell us you like Moscow mules, and ask what we would recommend. I guarantee we can make you something you will enjoy."
Underrated cocktail: Sidecar
"I was introduced to this cocktail by the woman who taught me how to bartend, and it has been a favorite since then. So simple: three ingredients, and it's incredibly well-balanced. Cognac is such a brilliant spirit and can make a beautifully delicate cocktail (that packs a punch)."
Washington
Overrated cocktail: Ramos Gin Fizz
"I'd never turn one down or say it's bad, but the effort-to-quality ratio on this drink is not worthwhile. Because of its long shake time and corresponding high price, it's become something of a statement drink."
Underrated cocktail: Sherry Cobbler
"Maybe the Sherry Cobbler is too archaic or not visible enough to be considered underrated, but this drink is simple, gorgeous, and delicious. The best part is that it can be low ABV, so you can indulge a little with minor consequence."
Midtown
Overrated cocktail: Lemon Drop
"If you like the idea of lemony flavor, could you at least upgrade to a French 75 to bring yourself into the modern cocktail age?"
Underrated cocktail: The Last Word
"It's a great drink for those who claim to not like gin. I always suggest it."
Midtown
Overrated cocktail: Moscow mule
"It was invented to sell Smirnoff vodka. The copper mug was used to sell it to those who were in the bar and not ordering it."
Underrated cocktail: The Hurricane and the La Louisiane
"The Hurricane has never gotten its due thanks to years of debate about its origin and bastardization by Bourbon Street bars. I've always preferred the most simple recipe of it that I've ever found from Beachbum Berry's Grog Log (not a book known for skimping on booze). Many other cocktail historians use things like Galliano, pineapple, or grenadine which seem to take away from the rum and passion fruit. Recipe: 2oz dark rum, 1oz lemon, 1oz passion fruit. Shake, strain, serve on the rocks and garnish with a cocktail cherry. The La Louisiane [is] one of New Orleans original boozy drinks that never got its due. Recipe: 2oz rye, .75oz vermouth, .75oz Benedictine, 3 dashes absinthe, 3 dashes Peychaud's, stirred and served up."
Downtown
Overrated cocktail: Ramos Gin Fizz
"Not because of the cocktail but the lack of education that doesn't carry with the popularity of this time-consuming cocktail. Best time to order is not on a weekend when the bartender is in the weeds!"
Underrated cocktail: The daiquiri
"This one I use as a tester when visiting new bars... usually with an overproof rum, no shame here. I'll use this as a gauge to determine what type of drinks I'll order. It's a simple cocktail to make but also so easy to mess up. I say underrated because most people think of something frozen in a pitcher."
Sign up here for our daily Houston email and be the first to get all the food/drink/fun in town.
Brooke Viggiano is a Houston-based writer who is super-thankful for having a bunch of new drink orders, but can't promise she'll never order Fireball again. See how long she resists it @BrookeViggiano.