As the most diverse city in the nation, Houston breaks just about every tall-tale Texan stereotype there is -- and our gay bars are reflective of that diversity, too. Whether you're a harnessed-up bear, a musical theater kid, or someone who defies labels altogether, Houston's vibrant LGBTQ bar scene has somewhere for you to express your true self. You'll find the city's essential gay bars below -- and because these bars are only as interesting as the folks who frequent them, we asked some of those regulars to weigh in on why they love these places so much. Strap on your chaps, and prepare to get a little weird.
Montrose
"As a bear, Ripcord has been my favorite for a long time. It's always been the friendliest to me and I've built a community there. Lately, they've been featuring alternative drag performers and creating a space for people who don't fit into some of the other bars in our area." - Brandon J.
Ripcord is likely what a lot of straight people think of when they picture a gay bar. It's less a stereotype than an archetype: this is THE leather bar in Houston, where the wild, the weird, and the kinky are all encouraged. For a place with a packed dance floor on the weekends, the crowd is incredibly laid back and cool, and while bears in harnesses abound, people of all genders and orientations are welcome. The drinks, the sights, and the sounds are all big attractions, but this place is first and foremost about community vibing. At Ripcord, everyone is embraced for who they are; no pretense, no gatekeeping, just pure camaraderie and debauchery.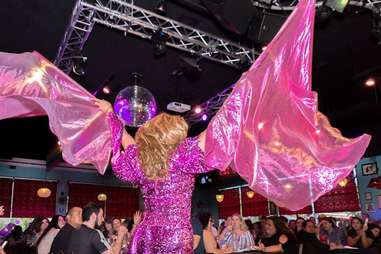 Montrose
The art of drag, with a side of fries
Only the finest of queens can turn a diner into a gay bar. There's something a little more daring about daytime drag, like we're no longer relegated to dark corners in nightclubs; us queers are just as sparkly under the sun as we are under a spotlight, and honestly, any event is instantly elevated by the presence of french fries. Daytime debauchery over brunch isn't the only option at Hamburger Mary's, though: nighttime performances are just as popular, and with their reputation for bringing high-quality comedy queens, you're probably going to need a reservation in advance.
Washington Corridor
"I like Pearl Bar because I feel like everyone is pretty chill there -- it's not competitive, nor do I feel like I'm being stared at like a piece of meat." - Veronica R.
While traversing through the seemingly unending sea of boy bars, the siren call of The Indigo Girls beckons you to the glistening isle of Lesbos (aka Pearl Bar). The Washington Avenue location of Houston's best lesbian bar is a much-needed respite from the surrounding trendy club scene and the male majority of other queer spots. Dance along with the DJ inside or head out back for a totally different energy on the shockingly large patio. As is dictated by lesbian law, Pearl is pet-friendly inside and out, and the sprawling back patio often features hula-hooping, beer pong, and tacos (no corny puns, please). The friendly crowd is just as refreshing as the drink menu, which happens to feature a boozy, unicorn-themed ice cream sundae that you basically can't leave without trying.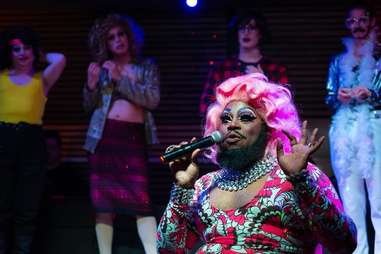 Montrose
All the clubby buzz, none of the pretense
There's always something happening at Guava Lamp, but instead of the chaotic atmosphere typically found at busy bars, the crowd is super chill and welcoming. With karaoke, drag shows (and drag bingo!), steak nights, screenings of Drag Race, open mics, and special seasonal programming, every day of the week offers something different for regulars and virgins alike. Totally inclusive and unpretentious, Guava Lamp is for people who want the fun of the club scene without the cover charge and VIP tables. Laid-back doesn't mean boring, though: it turns out a finely cooked Texas steak pairs perfectly with a drag queen in a sky-high purple wig feeding you a complementary Jell-O shot.
Montrose
"I've had many all-nighters end at George's. It's seriously just the cutest when it's packed full of country-ass, truck-driving gays." - Rachel H.
People new to Houston are usually shocked to learn that smack-dab in the middle of our massively diverse, urban metropolis of a city, lies a legit gay cowboy sports bar. George's is a Houston institution with its queer Urban Cowboy magic that feels part legend. The crowd definitely skews older, stacked with uber-butch eldergays who look like they can kick your ass after chasing whiskey with a shot of barbecue sauce (in a good way). Mosey on over to join laid-back regulars in watching the game over a frosty beer, or catch a breeze out on the rainbow-flagged patio.
Montrose
The piano bar where cabaret meets camp
Here's the secret to finding good drag in Houston: just follow Blackberri. As one of the most popular performers in town, you'll find her at most of the places on this list, but she basically owns Saturdays at Michael's Outpost with her weekly show, Eye Cons. The cabaret vibes are strong in this unassuming little piano bar, where Broadway tunes are belted just as much as Whitney Houston throwbacks. The performances will unleash your inner theatre kid (with a little help from the whiskey sodas), and even when there isn't a show going on, you'll still find yourself entertained in good company. You haven't lived until you've witnessed someone sing a classical rendition of Britney's "Toxic" on piano here.
Montrose
"It's weirdly wholesome rubbing shoulders with warm and fuzzy gays and shopping for chest harnesses and pup masks while you drink. I don't know why, it's just cute and cozy!" - David R.
Taking up an entire wall along the Eagle's neon-tinted dancefloor is something every queer Houstonian should recognize: the iconic mural from one of Houston's historic, dearly departed gay bars, Mary's on Westheimer. Painted by gay artist Scott Swoveland, this image is a symbol of sanctuary. Another wall showcases a timeline of Houston's gay history, almost like a living museum for the queer community. Every bit as iconic as the art on display, Houston's Eagle is also known for its friendly staff and diverse crowd. With two stories, a back patio, and a kinky little shop on the premises, visitors are in for much more than just an energetic dance floor with a killer DJ.
Timbergrove
The gayest little dance hall in Texas
This queer honky tonk has major Texas cred; it used to be the historic Esquire Ballroom, where Willie Nelson played in the live band, writing future classic songs in his head while driving up from Pasadena every night. Way out on Hempstead Road, Neon Boots lies outside the bounds of the Gayborhood, but that actually makes it feel like its own pulsing little universe where you can get your Brokeback boogie on with a cheap drink in your hand. Neon Boots' size and crowd set it apart from other gay country bars, and you'll find a more even split between genders here. The line dancing lessons make for a super unique date night, too.
Montrose
"I don't get to the scene much cuz I'm a mostly closeted pansexual, but I've been to JR's a few times and it's wild to see just how gay a gay bar can be!" - David L.
Established in 1978, JR's Bar & Grill is a staple of gay Houston; when people come to town and want to visit a gay bar, they go to JR's. The fact that closeted folks feel safe here speaks volumes, and after chatting up the friendly bartenders it's easy to see why. An expansive space with a huge back patio and multiple dance floors, there's plenty of room to let go and find the vibe that best suits you. The sights are just as lively as the sounds, too: JR's is known for its super-cute go-go dancers who work hard for their tips. Save some of those dollars, though, because like any staple gay bar worth its salt (and sugar), drag shows are a regular feature.
Sign up here for our daily Houston email and be the first to get all the food/drink/fun in town.
Kathryn Way is a queer writer, comedian, designer, creative, and business owner who was born and raised in Houston, TX.