Sometimes, you go to a bar for fancy cocktails. Other times, you go for the most popular craft beers and burgers topped with things like bacon and foie. And then, there are the times when you just want to sit in near-darkness eating stale popcorn and listening to war stories as you sip cheap yellow beers poured by a lifelong bartender that calls you "hon." So that you'll never be stuck searching for a bar on those nights, we've assembled Houston's best, diviest drinking spots where you should make a home away from home.
Downtown
Remember that one friend in HS who had way cooler parents than yours and had a tiki bar and ping-pong table in his basement? That's pretty much what Sunny's is like. You'll feel strangely cool throwing down 10 bucks for a 10-pack of Jello shots for everyone else at the bar. And the "secret" Ray Charles Shot? It's all together bonkers. Owner/bartender Sunny will have you close your eyes and throw three ice cubes at the liquor shelf. Whatever three bottles you hit, that's what you're drinking tonight, fool.
Downtown
It's name is Houston spelled backwards, you guys. And that's about the only thing that makes sense at this oddball watering hole. Slam poetry, underground rock shows, and "inspired" art installations (did you happen to catch the 'Bloody Whore Murder Party' painting?) are just some of the shenanigans going down on any given night. Buy cheap booze and be really nice (ie, tip well and be chill), and the bartenders may even let you smoke inside.
The Heights
You don't go to a dive for a fancy double IPA or a craft cocktail; you go for cheap booze, and that's about it. Alice's two taps pour frosty Lone Star and Shiner. And though there's other stuff, too, that's about all everyone drinks. Hit the icon to shoot some pool, listen to old-school country on the jukebox, and be blissfully unbothered for however long you decide to stay.
Montrose
There may be a little bit of a real-life Hoarders situation going on inside this seemingly normal looking house, but that's just part of its charm. The bartenders are like family, especially on a slow night, and they've been that way for over 30 years. The gritty drinking hole gets extra "we don't give a crap" points for continuing to serve drinks out of cheap plastic cups in an ever 'going green' world.
Oak Forest
If there were such a thing as a "new school" dive bar, it'd be this basic neighborhood haunt that slings beers both cheap and fancy, plus tasty liquor and -- in their words -- "above-average" wine. The sprawling patio is the best place to escape that Oak Forest 'burb life. Though, you'll do well hanging inside with the pool table, jukebox, and arcade games, too.
Montrose
Some say dive bars can't sell nice booze, like a crazy good collection of American whiskey, for example. But we say that's BS -- because that's exactly what this swill-slinging hole does. And you'll be just as welcome to partake in said whiskey as you would be in cheap Lone Stars. Vintage pinball machines and chill back patio complete with a giant Kool-Aid man out back contribute to the glamorously unglamorous feels that draw in the old, the young, and the restless.
Fourth Ward
A lot of people say a dive bar should remind you of a Greyhound station. The fact that this suspect looking dive bar is just a few blocks down from one means one thing and one thing only: it is legit. It may be the kind of place where you're kinda scared to stay too long, but that just makes it all the more spectacular. Grab a pitcher of cheap beer and make friends with some pretty interesting folk.
Montrose
You'll find all walks of life at this throwback ice house, which has been keeping Houston refreshed since way before air conditioning was a thing. Open in 1928, locals frequented the spot to get ice blocks and a couple of cold ones before heading home for the day. The open air bar and sprawling patio is so chill, you'll find hipsters sharing tables with bikers and frat types. It's the kind of thing that can only happen when you're happily full of ice-cold beers and tacos from the nearby Tacos Tierra Caliente truck.
Montrose
Sure, PJ's calls itself a sports bar. But when you combine a not really great TV situation, a steady stream of potlucking locals, and a no frills attitude, this neighborhood spot falls more in line with a classic dive. Things get lively on Friday nights, when the karaoke upstairs is downright impressive. At least, it seems that way after you've had a few Jell-O shots.
Heights
Don't expect any bells and whistles at this White Oak stalwart. Just beat-up picnic tables, unapologetic bartenders, regulars who won't look you in the eye, and cheap, ice-cold brews. It's exactly the way a dive should be.
Montrose
If taking down tasty cold beverages and questionable popcorn in a neon-blue glowing room with non-stop '40s and older jazz and blues is your thing (and why wouldn't it be?), this is your spot. Did we mention Happy Hour is everyday from 3pm-8pm, and that questionable popcorn is FREE?
East End
This East End enigma opens up first thing in the morning for coffee plant workers getting off the late shift, which is the first clue that it's perhaps Houston's finest example of a true dive bar. The second is cheap drinks (duh), and the third is decor that looks like something out of That '70s Show... set in the country... on acid. Zero cover for live music most nights keeps the boozery stacked with a steady crowd.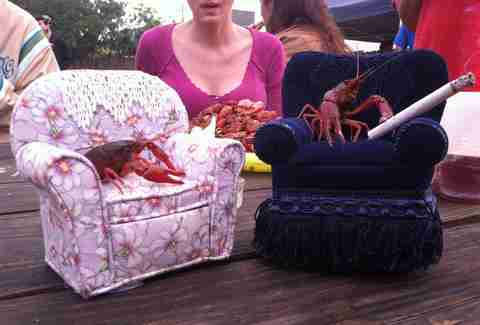 Heights
Good beer. Good times. Normal-screen TVs. This off-the-beaten-path drink stop is as simple as that. Plus, the crowd is friendly and the outdoor patio has picnic tables and warm fire pits. Bring the pup, pop a frosty Lone Star by the fire, and finish the night with some Fireball nightcaps, because this zone is judgement free.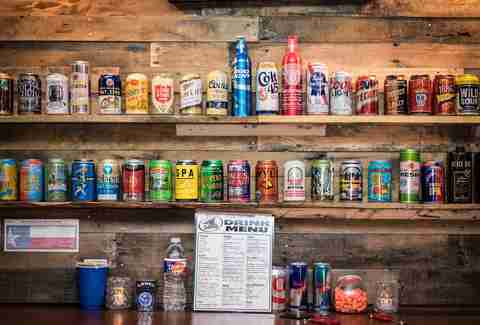 Satellite Bar
It may be a little early to give this brand new bar and concert venue "best dive" status, but we have a good feeling about this one. Why? Because it boasts a cooler full of cheap and delicious beers, IKEA lamps that open up like the Death Star, and the same excellent DIY music scene that gained House of Creeps a cult following. There's also a food truck out back and a Whataburger and sweet looking taqueria next door, so...
Sign up here for our daily Houston email and be the first to get all the food/drink/fun in town.
Brooke Viggiano is a Houston writer who loves her some war stories and Death Star lamps. She's also pretty sure she left off you favorite dive, so let her know which @BrookeViggiano.