Houstonians love beer, and not just Lone Star and Shiner, like we're sure everyone out of state thinks. Our microbrew scene is absolutely exploding, with homegrown powerhouses like Karbach and Saint Arnold considered among some of the best breweries in the state, plus a steady stream of instant favorites like 8th Wonder and Buffalo Bayou keeping locals well-quenched. But the fun doesn't stop there, because a new school of shiny PYTs are coming up fas. These Houston breweries are the up-and-comers that should be on your radar.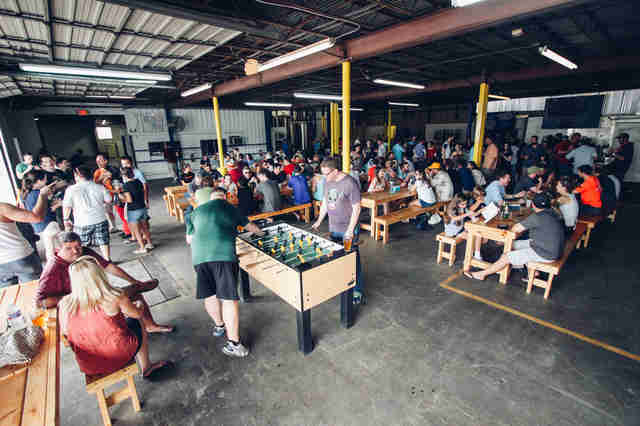 Heights
It may be named after the fault line that runs beneath it, but there's no shaky ground at this laid-back newcomer. Just easy livin' and even easier drinking, thanks to an emphasis on crisp, approachable brews that pretty much everybody can get down with so long as it's legal. Like so many breweries, Eureka started out with three homebrewers following their dreams (one of whom has brewed for Saint Arnold). When the homebrews turned out to be actually good, even their wives got on board with the dream. Now run by three couples, the brewery offers five year-round suds and some laughs to go along with them. Visit the taproom for pours and tours, plus fun stuff like beer flights and seasonal stouts, trivia cards and food trucks, and crowlers to-go.

Beers to try: Space Train, a fruity, hopped-up IPA; and Mexican Moo Caliente, a milk stout with hints of cinnamon and cayenne.
Porter
Housed in a repurposed church (get the name now, get it?!), Back Pew brews two lines of beers: one for Saints and the other for Sinners. The Saints line focuses on clean, "sessionable" beers like the Blue Testament American Pils; while the Sinners are higher-ABV, bolder suds in experimental flavors, the darkest of which is the 8.5% 9th Circle Black IPA. The taproom is open Saturdays from noon to 5pm, and you'll find the heavenly and hellacious taps at watering holes city-wide, from Magnolia down to League City.

Beers to try: 9th Circle Black IPA, which will take you to the darkest and deepest ring of Dante's hell with roasted grains and potent, bitter hops.
East Little York/Homestead
Paying homage to Texas' gusher age, SpindleTap has been booming since opening its doors at the turn of 2015. The spirit here is full-on Texas, with the taproom rocking flat screens, a colossal high-def projection screen, and hot-off-the-fire eats that make for some solid game-day action. Pony up to a picnic table and gush over the smooth Toolpusher Pale Ale, crowd-pleasing Boomtown Blonde, or the Honey Hole ESB, the brewer's driving horse at the moment.

Beers to try: Wildcatter, a double Belgian wit with agave and tamarind; or Hop Gusher IPA, a house favorite West Coast IPA with notes of grapefruit, pineapple, mango, and melon.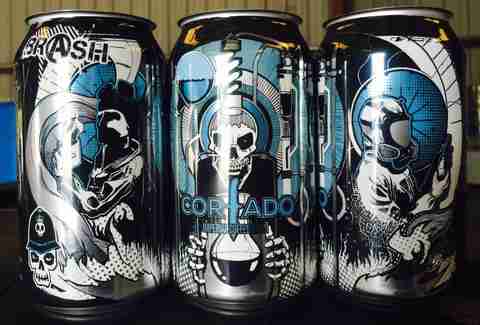 Local beer guru Ben Fullelove (of Petrol Station fame) unleashed this beast back in 2012 before antiquated laws forced him to move operations to Massachusetts for a hot minute; and while the brewery eventually made its way back home a couple years ago, it only opened its doors to the public at the end of last year (thus its place on this list). Since then, its clinched the No. 4 spot in the 10 Best Craft Breweries in Texas, (a list that was ranked by beer experts statewide) thanks to its "big-ass hoppy beers." Now you can try a handful of fantastic suds right in its tasting room -- otherwise known as Brashland -- from the Vulgar Display of Power (a Russian imperial stout with a whopping 14% ABV) to Adopted Arrogant Bastard (an American strong ale). Cooler yet, you can try them alongside retro games like the Terminator 2 arcade shooter.

Beers to try: Pussy Wagon, an American double/imperial IPA; EZ-7 American pale ale; Vulgar Display Of Power.
Washington
This fresh face opened up shop this fall, and it introduced Houston to a Tex-Australian hybrid of brew as it did. That style may sound made up, because it kinda is. The brainchild of a husband-and-wife team (one Houstonian, one Aussie) and their Aussie business partner, Platypus mashes local tastes with hops from Down Under to make beers like the Bobby Dazzler, an ale brewed with Australian hops and homegrown Houston honey. The grub, too, is a mash-up of flavors, with house-made spice-rubbed beer nuts and Aussie meat pies sitting next to chilled Gulf prawns.

Beers to try: Troppo, an American wheat ale with Australian mango and passion fruit; Bobby Dazzler, an Australian ale brewed with local Houston honey and Australian Topaz hops.
Webster
Proving it's sometimes worth it to leave the Loop, this southside brewery hosts a 2,600sqft brewing area complete with a 10-barrel brew system and a 2,400sqft "Old West" taproom complete with your thirsty behind sitting in it. That is, unless you're enjoying your hops on the patio, which we suppose is fine, too. These guys currently offer 16 brews on tap and/or on nitro, plus some wine for those crazy folks that don't like beer. Get taster flights, snifters, pints, and growlers of suds ranging from the modest American wheat to the whimsical Peanut Butter & Choc Milk Stout.

Beers to try: Citrus wheat/vanilla cream ale blend, which is kinda like an orange creamsicle for adults.
Midtown
Right on the edge of Midtown and the Museum District, this lovechild of three guys who liked to brew beer offers five constants and a totally chill yard where you can drink them. (Bonus: You can also often find the Deutscher Fleischwagen food truck.) In addition to flagships like the crowd-pleasing Dirty Blonde and punchy Midtown Bock, where a traditional lager takes a walk on the ale side, this now-on-the-radar newcomer plans to unleash seasonals throughout the year. Spend a lazy day playing cornhole in the biergarten, or find Under the Radar taps at hot spots including The Hay Merchant and Axelrad Beer Garden.

Beers to try: Radar Love, an on-the-lighter-side hefeweizen to combat the Houston heat.
Heights
Opened last year, Town in City got its name because the Heights has a small-town feel. So does this brewery, which kind of seems more like a bar than a brewery, since it holds bar hours and has bartenders and food menus and stuff. One of the owners has a background in chemistry, so expect flawlessly executed beer science in the form of classic English-style ambers and porters and a Community Series, featuring beers inspired by the community. Beer geeks can also geek out by becoming a Townie; the members-only club meets once a month and gets a first taste of the beers coming through production. Also, get a pretzel to share.

Beers to try: Mosquito's Revenge, a triple-malt pale ale with an aroma that draws people in like mosquitoes; and Chipped Tooth IPA, a bitter and smooth American variety.
Eastex/Jensen
Small batches means this hometown hero is keeping things constantly fresh, with reinterpreted classics running the gamut from a sneakily good Sneaky Wheat Stout to the City Acre Michelada, where a smooth golden ale gets spiced up with a fiery tomato mix. Set in a Victorian-style home, the posh space gets posher thanks to a lush garden that produces seasonal fruits and herbs for its line of non-boozy house beverages (think hibiscus mint and dill lime sodas). It's been a long time coming, as the brewpub was expected to open in 2012 before city regulations put the kibosh on that. That just means the husband-and-wife team and longtime homebrewers had a chance to perfect their vision before opening -- a vision which includes a beautiful backyard vibe, a full food menu, and an emphasis on community (you'll find other local brews on tap as well).

Beers to try: Raven Hill Pumpkin Stout, a dark seasonal spiced with cinnamon and nutmeg; Lil' Wulf IPA, with a hoppy kick and fruit undertones.
East End
The end of September brought hopheads a brand-new way to sling their suds with the opening of this East End neophyte; and that way is with metal (or Taylor Swift) blasting, movies playing, and on-site food trucks keeping you well-fed. The brewery started with small batches like the XPA, an extra-pale ale, and hoppy New Zealand IPA, and it will release new pales as time goes on.

Beers to try: A Nu Start, a hoppy Belgian pale that is brewing as we speak.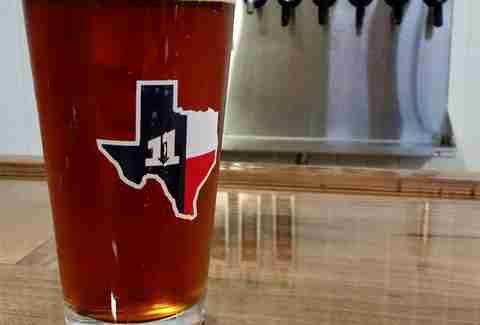 Willowbrook
With backgrounds ranging from oil & gas to theater, this group of passionate beer drinkers and brewers turned a bare-bones warehouse into a full-blown brewery. The focus here is on styles that both excite and quench your thirst, with three year-rounds -- including a blond session 7 Iron, Oso Bueno American Amber and Color Blind Red IPA -- next to rotating seasonals like the bourbon-barrel-aged Big Mistake. The taproom is open Thursday through Saturday, and $10 will get you three tokens with which you can redeem your suds.

Beers to try: Negative Space, an ancho-spiced imperial chocolate milk stout with big, bold flavor; 7 Iron Session Ale, a blond beer well-suited for Houston's weather.
Sign up here for our daily Houston email and be the first to get all the food/drink/fun in town.