Your dog gets it; he knows you've had a long day at work, and while yes, you want to hangout with him, you also really really want a drink. As luck would have it, you can be a responsible, loving pet owner and while also slamming cold-ass beers, too. Just head to any of these 11 pooch-friendly bars:
Heights
Great news! You and your four-legged friend can enjoy the laidback, Hill Country vibe without actually having to deal with people from Austin. Grab a few cold ones out on the patio with your pup, then pat yourself on the back for living in Houston.

Garden Oaks/Oak Forest
With "sweet, it's finally not hot as balls out" season in full swing, this bar – complete with a monster outdoor patio, ample seating, and a stage for live music – gets packed with dogs and dog owners alike. Take down the selection of over 40 tapped brews alongside one of the city's sloppiest burgers. Or come for a pup-friendly Sunday brunch that your dog definitely wants you to partake in. Because, bacon.
Midtown/Washington
Ditch work early if you and your dog want to get a shaded table at either of these laidback patio bars, especially on steak and trivia nights... or during crawfish boils and cornhole tournaments... or really any day the sun is out. Just don't forget to ask for a water bowl along with your beer bucket – chances are, you're gonna be here a while.

Heights
Cheap, cold beer and a relaxed-as-hell atmosphere make it easy to spend all day at this no-frills ice house. We suggest you bring some treats for the pup and do just that.
Heights
There's never a shortage of canines at this neighborhood sports pub. Leash up and bring your better half for a day of games, brews, and bar pies on the patio. He'll be happy watch you drink as long you keep rubbing his belly.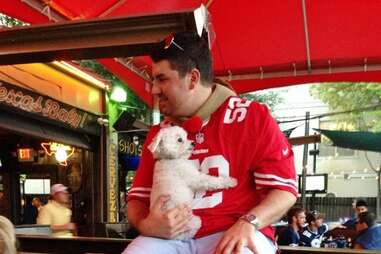 Midtown
While most locations have solid outdoor space, the Midtown's Little Woody's jumbo-sized patio is hard to beat. Your best friend will love having so many other doggy friends to sniff just as much as he loves the fact that you finally let him sit on a couch.

Multiple locations
This beloved beer bar offers a well shaded, canine-friendly patio where you can sip on all the beers while your pup can try to snag that guy's 1lb burger off the table next to you. Hope that guy likes dogs...
Washington
Named after the owner's bulldog Winston, this dog-friendly gastropub gives a portion of its proceeds to local animal shelters. That means you and the pooch can feel good about wasting your entire Saturday afternoon on their patio. Bonus: because Winston is such a cool dog, not only is there Texas beer and seriously tasty pub grub for you, there's homemade dog treats for your four-legged friend, too.

Midtown
If the name didn't give it away, all of the dogs on the patio will: this Midtown bar is made for you and your dog (they'll even bring him a water bowl). Leash up and head here to smash a burger and some ice cold pitchers; or, better yet, go for Monday steak night, where they serve juicy-as-hell ribeyes for 10 bucks. Just make sure you slip your companion a few scraps.
Midtown
Stiff drinks, solid happy hour specials, and a huge outdoor lounge mean this Midtown oasis will draw a big crowd pretty much any day its nice out. Bring Rover and grab a shaded spot to enjoy an afternoon of beers, bags, and Irish nachos (you should always get the Irish nachos).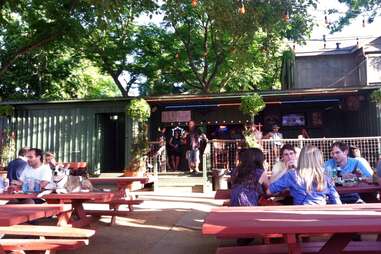 Montrose
Houston's chillest ice house boasts a huge yard, where pups can lounge under picnic-style tables and you can eat your weight in tacos from food truck parked next door. It's a win-win.
Sign up here for our daily Houston email and be the first to get all the food/drink/fun in town.