Look, we love all of Houston's neighborhoods; they're what make the city's culture so unique. That said, there are some you want to buy a house and raise kids in, some you hit up to eat, shop, or see a movie, and others you pay a visit to spend the entire day/night throwing back cold ones. Those are the hoods we have here, ranked in order of just how impressive their drinking scene is.
Recommended Video
Thrillist's Best (and the Rest): What You Actually Need to Know About Natural Wine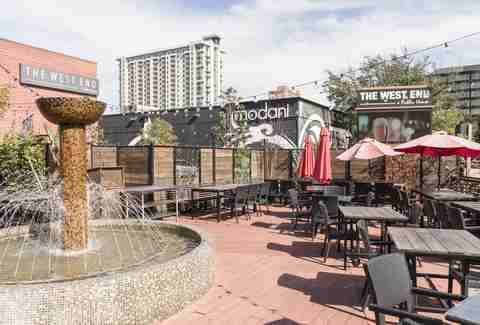 11. Galleria/Uptown
Fact: shopping/navigating your way around the over-crowded Galleria makes you want to drink. That must be why there's a bajillion nearby pubs just waiting to pour you a pint, including but not limited to Richmond Arms Pub, Ron's Pub, Sam's Boat, Muldoon's the Patio, and The West End. On the complete opposite side of the spectrum, the neighborhood also has spots like the Miami-by-way-of-Houston club Belvedere and wine bar The Tasting Room. Volume aside, unless you live/work/are pre-gaming for a show at Stereo Live, are you really trying to go out drinking near the Galleria?
10. Museum District
We get it, you go to the Museum District to see museums, not to drink, so there aren't a ton of bars lining the district. That being said, there are still worthy spots to get some cabernet while you check out Monet (or just like, a sweet frozen drink from a margarita machine, but that didn't rhyme). It's about quality, not quantity here, with heavy-hitters Bistro Menil, Bosta Wine & Coffee, Grand Prize Bar, Monarch at Hotel ZaZa, and Brooklyn Athletic Club giving the hood's reputation even more ups.
9. Upper Kirby
The folks hanging around Upper Kirby must really like wine, because the neighborhood has become the closest thing Houston has to Napa Valley. Minus the actual production of grapes... which we suppose is the most important part so we guess it's not like Napa at all. What we're trying to say is, there are a lot of wine bars here. Hit the newly opened and already highly rated Beckrew Wine House, Portuguese tapas and vino bar Oporto, California-focused Sonoma Wine Bar, or sexy West Ave spot CRU Wine Bar. If something more laid back tickles your fancy, pubs like McElroy's, Velvet Melvin, and The Cellar Bar await.
8. Garden Oaks/Oak Forest/Lazybrook/Timbergrove
We bunched these suburban hoods together in an area we've dubbed "WeNoGeHe," West and North of the Greater Heights (we really hope that catches on, by the way). Thanks to a growing number of young professionals and families who weren't willing to let the dream go but got priced out of the Heights and kinda let their dreams go, worthy drinking holes are thriving in each. There's the casually cool haunts Sassafras and Down the Street and uber-popular craft beer bars Petrol Station and Cottonwood in Garden Oaks/Oak Forest, for starters. Then there's Vietnamese gastropub Hughie's Tavern and fan-favorite Karbach, hands down one of the coolest breweries in Houston, set right in Lazybrook/Timbergrove.
7. Washington
A few years back, this street-turned-de-facto-neighborhood would have likely placed higher on the list. Sadly, the "new Midtown" didn't pan out the way everyone expected, as a number of the haute-spots that once lined the block have since shuttered. But that's not to say a few shining new ones haven't popped up in their place. We have high hopes Washington can turn back around, thanks to chill drinkeries like Porch Swing, Underdogs Sports Pub, and Taps House of Beer, plus standouts like Alba Huerta's nationally recognized Julep and the always reliable Liberty Station and Beaver's Ice House. Now if there was only a Washington Ave streetcar...
6. Rice Village/West U
Bar crawl anyone? With thirsty Rice students inhabiting the area, cheap dives, boozy bars, and beer pubs are the name of this hood's game (not "flippy cup," as one may think). Sip incredibly good frozens at the tiki-dive Under the Volcano, drink local and worldly craft suds at The Ginger Man and Hans Bier Haus, de-stress on the patios at Little Woodrow's and 55 Bar, hit Marquis II for Texas Tea Tuesdays, shoot pool and sit at a Texas-shaped billiard table at Kay's Lounge, listen to blues at The Big Easy, or drink in an old bank vault at Scottish pub Kelvin Arms. On campus, the not-so-secret secret pub Valhalla will keep you primed after finals.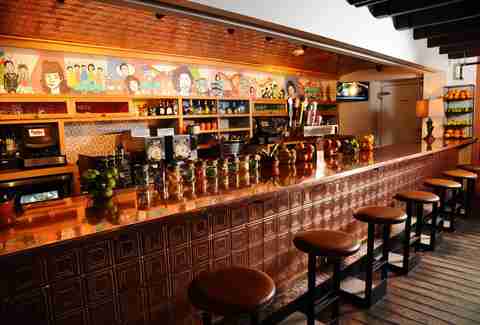 5. EaDo/East End
If EaDo and the East End were one big pedestrian-friendly hood, this recently popular area of town would be what the kids these days like to call "the tits." At least the tiny area of EaDo is walkable, so you can easily chill at neighborhood pub Around the Corner, get local suds at 8th Wonder Brewery, skip on over to Lucky's Pub and Little Woodrow's, and finish up the night with video games and stiff drinks at nerdy-in-a-cool-way Neil's Bahr. Rumor has it there's also a vodka micro-distillery in the works. Over in the expansive East End, weenie and craft suds bar Moon Tower Inn, rum-centric drinkery Voodoo Queen, and quirky dive D&W Lounge are definite spots to make your way over to. So is the Tex-Mex and margarita oasis Ninfa's.
4. Heights
If this totally livable neighborhood didn't have that stupid dry zone, it may have placed higher on this list. That's because where it's not dry, it's an incredible place to blow off steam. White Oak is ground zero for bar hopping here, with the totally frill-less Jimmy's Ice House, super chill sports bar Christian's Tailgate, neighborhood hangout Public House, and one of those Creeks being just a few of the prime choices to get your drink on. A little ways north, newer cocktail spots Treadsack's Johnny's Gold Brick and Canard, lazy day ice house D&T Drive Inn, whiskey-fueled drinkery Eight Row Flint, and the fancified tiki haunt Lei Low Bar are helping to transform the neighborhood into a bonafide drinking destination.
3. Montrose
In a perfect world, Montrose may take the top spot. But the jagged sidewalks and sprawl of the hood make it hard to bar hop and keep the drinking scene tight. That is, with the exception of Lower Westheimer, which boasts a killer lineup of bars within walking distance (just remember that thing we said about the sidewalks). Get some rooftop action at Rosemont Social Club, make your way through the craft brews at The Hay Merchant, get jazzy at Catbirds, hit the punch bowl at Stone's Throw, air out on the patio at La Grange, sip American whiskeys and Poison Girl, and spend some time getting to know the critically acclaimed first born child of Houston's craft cocktail scene, Bobby Heugel's Anvil Bar & Refuge before finishing up with wine at Camerata. Off the block, there's bar and live music spot Rudyard's, the fantastically divey Lola's Depot and Griff's, and (perhaps most importantly) cult favorite hangout West Alabama Ice House, which keeps Montrosians quenched, happy, and full because they just ate like, 18 tacos from the Tacos Tierra truck.
2. Midtown
This 20-somethings sanctuary scores real high on walkability, but it really earns the No. 2 spot thanks to its reputation as the place to get rowdy. Not only doesn't only play host to an alarming number of Bad Decision Bars -- including Shot Bar, Howl at the Moon, and Pub Fiction, it's also home to glorious dives and some surprisingly excellent craft cocktail and wine bars. Pop in Spare Key and Double Trouble Caffeine & Cocktails for top notch craft drinks, Community Bar for cheap drinks and steak night, Wooster's Garden, and Mongoose versus Cobra for eccentric selections of brews and equally cool cocktails, 13 Celsius for a flawlessly curated library of global wines, and newcomer Axelrad Beer Garden to chill out in a hammock while you sip suds and eat pizza. All of which seems pretty hard to beat, but...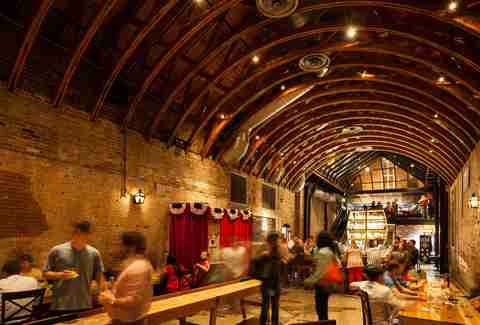 1. Downtown
Deciding between a bro-tastic party zone and a slightly classier, still kinda bro-tastic party zone is like choosing your favorite Rick Grimes dad joke, impossible but worth figuring out. The pedigree of talent mixed with variety of good-looking bars within walking distance in Houston's epicenter pushes Downtown over the edge. You can charitably imbibe at OKRA Charity Saloon, sip mezcal at Bobby Heugel and Alba Huerta's Pastry War, get seriously stiff libations at Bad News Bar, Moving Sidewalk, and the NOLA-inspired Honeymoon Cafe & Wine Bar, and have cheap drinks and a bonkers time at the eclectic Notsuoh, all by just rounding the corner. Within spittin' distance, there's the always classy Public Services Wine & Whisky from Justin Yu and Justin Vann, oddly cool island-style dive Sunny's, brand new underground beer garden Conservatory, and whiskey-soaked, bump-and-grind dance floor at Boots 'n Shoots. Not to mention some of the oldest bars in Houston right in Market Square Park. Because of all this (and plenty more but our hands were starting to cramp from typing all of them), people are finally starting to give Downtown the respect it deserves. We say it's about damn time.
Sign up here for our daily Houston email and be the first to get all the food/drink/fun in town.
Brooke Viggiano is a Houston writer who loves all of Houston's hoods equally, even though she totally just ranked them. Learn more about her oxy-moronic ways @BrookeViggiano.