Galveston Island's nightlife can pack a punch and put your "ass in the sand" in a way Zac Brown wasn't singing about. If you can handle it, a quick hour's drive South on I-45 will put you in the hands of some heavy-pouring bartenders and a crazy good time. Here's your guide to what this coastal community has to offer its adult beverage-seeking clientele.
Downtown Galveston
Brews Brothers (address and info)
Located in the Galveston Historic District in the popular area known as "The Strand", this brewpub is reliably filled with jolly patrons, likely thanks to the seemingly constant stream of new beers to try. It's also a hot spot amongst the upcoming doctors studying at the local University of Texas Medical Branch, so bring you're A-game if you plan on coming to their weekly trivia night (and hope there's no "anatomy" category). Bonus: they recently added a food menu that includes some seriously large and delicious burgers. DOUBLE BONUS: you can take your beers to go, so when heading to our next spot, make sure to grab one for the walk.
Yagas Café (address and info)
Friday and Saturday night turn this family-friendly restaurant into a live music-playin', drink-slingin' good time. From killer vocal covers of songs like "All the Single Ladies", to band originals that bring in all the single ladies, when it's on at Yagas, IT'S ON. However, be wary, the bartenders have the power to make you feel like you are capable of dancing to just about anything... which you are not. If you need a break from the noise, there's a cozy connected patio convenient for chatting up the ladies you somehow managed to impress.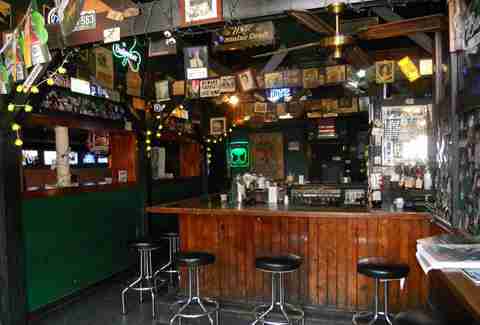 O'Malley's Stage Door Pub (address and info)
First date idea: share a sexy, world-class Frito Pie Supreme paired with a frosty Guinness (around $20 for dinner and drinks) at O'Malley's Stage Door, and then head next door for a show at the Grand 1894 Opera House while wearing matching tuxedo T-shirts. Maybe not? Perhaps just scratch the date idea, and head to O'Malleys for some eats and drinks on the cheap. 
Old Quarter Acoustic Café (address and info)
A certain Seattle coffee giant beat Old Quarter Acoustic down with a lawsuit against their tasty in-house brew called the Star Bock. Bad business move, because the after-effects from an evening of Star Bocks would have most certainly called for a venti quadruple-shot mocha macchiato. Following the suit, Old Quarter got flooded by Hurricane Ike in 2008, but you just can't keep a good bar down. They rebounded and continue to be a one-of-a-kind live music bar where a lame cover song may very well get you booed right out the back door. The atmosphere's dim and the drink selection isn't exactly expansive, but that's part of the charm. That and the cheap beers. Make sure to bring cash: your plastic won't work here.
Murphy's Irish Pub (address and info)
Packed every Wednesday for Big A$$ Beer night, Murphy's Irish Pub is a Big A$$ bar offering a Big A$$ selection. Two long, wooden bars lined with dozens of taps make up only a small portion of this large booze dispensary, which is also housing darts, pool, foosball, and rugby. Fine, no rugby, but it feels like it'd be big enough. However, you'll also find it crowded just about any night of the week, so maybe stick to the table games.
The Rooftop Bar (address and info)
This hidden Galveston gem's slightly higher drink prices are worth it for the Downtown Galveston view from atop the historic 1839 Tremonte House Hotel. When heading through the entrance you will be walking the same ground traveled by Ulysses S. Grant and Buffalo Bill. However, to drink the whiskey like they did, you have to take a journey to The Rooftop Bar. Proceed to the top floor via elevator and turn left… you may be met by a creepy guy in a mask (especially possible during Mardi Gras)… ignore him and proceed to the door leading out onto the rooftop. NOTE: their hours are weather permitting. In other words, don't go here for your hurricane party, unless you are referring to the fruity drinks and not the 100mph winds and rain.
Seawall
Float Pool & Patio Bar (address and info)
A block from the Gulf of Mexico, Float's two-story pool deck offers views of both the beach AND its monthly Summer bikini contests. If that doesn't do it for you, step up to the bar, and order the "Wake Me Up" -- a half-Red Bull, half-liquor concoction topped off with 151 that's taken shotgun-style straight through a small pre-prepared hole in that slim little energy can. There, now you'll be agreeable to just about anything.
Beerfoot Beach Bar (address and info)
Do you have what it takes to be da BOM? At Beerfoot Beach Bar you could be the "Brewer of the Month" and have your hoppy creation consumed by the masses. Not into all that stirring of mash and, you know, work? Sit back, relax, and enjoy the fruits of someone else's labor. Pick from a wide selection of draft and bottled craft beer at this Seawall brewpub located just a hop (think rabbit, not beer) away from Float. Beerfoot offers a less MTV Spring Break, more chill alternative to this prime beachfront location.
The Spot (address and info)
Originally just a very tasty burger joint, The Spot has expanded to become a full-on beachfront institution. If you like bar on bar on bar action, this mall of bars features four alcohol consuming options and one main restaurant, all in one location. Don't worry, there are directional signs in case you get lost. At your disposal -- tequila bar The Squeeze, the self-explanatory Rum Shack, the 50-beer pouring ice house oddly known as Tiki Bar, and their newest addition, Side Yard, a casual backyard-themed bar. There's also a tasty restaurant if you want to lay a base before you bar crawl your way through the whole complex.
H2o (address and info)
If it wasn't for the pool aspect, you could probably expect a dress code at this "Ultra Lounge" located at the San Luis Resort. Booze flows freely -- just not as cheaply -- as you take in an ocean view from atop Galveston mountain. Fine, maybe it's more of a hill. Think a $100-dollar buzz. But if you have some money to burn, score yourself a cabana and enjoy living classily.
The Poop Deck (address and info)
Words can't describe this drinking experience. If one were to try, one might start with "ocean view", "cheap beer", and "second-hand smoke". Lucky for you there is a wide, open-air deck furnished with a 10ft Statue of Liberty. Just beware the occasional aerial bomb from a high-flying seagull or pelican (it's good luck!). This is a bar where you could find the likes of Captain Jack Sparrow (read: random pirate, not Johnny Depp…) hanging out with a Jimmy Buffett (read: islander, not tropical burger aficionado), both of whom are willing to buy your next Lone Star. Their slogan? "Where the elite meet in bare feet!"
This list -- and all the rest -- look even sexier in our iPhone app. Get it now!