Whether you're stuck in Houston away from your family, or stuck in Houston with your family, these bars are open and ready for you... if you need a little extra Christmas cheer (in this case, cheer = booze).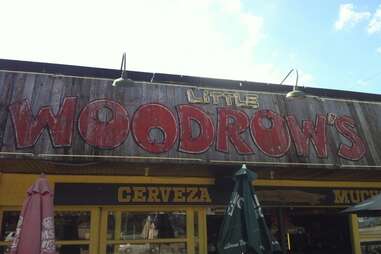 Bellaire
Ditch the family for some buckets o' beer starting at 7pm.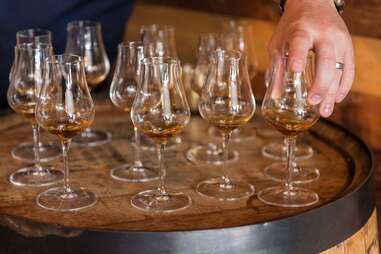 Downtown
Catch the Rockets with some whiskey, and uhhh, celebrate the holidays, too. Opens at 5pm.

Downtown
Put "Santa Baby" on the jukebox and all will be merry, starting at 2pm.

Downtown
This grungy bar is 100% rock 'n' roll. And rock 'n' roll doesn't quit for anyone, not even baby Jesus. They open at 6pm.

Downtown
Part bar, part tailor shop, you can get a stiff Martini and your pants hemmed starting at 7pm. It's a Christmas miracle!

Downtown
This moonshine > your weird uncle's moonshine. Opens at 6pm.

Downtown
Christmas gets a whole lot weirder starting at 6pm.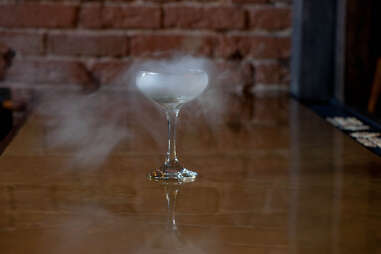 Downtown
Christmas will get a whole lot sexier once you down a few fancified cocktails starting at 8pm.

EaDo
This dark and cozy bar is the perfect place to hide from your crazy Aunt Edna. Opens at 6pm.

EaDo
Relive the days when your mom didn't get you Mario Kart with some Mario Kart at your friend Neil's starting at 6pm.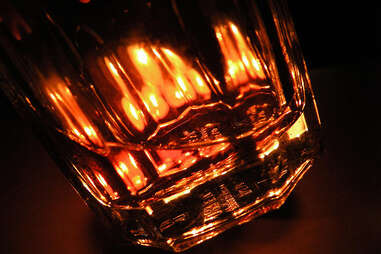 Galleria Area
Opening at 2pm, this dark and cozy pub will make you warm and fuzzy inside. And if it doesn't, the multitude of pints you'll be downing will.

Galleria Area
Because nothing says Christmastime like sake bombs and spicy tuna rolls. Opens at 4pm.

Galleria Area
Cheap beer and heated darts competition beats cheap wine and heated arguments with your dad any day of the year, and especially on Christmas (opens at 5pm).
Garden Oaks/Oak Forest
Your late-night escape is here for you from 7pm onward.

Heights
The only thing old fashioned about this holiday will be your drink. Opens at 4pm.

Heights
This cozy bar and restaurant feels like home… if home were fun. Opens at 6pm.

Heights
It already sounds festive, right? Enjoy the fire pit and a frosty Lone Star starting at 7pm.
Heights
There's no chiller spot for ditching your family. Case in point, they open noonish or "basically whenever we want."
Heights
Starting at 6pm, get local brews, stiff drinks, and grape-flavored shots that will make this Christmas one to remember. Or not.
Heights
The twinkling patio lights kinda look like a Christmas tree, right? See for yourself starting at 7pm.
Midtown
Sports and pints are the name of the game at this Midtown retreat, opening at 5pm.

Midtown
See above, but substitute "hockey" for "sports". Opens around 6pm.

Midtown
These twinkling patio lights will remind you of the days of Christmas past, except it will be way cooler because you'll have booze. Opens at 6pm.

Midtown
May all of your Christmases be white and filled with cheap buckets of booze and a few rowdy games of corn hole. Opens at 6pm.

Midtown
Expect to get pitchers of beer sometime in the late afternoon/early evening.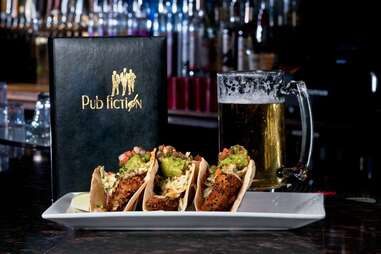 Midtown
Holiday merriment comes in the form of cheep beers and shots at 6pm.

Midtown
If all you want for Christmas is a shot wheel, head here starting at 6pm.

Midtown
Crazy-good cocktails, house Fireball shots, and craft brews will make you forget all about the zero gifts you got this year. Opens at 6pm.

Midtown
Escape family mayhem to enter Midtown mayhem starting at 7pm.

Midtown
Take a Christmastime shot-ski starting at around 7pm.

Midtown
It's not too late to take your Christmas pictures in the photo booth starting at 8pm.
Montrose
And if you've been really, really good this year, maybe Tacos Tierra Caliente will be open. The bar opens at 2pm.
Montrose
Why go caroling when you could go karaoke-ing from 4pm onward?
Montrose
Come here for pinball, whiskey, and good vibes. Expect them to be open around 7pm.
Montrose
And they've got bomb-ass cheeseburgers, too! Opens at 5pm.
Montrose
It works for Saint Paddy's Day, so why not Christmas? Look for it to open in the evening.
Montrose
How does a Christmas pub crawl sound? Start here and make your way down Westheimer to the next two bars. All holiday cocktails are $5. Opens at 7pm.

Montrose
Next stop? Right next door at Boondocks. Opens at 7pm.

Montrose
Don't forget this one. There are $5 Fireballs awaiting your arrival. Opens at 7pm.

Montrose
Irish or not, you can celebrate Christmas the way only the Irish can starting at 7pm.
Rice Village/West U
Lots of beers and German things from 6pm on. Frohe Weihnachten!

Rice Village/West U
Start your Boxing Day celebrations a day early, at 7pm or later.

Rice Village/West U
Fact: Texas tea > egg nog. Opens at 7pm.

Rice Village/West U
A few sturdy cocktails and you may just end up on Santa's naughty list after all. Opens at 7pm.

River Oaks
If you're Irish, it'll be just like you're at home. Opening around 5pm.
Upper Kirby
Pretend it's actually cold outside and curl up with a Guinness at this British pub. Bonus: they're open at 11:30am!
Upper Kirby
Fishbowls full of booze are truly the greatest gift of all. Opens 7pm.
Washington
Escape the inevitable family dysfunction at this friendly neighborhood bar. Expect it to open around 4pm.

Washington
Nachos count as dinner in our book. It's open at 6pm.

Washington
Craft suds do a Merry Christmas make. Opens at 6pm.

Washington
Stiff drinks and craft beers are ready to keep you merry, starting at 7pm
Sign up here for our daily Houston email and be the first to get all the food/drink/fun in town.
Brooke Viggiano is a Houston writer who wholeheartedly believes booze is the greatest Christmas gift of all. Tweet her @BrookeViggiano if you agree.