Houston's first-ever light rail bar map
You may not use the light rail very often, but you probably should... because if you ride between UH-Downtown and the Museum District, you can use it to take Houston's most almost-legendary-at-this-point bar crawl. We made a map so you can do just that... or, at the very least, so you know which drinking holes are closest to your stop.
Editor's Note: Some light rail stops sadly lack bars within stumbling distance, so only the bar-friendly stops were included.
UH-Downtown
Our pick:
Last Concert Café
This chill, incognito Mexican eatery has live music and plenty of cheap booze, and is less than a 10 minute walk from the station. Start the crawl at happy hour for $3 Lone Star drafts and $4 'ritas.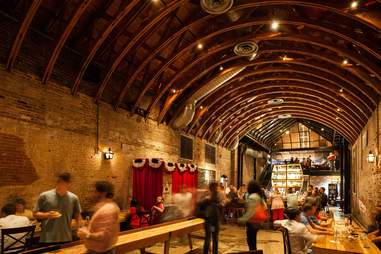 JULIE SOEFER
Preston
Our pick:
OKRA Charity Saloon
Feel good about every drink you down – because this dope saloon, one of our
13 Most Important Bars in Houston
, donates 100% of its proceeds to a different local charity each month. Chase a spirit-forward cocktail with a $3 shot of Fernet before moving on with your day.
Other drinking holes:
Brewery Tap, Captain Foxheart's Bad News Bar & Spirit Lodge, Char Bar, Deans, La Carafe, Little Dipper Bar, Molly's Pub, Notsuoh, The Pastry War, Public Services Wine & Whiskey, Red Cat Jazz Café, Shay McElroy's, Warren's... yeah, you have some options here.
If you're feeling thirsty AND hungry:
Batanga, Bitterman's Square Bar & Grill, El Big Bad, Fusion Taco, Hearsay Gastro Lounge
Main St. Square
Our pick:
Flying Saucer Draught Emporium
Release your inner beer geek and down a couple of pints or bottles from this heavy-hitter's mighty fine selection of craft brews. Bonus: if you join the UFO club and drink 200 of said brews, you'll earn one of the highest honors in town: a plate with your name on the bar's wall.
Other drinking holes:
Sunny's Bar, The Springbok Bar & Grill
If you're feeling fancy:
806 Lounge @ JW Marriot, Magnolia Bar @ Magnolia Hotel, Venue Houston
Bell (or Main St. Square SB)
Our pick:
The Dirt Bar
Get your whiskey with a side of rock n' roll at this dark and dingy grunge bar. And on Tuesday "Flip Night", that whiskey can be FREE if you guess the bartender's coin flip correctly. Go tails. It's always tails...
Other drinking holes:
House of Blues, Pete's Dueling Piano Bar, Reserve 101
Downtown Transit Center
Our pick:
Lone Star Saloon
Despite the fact that it pretty much looks like a crack den, this hole-in-the-wall dive filled with all types of interesting folk is always a good time. Stick to the basics, then get the hell out of there.
For live music:
Jet Lounge
McGowen
Our pick:
Leon's Lounge
If you've been following the bar crawl, you should be feeling good at this point. Dim lighting and vinyl grooves will make you feel warm and cozy as you sip on your expertly crafted libation.
Other drinking holes:
Bar Munich, Community Bar, Capitol Bar, GAGE Lounge, Glitter Karaoke, Mongoose versus Cobra, Proof
If you're feeling posh:
13 Celsius, Nouveau Antique Bar
If you feel like dancin':
Barbarella
Ensemble/HCC
Our pick:
Double Trouble
Caffeine and cocktails make this cool patio bar double the trouble. Skip the coffee and pick from over 40 microwbrews or the sick lineup of handcrafted Tiki cocktails. Also don't miss the Dark 'N' Stormy.
Other drinking holes:
Alley Kat Bar & Lounge, Natachee's Supper 'n Punch, Big Top Lounge, Continental Club
Wheeler
Closest bars:
Absinthe
+
Brooklyn Athletic Club
You'll have to cross under SW Fwy to get to this low-lit boho lounge (Absinthe) and neighboring backyard bocce bar (Brooklyn Athletic Club), but they're less than a half mile away. And they both have some pretty fine booze. Just sayin'.
Museum District
Worth the 10 minute walk:
Grand Prize Bar
Stiff cocktails are the poison of choice at this sinfully gritty hangout, another one of our
13 Most Important Bars
. With a badass jukebox, pool tables, and general no-one-gives-a-crap vibe, it's the perfect place to end (or start) your crawl.
If you're feeling thirsty AND hungry:
Bodegas Taco Shop, Monarch at Hotel ZaZa, Museum District Bistro & Lounge
Sign up here for our daily Houston email and be the first to get all the food/drink/fun in town.