Patio weather is here, so break out those flip flops! Or don't, because you fear what people will think of your weird, gross toes. Either way, put some sunscreen on your nose and get ready for some day drinking (unless it's nighttime), and head out to one of these 90 outdoor drinking spots while the weather is still bearable enough to do so.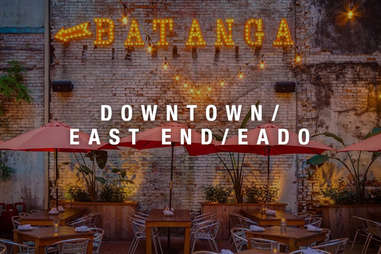 Batanga
Downtown
Downtown's prettiest patio is full of beautiful people and even more beautiful ways to get your drink on.
Captain Foxheart's Bad News Bar & Spirit Lodge
Downtown
Take in the city lights and a sturdy Old Fashioned on the bar's second-story terrace.

El Big Bad
Downtown
A wrap-around balcony featuring seriously boozy margaritas and some queso for good measure.

The Grove
Downtown
A chic rooftop and patio set in the beautiful Discovery Green.

Home Plate Bar & Grill
Downtown
Houston's premier rooftop to pregame on before the Astros lose.

La Carafe
Downtown
Grab a seat on the second-story patio overlooking Market Square Park.

Last Concert Cafe
Downtown
This Mexican restaurant and live music hotspot boasts a sweet and colorful back patio.

Little Woodrow's EaDo
EaDo
The EaDo outpost of Little Woody's has a nice-sized side patio with plenty of seating.

Moon Tower Inn
East End
Monster wild game weenies and 60+ taps make this chill-as-hell backyard the neighborhood hangout.

Neil's Bahr
EaDo
Cool off from intense games of Mario Kart on the side patio, complete with a few seats and a grill.

The Springbok
Downtown
Take in Downtown on this South African pub's expansive terrace.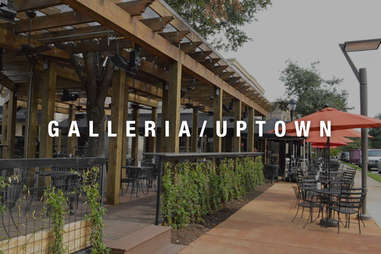 The Tasting Room
Galleria/Uptown
A pretty patio on which to get your wine and cheese on.
Belvedere
Galleria/Uptown
Get dancey in the open air at this club's hip outdoor lounge.

Big Woodrow's
Galleria/Uptown
Hit the sprawling patio up for crawfish, brews, sports, and whatever other wild stuff is going on that day.

Cafe Mawal
Galleria/Uptown
A hookah bar and lounge with substantial outdoor seating AND tents.

Muldoon's – The Patio
Galleria/Uptown
This bar's oak tree-shaded deck is the perfect quiet place to collect your thoughts while you down beers.

The Richmond Arms Pub
Galleria/Uptown
Grab a few pints on the spacious, bench-lined patio at this neighborhood pub.

Sam's Boat
Galleria/Uptown
This chill-as-hell deck is one of the best spots to take down seafood and beer on a nice day.
Cottonwood
Garden Oaks/Oak Forest
Easily one of the biggest, chillest patios in town. Hit it up for live music, corn hole, and an excellent selection of craft beer.

Lillo & Ella
Garden Oaks/Oak Forest
This trendy cocktail and globally inspired eats spot has a dog-friendly, 70-seat patio.

Petrol Station
Garden Oaks/Oak Forest
Head to this no-frills converted gas station for a solid rotation of hard-to-score brews.

Sassafras
Garden Oaks/Oak Forest
This neighborhood pub's sprawling patio is the best place to take down "fancy and cheap beer, above-average wine, and tasty liquor."

Wakefield CrowBar
Oak Forest/Garden Oaks
Play sand volleyball at this huge outdoor patio bar.
Cedar Creek Cafe
Heights
With plenty of picnic tables and a chilled-out crowd, this expansive creekside patio deck boasts a Hill Country-vibe.
BB's Cafe
Heights
Take down po' boys, hurricanes, and monster plates of fries on the huge outdoor patio.

Big Star Bar
Heights
A huge outdoor space complete with fire pits makes this dive bar a great spot all year round.

Christian's Tailgate
Heights
A beloved sports bar with plenty of room for the pups and plenty of burgers for you.

D&T Drive Inn
Heights
Hit up this friendly beer bar's patio for housemade shandies and a general good time.

Jimmy's Ice House
Heights
A neighborhood dive with some of the cheapest beers around.

Little Woodrow's
Heights
Bring your dog to grab happy hour brews on White Oak.

Lucky's Pub Heights
Heights
Get bar pies, beers, and sports on the patio at this Lucky's outpost.

Onion Creek
Heights
This patio bar has a Hill Country-feel without the mustaches.
The Dogwood
Midtown
You can expect sweet tea vodka on tap and a trendy crowd at this two-level patio bar.
3rd Floor
Midtown
A three-story beer-and-wine bar with a nice-sized terrace and views of Downtown.

Bourbon on Bagby
Midtown
Sit out on the front deck to enjoy the warm weather and a cheap tower of beer.

Capitol Bar
Midtown
A sprawling yard and patio, games, food trucks, and live music make this one of Midtown's best outdoor destinations.

Celtic Gardens
Midtown
One of the biggest daytime party spots in Midtown boasts lounge seating, DJ sets, bags, booze, and plenty of debauchery.

Front Porch Pub
Midtown
Crawfish boils, trivia nights, and Screwdriver- and beer-laced "Frozen Moons" rule the roost on this relaxed patio.

Gaslamp/Gaslamp Terrace
Midtown
Grab beers on the modern, industrial patio or a cabana-style brunch on the rooftop terrace.

Little Woodrow's
Midtown
Half sports bar, half wild-as-hell party, this sprawling outdoor lounge is a Houston gem.

Midtown Drinkery
Midtown
A covered side patio and rooftop dance party draws a post-grad, boozed-up crowd.

Natachee's Supper 'n Punch
Midtown
This country-style bar's backyard is the kinda place you can hangout a while... especially when there's live music.

Proof Rooftop Lounge
Midtown
A 4,000sqft rooftop patio with a hip, clubby feel.

Red Door Midtown
Midtown
Hit the posh rooftop to escape Houston's biggest dance orgy (which is most definitely happening downstairs).

Saint Dane's Bar & Grille
Midtown
Ice-cold pitchers, steak night, and fried Oreos make this table- and bench-lined patio a winner.
Brooklyn Athletic Club
Montrose/Museum District
Bocce and booze in the yard is one excellent way to spend a sunny afternoon.
AvantGarden
Montrose
A live music and entertainment hub with a front porch and pretty, tea-light-trimmed back patio.

The Black Labrador
Montrose
50 seats, plus a life-sized chess board outside and an authentic British pub-feel inside.

Bistro Menil
Montrose/Museum District
Get your culture and cocktail on at this beautiful landscaped patio on the Menil campus.

Boheme Cafe & Wine Bar
Montrose
A charming outdoor destination for flatbread pizza, fries, and wine.

Boondocks
Montrose
Grungy hangout with a patio you'll smoke way too many cigarettes on.
Doc's Motorworks
Montrose
Grab a cheap beer, pub-grub, and a game of giant Jenga on this chill, street-side patio.

El Pueblito Patio
Montrose/Museum District
A lush, island-style patio boasting cabanas and tropical drinks.

Grand Prize Bar
Museum District
Hit up the rooftop for a breezy break from the dive below.

The Hay Merchant
Montrose
Easily one of the city's best beer bars, this hotspot boasts an outdoor patio as cool as its selection of brews.

Hotel ZaZa
Museum District
Hit the covered terrace or relax by the poolside cabana at one of the hottest hotels in town.

Poison Girl
Montrose
Sip whiskey with a giant Kool-Aid Man in the backyard.

Rosemont Social Club
Montrose
Sexy rooftop lounge with craft cocktails and a swanky club-feel.

West Alabama Ice House
Montrose
Grab a taco, a cheap beer, and an embarrassingly bad game of horse out on this friendly neighborhood patio and yard.
55 Restaurant & Bar
West University
This hip, casual sports bar boasts a full-sized patio perfect for getting your drink on.

Benjy's
West University
Hit the modern American resto' early if you want a spot on the second-story lounge deck.

The Ginger Man
Rice/West University
A quaint pub with one of the coziest backyards in the city.

Hans Bier Haus
Rice/West University
Live easy with bocce, pong, and pints in a tree-lined beer garden.

Hudson Lounge
West University
This swanky lounge complete with a rooftop patio is the closest you'll get to South Beach in Houston.

Under the Volcano
Rice Village/West University
Two smallish but chill patios for your outdoor Tiki-drinking pleasure.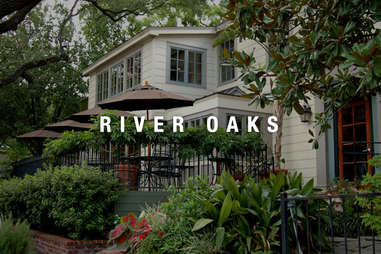 Backstreet Cafe
River Oaks
Get New Orleans-style vibes alongside excellent food and drink in this cozy backyard.

Irish Pub Kenneally's
River Oaks
Hit up this Irish pub's expansive patio for bar pies and cheap booze.

Red Lion Pub
River Oaks
Get pub-style curry and pints on the patio.

Tiny Boxwood's
River Oaks
Hit the picturesque patio garden for wine and snacks.
Brenner's on the Bayou
Washington/Memorial/Rice Military
Head to the Blue Bar for swanky happy hour with a view of the Bayou.

Beer Market Co.
Washington/Memorial/Rice Military
A handful of outdoor, covered seating wraps around two sides of this sports pub.

Beaver's
Washington/Memorial/Rice Military
This ice houses's patio is as laidback as they come. Expect it to be fully packed during crawfish season.

Benjy's
Washington/Memorial/Rice Military
Hit the second-story terrace for a trendy, always-popping happy hour.

Galway Hooker Irish Pub
Washington/Memorial/Rice Military
Sit out on the rooftop to take in some rays during the day and wild dance parties during the night.
Hughes Hangar
Washington/Memorial/Rice Military
Expansive outdoor lounge area with gourmet comfort food and craft cocktails.

Julep
Washington/Memorial/Rice Military
Elaborately rendered Southern-inspired cocktails are just as cool as the covered patio.

Kung Fu Saloon
Washington/Memorial/Rice Military
A nice-sized covered patio with giant Jenga and a fun, post-college crowd.

Liberty Station
Washington/Memorial/Rice Military
Hit up the neighborhood hangout for beers, craft cocktails, and a rotating selection of food trucks.

Luke's Ice House
Washington/Memorial/Rice Military
This laidback sports bar boasts plenty of patio seating alongside cheap eats and brews.

Porch Swing Pub
Washington/Memorial/Rice Military
Chill out with a Frozen Moon -- the boozy drink is a hybrid of a frozen Screwdriver and a Blue Moon.

Social Junkie Sports Bar and Grill
Washington/Memorial/Rice Military
The swanky sports bar offers a nicely sized second-story patio bar with views of Downtown.

Taps House of Beer
Washington/Memorial/Rice Military
Return to college with corn hole and Connect Four in the yard.

Underdogs Sports Pub
Washington/Memorial/Rice Military
Huge, dog-friendly patio with a chill vibe.

Winston's on Washington
Washington/Memorial/Rice Military
Homemade dog treats and outdoor turf make this Fido's favorite pub.
Sign up here for our daily Houston email and be the first to get all the food/drink/fun in town.