First dates -- also commonly known as "let me bring this Tinder chick to a bar to see if she's cool before I spend money on dinner" -- can be rough. That's where we come in. We've compiled a list of the most excellent Houston-area bars for first-time meet-ups, where you can ease the tension through flirty games of Battleship, house-made Fireball, and top-notch bar bites. Actually getting the date is on you.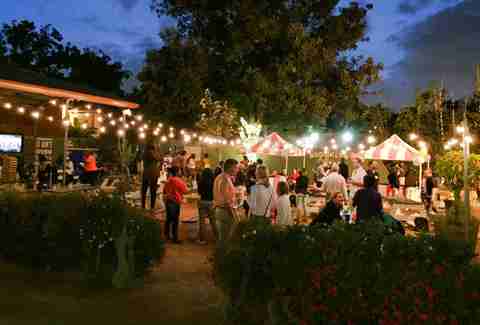 Montrose/Museum District
With a vibe that feels a little bit posh but still laid-back, this restaurant's tea-light-trimmed yard is an excellent spot to chill out over craft cocktails and a few games of bocce. Plus there's an outdoor fireplace and s'mores, which is never not sexy.
Garden Oaks/Oak Forest
Bring your pups to the GOOF's most popular patio, where you can get to know each over a solid lineup of craft pints and pub grub. There's giant Jenga, fire pits, and live country music a few days a week to keep things relaxed and fun.
Montrose
You and your date can unwind while you get totally wine-d at this dimly lit bar. Hit the lush backyard patio, where the crowd will bring just enough background noise for you to confidently eye-bang each other over a pile of Bangkok fries.
Midtown
This European-style bar boasts a library of biers and bar bites, but what makes it really special is the plethora of old-school games. Challenge each other to an intense game of Battleship or Wii tennis -- loser has to das boot.
Downtown
Combine a central location perfect for bar-hopping with the fact that you can show off your charitable nature, and this non-profit charity bar is a winning first-date locale. A steady crowd keeps the intimacy at bay, while cheap beers, $3 shots of Fernet, and shuffleboard keep things interesting.
EaDo
Unpretentious types will love this nerdy hole-in-the-wall with killer game and beverage selections. Monday trivia and steak night is a great way to remove any first-date awkwardness. But sipping on a few cocktails while letting her win Mario Kart any night of the week will also do.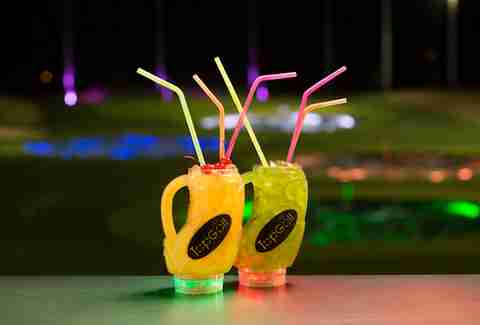 Katy/Spring
Ok, so technically, this golfing arena is not a bar. But it has a bar (and shareable fishbowls), so that counts for something, right? Take turns ordering rounds of pitchers while you embarrass yourself with your driving skills. Then redeem your good name in a game of life-size Connect Four.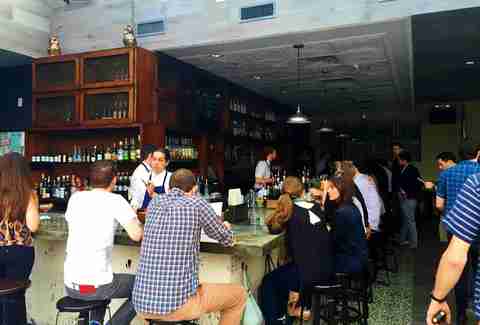 Midtown
With 49 brews on tap and a laundry list of stiff craft cocktails, this totally chill beer garden has something for everyone. And remember that house-made Fireball we mentioned earlier? Your jokes just got 10 times funnier.
Heights/Woodlands
You're pretty much guaranteed to not be the only one on a first date at this trendy pizza/craft beer/wine bar. That means you're pretty much guaranteed to have at least one slightly more-uncomfortable-looking couple in your presence. Nothing brings two people together faster than making fun of two others.
Montrose
Since it's literally a stone's throw away from a bunch of other bars, this modern speakeasy is an excellent jumping-off point. Start with a few sophisticated cocktails and boozy punches before hitting up spots like Anvil, Poison Girl, and -- if you wanna get weird -- Catbirds.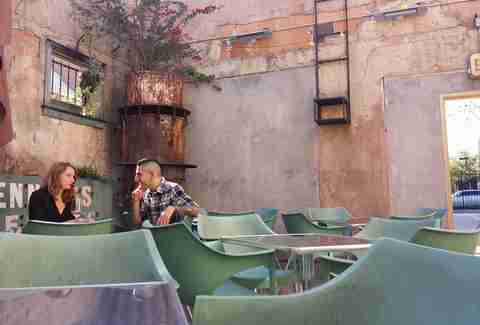 Midtown
Houston's hippest wine bar is a sexy-as-hell date spot. The best time to taste-test its library of temperature-controlled wines is on Sundays, when open bottles are half-price. Your date will either appreciate your insider knowledge or think you're cheap. Either way, it's a good test of chill-factor.
Sign up here for our daily Houston email and be the first to get all the food/drink/fun in town.