At this point, it's pretty obvious that Houston is taking over the world. And by the looks of it, its drinking scene is following suit. With tired haunts and empty lots flipping into legit cocktaileries faster than you can say "bitters", there were some incredible new bars to choose from this year. And because you can't drink everywhere at once, here are the VERY best 11:
 
(And in case you somehow missed it because you were drinking in all of these bars, here's our list of Houston's 11 Best New Restaurants).
Washington
After half a year of slamming Alba Huerta (of Anvil fame)'s powdered sugar-dusted juleps, it's confirmed that this Southern-style cocktail bar is one of the best openings of the year, not only in Houston, but in the whole damn country. Take down massive seafood towers and crazy-good oysters with your meticulously-crafted, fresh twists on classic concoctions. And if you can't decide between the rock & rye peach julep, a bitter and bold Sazerac, or a hot and sour Creole rum cocktail, the experienced team behind the bar is eager to size up your mood and point you in the direction of excellence.
Downtown
In June, the team behind Boomtown Coffee teamed up with the dudes behind Lei Low, Bad News, and Grand Prize Bar for this "Big Easy-meets-Houston" hangout. Part café you want to eat at, part bar you want to be at, these guys sling out breakfast and lunch-y things in the early hours and jazzed-up coffees, beers, bubbles, and classic NOLA-inspired libations all day long. The stunner of a cocktail program – created by Justin Burrow (Captain Foxheart's, Anvil) – is definitely one to watch. Get the Corpse Reviver No. 2 if you need a pick-me-up; and the smooth Vieux Carré if you want to ease into the night.
EaDo 
This tweet from owner Neil Fernandez (@neilsbahr) describes it best: "this ain't ya grandpa's bar. that's because it's called Neil's Bahr. if your grandpa's name is Neil, we will have to destroy him." The Darth Vader on the liquor shelf and abundance of comic books and sci-fi novels only further prove that this is THE spot for all things fantastically nerdy, and that's before even mentioning that bar's name is a pun on Nobel Prize-winning physicist Niels Bohr. Watch The Simpsons on a tube TV as you down a few glasses of whatever-the-hell you feel like drinking; then load up on whatever-the-hell they're grilling on the patio and play a few games of Mario Kart. Smash. Rinse. Repeat.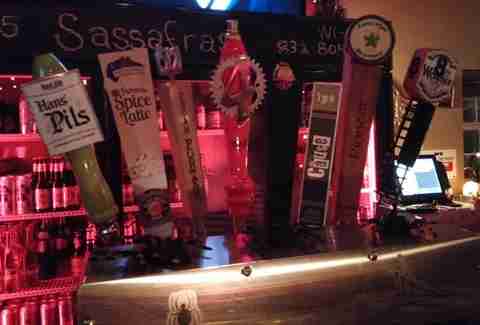 Oak Forest
Bartenders from Big Star and Grand Prize brought a much needed "everybody knows your name"-vibe to the heavily-suburban 'hood of Oak Forest. Housed in the old Crazy J's spot, this neighborhood haunt is as cool and laid-back as it gets. The sprawling patio is the best place to take down "fancy and cheap beer, above-average wine, and tasty liquor" (their words, but their words are correct). Though, you'll do well hanging inside with the pool table, jukebox, and arcade games, too. Don't miss their popping steak night – featuring beefed-up cuts and sides from former D&T Drive Inn chef Mike McElroy – every Monday.
Montrose 
Elaborately rendered craft cocktails and punches are the name of the game at this sexy 'trose newcomer from Shawn Bermudez and Hunter Montgomery. Though it's just a stone's throw (ah HA!) away from sibling ventures Boondocks, Royal Oak, and Pistolero's, the handsome 2-story bar stands out all on its own. Look for a duo of daily punches (served in glass, half-bowl, and full-bowls) alongside local brews, bubbles, and a lineup of 12 killer cocktails made with things like house-made ginger beer, bitters, and syrups. Hit the Progressive Happy Hour – with $4 drinks at 4pm, $5 drinks at 5pm, $6 drinks at 6pm, and $7 drinks at 7pm – to stylishly booze up on the cheap.
Midtown 
Bros everywhere man-hugged over red Solo Cups of Lone Star when this post-college college bar opened up this summer. With Iron Cress Hospitality Group (whose other bars include frat-tastic powerhouses Pub Fiction, 3rd Floor, and Celtic Gardens) behind it, it's no shocker the jocular, urban-country concept is off to a good start. Modeled after the kind of dives you may find along a Texas highway, the easy livin' vibe is made all the more fun with moonshine shooters and rowdy games of Chicken Sh*t Bingo (which you'd be remiss not to try at least once. Hint: they happen on Thursdays).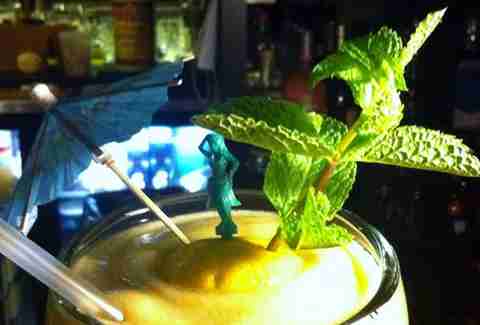 Heights 
The Houston bar scene needed a little island panache, at least according to Brad Moore and Ryan Rouse (Big Star Bar, Grand Prize Bar) and husband-and-wife team Russell and Elizabeth Thoede (Down House), the Tiki-freaks who brought us this tastefully cheesy drinkery at the start of the year. Fancified Tiki drinks – think top-shelf rums and liquors splashed with things like bitters, Herbsaint, ginger beer, and lemongrass – are the poison of choice. And they're damn tasty, too. Suck them down out of showy drinking vessels complete with hula girls, naked mermaids, and FIRE. Okole Maluna! (That means bottoms up... thanks Google!).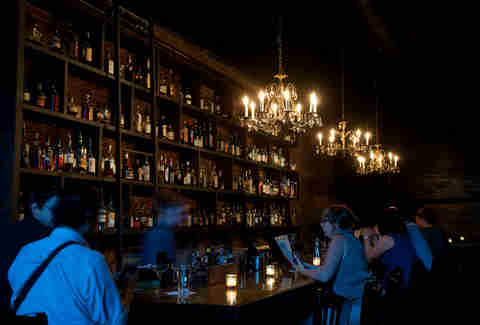 Dowtown
If it seems like Moore and Rouse (the co-conspirators behind bars like Grand Prize Bar, Bad News Bar, and more) and Alex Gregg (Anvil, Pass & Provisions) are everywhere these days, that's because they are. And that's a good thing... because not only do these guys bring some serious credentials, they tend to bring an exciting and fresh vibe to each and every project. The late Goro & Gun has been transformed into this sexy cocktailery that flaunts liquid-nitrogen-chilled glassware and an "emotional beverage guide" for the indecisive. Are you happy and perhaps overly optimistic about your new lady friend? A gin French 75 should do the trick. Somethin' on yer mind? Looks like you're taking a beer and a shot to get you out of your funk!
Downtown
Husband-and-wife team Justin Yu and Karen Man – who are behind the famed Oxheart (just easily one of the best restaurants in Houston, ever... nbd) – have teamed up with Justin Vann (PSA Wines, Oxheart) in this wine- and whisky-centric venture. Housed in the old Cotton Exchange Building, the Pre-War style bar with tons of H-town swagger was bustling even before they even opened to the public. Come expecting hard-to-find Old World wines and "New World classics", alongside ciders, beers, and simple, sophisticated tinctures. And don't miss Yu's trio of quirky bar snacks, which includes a house-made baloney number that gets served with smoked cheese spread and Ritz crackers.
Downtown
Fans of rugby, cricket, and futbol (both kinds) have been flocking to this sleek South African sports bar since it opened this summer. The dark and spacious 9,000sqft interior – with a dining room, cocktail lounge, and generous terrace – offers a chill, international vibe. The excellent selection of craft brews and a well-thought-out cocktail program (crafted by former Hearsay Gastro Lounge bartender Michael Macklemore) ensure there's something awesome for everyone, while global eats like peri-peri wings, Guinness stew, and something called biltong (think of it as South Africa's way better take on a Slim Jim) keep things extra delicious.
Washington
Where do former frat guys go when they start a 401k? This slightly classier, slightly more mature take on standard Midtown drinking holes like Christian's, Pub Fiction, and Little Woodrow's. If this bar isn't your new game day and craft beer destination, it should be. The cozy drinkery houses the largest selection of brews in the city – 365 to be exact – which it rotates on-the-reg so that "you won't get bored." It also has TVs flanking every inch of wall space, plenty of covered outdoor seating, and seriously good pub grub – including a freshly fried soft pretzel and queso combo that is a MUST.
Sign up here for our daily Houston email and be the first to get all the food/drink/fun in town.