Houston beer experts' guide to the best Summer beers
Sam Davenport
Sam Davenport
When it comes to grabbing beer for the beach or a Summer day in Houston, you probably just grab a quick 30-pack without much thought. WHY DO YOU DO THAT?! You are missing out on some amazing Summer beers. Fortunately, you can still forgo the tedious task of thinking, because we've put together a panel of Houston beer experts to suggest a diverse list of Summer brews to combat the Houston sun.
Mark Dell'Osso
Owner, Galveston Island Brewing

Karbach, Love Street (Kolsch, 4.9% ABV)
Mark says: "When Summer rolls around, cans of this don't last long with me. Crisp and refreshing, completely balanced, and with a fresh feel -- Karbach knocks this one outta the park."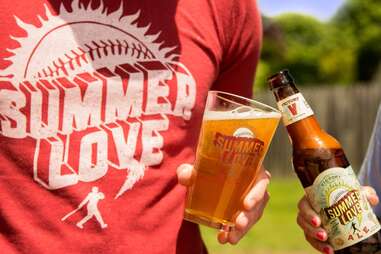 Victory, Summer Love (Golden Ale, 5.5% ABV)
Mark says: "A beer for any drinker [that] steps up a notch with the use of German hops, making this beer pure refreshment. Quite floral throughout, the mild bitterness in the end is something you will definitely come to love."
Graeme Rabe
Craft beer nerd, decade+ homebrewer, sampler of more than 6,000 beers
Castle Brewery, Kasteel Rouge (Fruit Beer, 8% ABV)
"This beer is amazing anytime. Deep ruby red with tons of pure, fresh cherries makes this a decadent, albeit very refreshing beer. A masterpiece!"
Real Ale, Hans Pils (Pilsner, 5.3% ABV)
Graeme says: "When it starts warming up here in Texas, I can guarantee this beer always has a place in my fridge. This German-style pilsner with all German ingredients is very crisp and has an amazing rounded bitterness. Thirst quenching for after yard work but still refined enough for any place or palate!"
Josh Stewart
Radio show host,InterBrews
Southern Star, Bombshell Blonde (Blonde Ale, 5.25% ABV)
Josh says: "Beers in cans are great for outdoors adventure and a must, by law, for float trips and most golf courses. Houston has some great canned Summer beers. Southern Star's Bombshell Blonde would be perfect for a fishing trip and it doesn't lose too much character or personality when enjoyed straight from the can."
No Label, Mint IPA (IPA, 7.7% ABV)
Josh says: "For hop heads, this Mint IPA does a great job of cutting through Houston's humidity. The interplay of the mint with the hops makes for a fantastic, refreshing beer."
Kevin Floyd
Owner, The Hay Merchant
Saint Arnold, Boiler Room (Berliner Weisse, 3.7% ABV)
Kevin says: "While this beer might be mild-mannered and easy drinking for the beer enthusiast, the craft beer novice will find this beer unexpectedly sour. While sour beers have been all the rage in the craft beer world for several years, beers such as this one are introducing [the style] to a wider audience. This is the perfect beer for Summer in Houston, however -- the sourness comes off as bright and refreshing in the oppressive Houston heat. It's incredibly low in alcohol… so it can be enjoyed all day."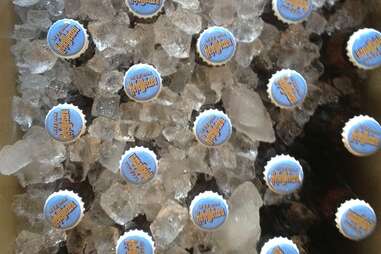 Live Oak, Hefeweizen (Hefeweizen, 5.2% ABV)
Kevin says: "It's an oldie but a goody. Live Oak is one of the older breweries in Texas, but it's still fairly small. This is a perfectly executed version of a German Hefeweizen. In my opinion, this is the best American-produced German Hefeweizen in the US, and easily one of the best in the world. Hefeweizens are German wheat ales that are full bodied, but light and refreshing in flavor. Notes of clove and banana dominate the palate. It has fairly low alcohol, is easy drinking, and pairs well with the heat of the Summer. While adding a lemon might seem like a good idea, it never is."
Jon Denman
Co-host, Drink of Ages
Sierra Nevada, Pale Ale (Pale Ale, 5.6% ABV)
Jon says: "The reliable standard of pale ales. [You're] pretty much able to find this anywhere you go, and that is a great thing. One of my all-time favorites. Now in cans, they koozie well and can go places bottles can't."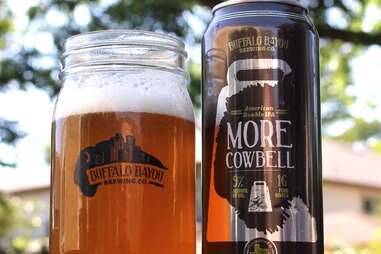 Buffalo Bayou, More Cowbell (Double IPA, 9.1% ABV)
Jon says: "Sometimes when the sun is going down and the Gulf winds are blowing, a double IPA is a great way to start the evening. This 9.1% ABV DIPA bursts of grapefruit and drinks very easy for the high ABV. It's good that it comes in 16oz, four-pack cans. Perfect for a hot Houston Summer night."