We know which drinks our favorite bartenders love and which ones they loathe, but wouldn't it be great to know where our favorite bartenders like to drink on their coveted time off? Um, yes, yes it would. So we asked them. More specifically, we asked them which local watering holes they think are totally awesome and deserving of a little more props than they currently get.
In 2017, resolve to share the love at these under-the-radar, off-the-beaten-path, totally underrated drinkeries. After all, you may just find your new favorite bar.
Recommended Video
Thrillist's Best (and the Rest): What's the Perfect Fast Food Meal?
Clear Lake
Picked by: Kristine Nguyen, Captain Foxheart's Bad News Bar & Spirits Lodge

"I've been bartending at Bad News Bar for almost two years now. I'm usually behind the bar here, but if I'm not, you can find me at Rosewater. It's a bit of a trip, but well worth the drive. It's a great cocktail bar located in a shopping center down in Clear Lake with one of the better, well curated back bars. For the space they have, they work the bejesus out of it. The bartenders there are genuine and humble, which I can appreciate. The owner is also usually in, and it's fun to pick his brain when it comes to whiskey, or anything new he's picked up. It's refreshing to be in a bar, in the suburbs, that can balance making drinks that can compete with bars in the city, but also fit the clientele they have there."

Favorite feature/drink: "I really enjoy what they're bringing to that part of Houston, and the fact that they're very open to having conversations and educating the guests they have there. You can catch me dancing in my seat to their kickass playlist on Martini Mondays, and any day really. Maybe with a little help from their barrel of Cask Strength Brandy from Copper & Kings, too."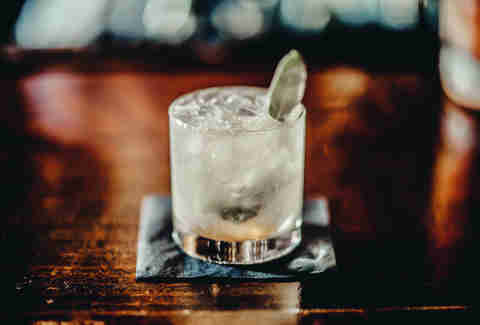 Washington
Picked by: Sarah Troxell, Nobie's

"Besides being primarily a ramen spot, it easily gets lost in the slew of bars that run along Washington Ave. Most people don't realize they have a great back-bar. Not only do they have a good range of standard spirits, they have an insane Japanese whiskey selection, plus all of the fernets."

Favorite feature/drink: "The Ninja Ramen cocktail menu is full of jokes, inventive ingredients, and whimsical flavor combinations. Sarah Ip, one of Ninja's bartenders, makes a perfectly balanced Plantation Pineapple daiquiri, and it is all I crave with my bowl of noodles after a busy night at work."
Downtown
Picked by: Justin Ware, Johnny's Gold Brick

"I think Houston Watch Co. is underrated because of the historical significance of the name and building. The space was originally a jewelry store and was reopened as a bar. The interior is one of my favorite in the city. The building has safes that could not be removed during construction and make for great decorative pieces."

Favorite feature/drink: "The back bar has a solid selection of spirits and beers. Cocktails are great and bar staff always friendly to me. Great little place to feel like part of history while enjoying a nice drink."
Rice Village
Picked by: Robin Berwick, Double Trouble Caffeine & Cocktails

Berwick loves the "laid-back vibe with terrific covered patios to soak up and/or seek cover from Houston's alternating bright sun and frequent downpours" and the fact that there are "lots of corner tables to disappear into for an intimate conversation but also plenty of room to dance (or watch the people who are more gifted in that department) on the nights when live bands play in the main room." The "friendly bartenders with skills, patience, smiles and quality booze, fresh citrus juice, and cold beer behind the bar," help matters, too.

Favorite feature/drink: "Margaritas are always perfectly tart and strong. My favorite time to visit is mid-afternoon, on a hot day, before the bands begin and when the jukebox is all mine! I get a margarita with half-salt rim and request a little bowl of their homemade mystery curry bar snack mix. Shout out to Pete and 'G' (Geneva). Volcano rules!"
Heights
Picked by: Chris Morris, Hunky-Dory Tavern

"It's just a fun bar, and we just kind of take it for granted. Like, it's impossible to NOT have fun there. They've got friendly, talented bartenders, great (and strong) drinks, and a huge selection of rum. What's not to love?"

Favorite feature/drink: "Almost nothing beats a classic Mai Tai. Or going (read: Ubering) with a group of friends for a Scorpion Bowl."
"If parking on Washington wasn't its own circle of hell, we'd been talking a lot more about this spot. It's got a killer ambience, and you won't meet a more genuine guy than Chris Huang. Dude is an absolute nutjob in all the right ways. So many great bartenders are alumni of this spot, and no one really talks about it. Not to mention their Asian whisky selection is top notch."

Favorite feature/drink: "Spicy ramen with extra egg and pork belly, paired with an ice cold Sapporo."
Downtown
Picked by: Chieko and Robby Cook, Barringer Bar

"A few of our favorite underrated bars are Char Bar (Downtown) and Nick's Sports Bar (Wilcrest outside the Beltway). Both of these bars are family owned (like us!), no pretense, and [have] fantastic people watching! These 'hole in the wall' type bars are the places that you will find us on our days off getting some much needed R&R."

Favorite feature/drink: "No features, no special drinks, just a bar!"
Museum District
Picked by: Mo Rahman, Kata Robata

"Not only for its location (hidden on a side street in the Museum District) or that it is an old converted house in an otherwise calm neighborhood or that it is great for people watching and well, last but not least, for the people slinging drinks behind the bar. Grand Prize is perfect for that much needed drink after a long 8-hour arduous shift. The vibe is usually a calm undercurrent during the week and picks up to a gushing roar during the weekends. The crowd, a hodgepodge of denizens of Houston ranging from hipsters to grunge metal enthusiast and everything in between. The dark decor is quite inviting with two patios and an upstairs bar that can be used for a bit of privacy on the weekdays and conversely a more partyish vibe on the weekends."

Favorite feature/drink: "You can opt for a Lone Star and Jameson, make a selection from their ever evolving cocktail menu or in my case, put your trust in the whimsy of the bartender and let them serve you something they fancy at the moment. Also they have a small kitchen in the back, usually hosting an eclectic circle of chefs and bakers who offer their goods to hunger stricken patrons."
Montrose
Picked by: Jay Rios (J.R.), The Khaki Club at Ouisie's Table

"They have a great extended happy hour that lasts till 7pm with drinks below $3. You just can't get drinks at that low of a price at any of the other surrounding bars. They also have a great whiskey selection and knowledgeable bartenders who can educate you on what's behind them on the wall (wall of whiskey)."

Favorite feature/drink: "There is no particular signature drink I like there. If anything I like to try something different every time I go. My favorite feature of the bar is the Jurassic Park pinball machine. They keep plenty of quarters up at the bar to break dollar bills so I can keep playing for hours."
Midtown
Picked by: Jamie Garza, Part & Parcel

"Double Trouble is one of those bars that has no fancy sound system, no spinning DJ or people crowding the bar screaming for a drink. Just two bartenders and bar back running the place and tunes coming from an old stereo system. It has a great Tiki vibe and as soon as you walk in the doors you are overwhelmingly hit in the face with the smell of fresh ground coffee! The staff is always friendly and always willing to take the time to make you a great cocktail or help you figure out something for you to drink. They have a good selection of craft beer, most of which are in a can, which is fine by me. You do not get that pretentious crowd or "mixologist," just a friendly bar staff that makes some damn good cocktails/drinks. Chris, one of the bartenders, is a true master at crafting cocktails and handing out smiles, a true artist."

Favorite feature/drink: "Chris makes a mean Fernet Branca and Mexican Coke. The smell of fresh ground coffee is great pick me up with the smooth tunes flowing from the old stereo system."
"Dog House Tavern is one of those places where you can go and always feel welcome. The bar is always filled with regulars, it is like Cheers where everyone knows your name. You can always find the same people there any day of the week. This bar is located in the middle of the bro/sorority Midtown haven of trendy basic millennials. If you are looking for a get away and some good people watching of the drunk basics walking through on the weekends, look no further. This is a place where the hard working managers, bartenders and servers of the local bars go to hangout when they want to get away from the hustle and bustle of Midtown. The staff is great and can handle the waves of rushes they get on the weekends and still be chill during the weekdays and have a conversation with you."

Favorite feature/drink: "If you want a good stiff drink and shot."
Heights
Picked by: Lindsay Rae, Grand Prize Bar

"Big Star Bar is one of those magical unicorn spots in the Heights. I feel like it is just enough off the beaten path and unless it's a large event celebrating Bowie or Urban Cowboy, folks forget what an amazing neighborhood bar it is. It has such personality without being too kitschy. It is a true Texas dive bar with a weapons grade amount of personality and a back bar that is solid too. This isn't a place you want to ask for a cocktail menu but it is the spot where you can grab a solid drink and have an amazing night."

Favorite drink/feature: "I can get a shot of Plantation Pineapple and a Stiegl Radler at a solid price, play some amazing tunes on the jukebox, and hang out in a giant backyard. What's not to love?!?! More folks should swing through, give Charlie and Roy a big ole hug too, they may look tough but that's just their beards talking."
Montrose
Picked by: Rex Nielsen, Stone's Throw

"You can be on a beautiful date drinking lovely frozen mojitos at Boheme but the whole time you secretly want to go to Lola's Depot like the Eye of Sauron is beckoning you. The best way to get to know someone is take them to experience the dichotomy of these neighbor bars."

Favorite drink/feature: "Bohemes' ambiance and lighting is superb, Lola's is like you're inside a staph infection with the friendliest bartenders around, and I love them both."
Sign up here for our daily Houston email and be the first to get all the food/drink/fun in town.