Just like the city itself, Houston's craft beer scene is jumping off hard. We manage to have an excellent mix of old mainstays and a steady stream of PYTs, all of which play nice with each other (and help us play nice with each other... until we have too many and start playing not-nice). While every brewery in town works hard and has mad potential, we've compiled a list of the 10 finest, then ranked them in order of whose brews you should be imbibing most regularly:
Galveston
With eight-10 excellent brews -- ranging from the Blue Bridge Amber with caramel and citrus notes to the flagship Tiki Wheat with hints of coriander and honey sweetness -- this fresh-faced brewery has become an Island hit. Visit the tap room for tours, tastings, and crawfish boils. And to IG a pic of the recycled keg/urinal in the men's bathroom.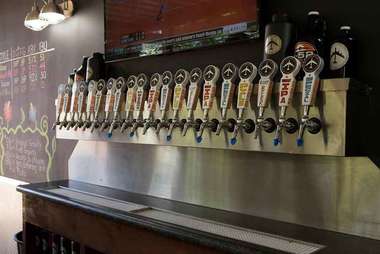 Conroe
Yes, this Northwest Houston craft brewery is less than a year old; but that hasn't stopped it from getting its brews into big name spots like Flying Saucer and Taps House of Beer. And since the brewery is also technically a brewpub, you can visit for a taste of the beers -- think a crisp Payloud Pils; spicy Rye Saison; and dark, creamy Breakfast Stout -- then take some of said beers home via growlers to-go.
Richmond
Classic beer styles rule this Fort Bendy County brewery with plenty of Texas pride. Try the Charlie Foxtrot, a sour wheat imperial Berliner Weisse built to combat the Texas sun; or the First Stand, a citrusy smooth Belgian Saison with a dry apple finish.
Heights
This adventurous brewery strives to "break the rules" and "offer a new narrative for how we think about beer." It also does so with limited batches of radical flavors -- like last year's ambitious Smoke on the Bayou, made with malts smoked at local BBQ spots; or the Summer's Wit, infused with hibiscus, ginger, coriander, and orange peel.
EaDo
This barely two-year-old brewery -- from the guys behind local intergalactic food truck Eatsie Boys -- stepped its game up in a big way when it opened its tap room earlier this year. The Astrodome-inspired brewhouse creates suds with a fresh, cool vibe that feels wholly Houston. Try the summer-perfect Hopston IPA; a cream ale dubbed the Dome Faux'm; and the Rocket Fuel, a Vietnamese coffee-infused Porter.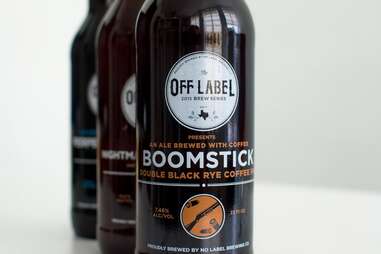 Katy
With an added bottling line and a few upgrades to its facilities, this small-scale brewery has been able to expand in Texas markets and get creative with some pretty inspired brews. Don't miss the light and refreshing El Hefe Weizen -- a traditional German Hefeweizen with notes of banana and clove -- or seasonals like the Don Jalapeño Ale, a spring pale ale brewed with 60lbs of jalapeños.
Conroe
The first craft brewery in Texas to offer canned beer, this seven-year-old brewery's subtle and refreshing Bombshell Blonde is the perfect way to convince your girlfriend that craft beer is the best. Once you do that, ease her into a deep copper Pine Belt pale ale before going full-out on a pungently hoppy Valkyrie double IPA. And be sure to look out for the Taproom Series, where they debut draught-only, limited-time brews.
Magnolia
With a focus on hoppy Texas ales, you'll find Lone Pint taps in heavy-hitters like The Hay Merchant, Petrol Station, and Flying Saucer, to name a few. Equally as impressive is the eco-friendly brewery, which uses renewable energy, composts hops, and recycled spent grain to feed a local dairy farmer's cows. Their Yellow Rose IPA may be one of the best beers in Texas, but don't miss other creations like The Jabberwocky, a deep-golden imperial IPA.

Lazybrook/Timbergrove
Though they've only been around since 2011, Karbach has already made a name for itself as one of Texas' fastest-growing breweries. That's thanks to a solid line up of monster brews, including the crisp and refreshing Sympathy for the Lager and rich and hoppy Rodeo Clown double IPA. Find them all over town or visit the sparkling facility for tours and tastings, movie nights, and good vibes.
Northside
Texas' oldest craft brewery remains its baddest. Specialty releases like the barrel-aged Bishop's Barrel and single-batch Divine Reserve series keep beer geeks on their toes; while a sturdy selection of year-rounds and seasonals keep everyone coming back (and even pub-crawling) for more. Impressive brews include the Santo: a dark, malty Kölsch; and the Endeavour: a deep amber double IPA with a light, creamy head.
Sign up here for our daily Houston email and be the first to get all the food/drink/fun in town.