Power-Ranking Houston's Most Ridiculously Good Bloody Marys
Drinking at breakfast is the best. You know what's ever better? Having a drink with BREAKFAST INSIDE OF IT, à la the Bloody Mary. With that in mind, we power-ranked Houston's 10 most excellently stacked, porky, spicy, and pickly hangover-fixers: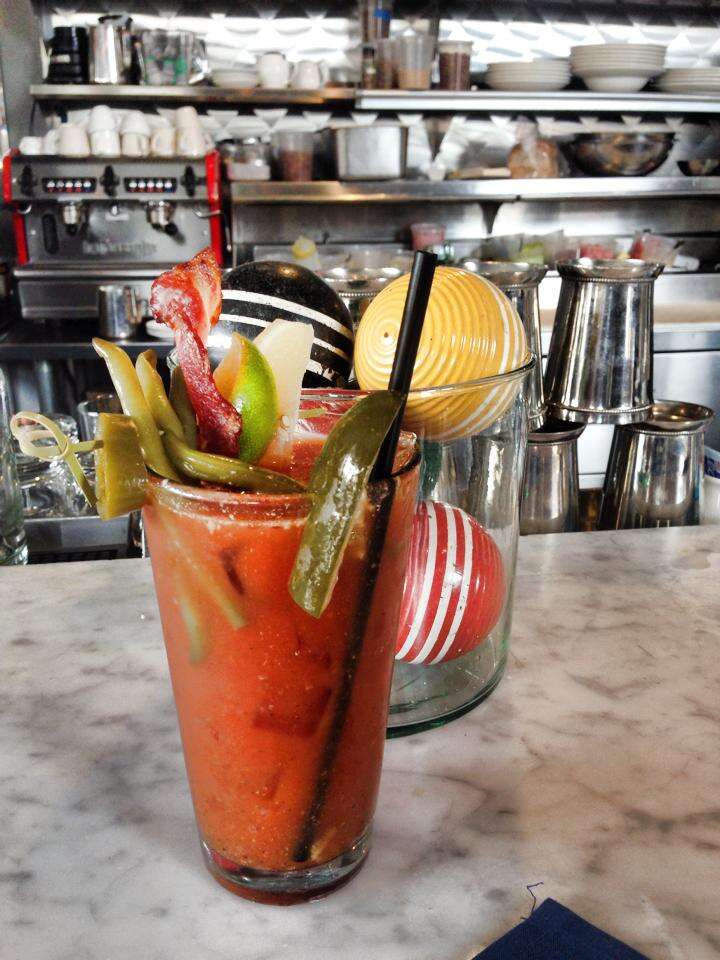 10. BAC Pickled Bloody
Brooklyn Athletic Club (address and info)
Fourth Ward
Allllll-pickled-everything and a strip of Nueske's bacon help BAC's truly smoky and spicy Bloody earn its keep. The fact that you're using it to wash down short rib hash and croissant French toast doesn't hurt either.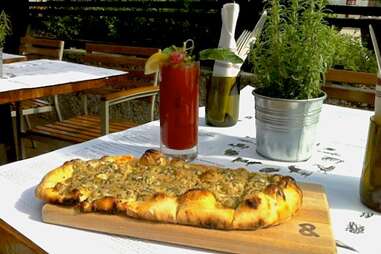 9. P&P Bloody Mary
Pass & Provisions (address and info)
Fourth Ward
P&P's ultra-fiery Bloody oozes sophistication thanks to black garlic, Japanese chili and yuzu paste, and pickles by the truckload.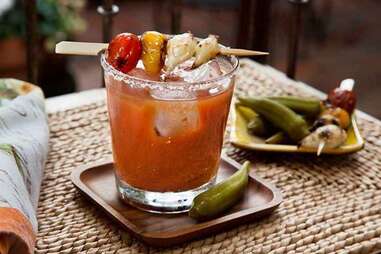 8. Backstreet Bloody Mary
Backstreet Cafe (address and info)
River Oaks
One of the classiest hangover helpers on the list, this Bloody is loaded with excellently spiced house mix, pickled veg, and a combo of Effen cucumber vodka and Hendrick's gin. The drink is so cool, it recently traveled to the St. Regis New York for the hotel's 80th anniversary celebration of the cocktail. We're jealous.
7. The Cook's Bloody Mary
Cook & Collins (address and info)
Fourth Ward
Sure, there's thick-cut bacon, poached shrimp, and a lone, blue cheese-stuffed olive... but it's the spiced and pickled green tomato wedge that makes this Zing Zang and Deep Eddy Bloody extra-special. We'll take ten, thanks.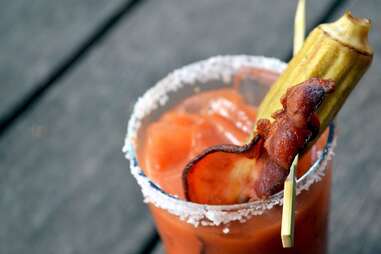 6. Bloody Maria
The Grove (address and info)
Downtown
With Herradura Reposado tequila; house-grown, oregano-infused tomato juice; pickled okra; and smoked bacon, Maria is way hotter than her cousin Mary.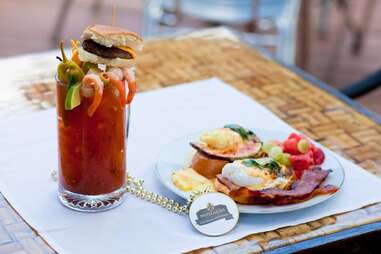 5. Bloody Mojeaux
Mojeauxs Louisiana Drinkery (address and info)
Downtown
Though you can likely find most of its accoutrements at your nearest gas station, this Slim Jim-, cheddar chunk-, olive-, celery-, shrimp-, and Jimmy Dean-looking breakfast sausage slider-loaded Bloody remains awesome.
4. The Bloody Danton
Danton's Gulf Coast Seafood Kitchen (address and info)
Museum District
You know what's better than Bloody Marys made with house-made Bloody mix? Bloody Marys made with house-made GUMBO. The kitchen's famous gumbo gets strained to make the base for the delicious drink you are about to take down with the inappropriate amount of oysters you just ordered.
3. Big Spoon Bloody Mary
Brick & Spoon (address and info)
Montrose
You pack this seriously large bloody the way you want it -- so if it sucks, you have no one to blame but yourself. Choose from 13+ vodkas, then stack up on sweet peppers, beef straws, seafood deviled eggs, and like, everything else.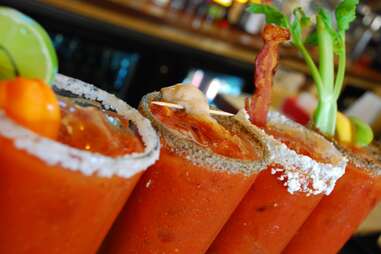 2. The Squealin' Mary
Beaver's (address and info)
Sixth Ward
With an infusion of celery, garlic, wasabi, lime, and Big Daddy's hot sauce, Beaver's Mary mix is good enough to down on its own. But then they go full-fatty and add 3x the pork: in-house, bacon-infused vodka, a bacon & sugar salt rim, and a candied bacon adornment. Man, we love when they go full-fatty.
1. Big Ol' Bloody Mary
Down House (address and info)
The Heights
Any "bigger, badder, boozier" Bloody Mary made with seriously spicy house mix and served with a beer back earns top score in our book. The manly Mary also comes packed with a fried chicken wing -- an amuse-bouche that makes you wonder why you just don't order a six-pack of Bloodys for brunch and call it a day.
Sign up here for our daily Houston email and be the first to get all the food/drink/fun in town.