We talk a lot about Houston's craft beer game (and even Texas'), but there's a whole other kind of brew stirring up local excitement, and this kind won't even give you a hangover! That would be craft coffee. Whether you're looking for a morning pick-me-up with a side of fried chicken biscuit or a place to study over grade-A grinds and a cake that is legitimately made out of crepes, the city's finest caffeination stations give you pretty much zero reason to be basic with your coffee.
Montrose
Tucked inside a charming house off Lower Westheimer, this year-old Latin American-style coffee house has been gaining fans thanks to a flawless café cubano, café con leche, and horchata iced latte that is pretty much a necessity to survive the summer. With a focus on beans sourced right from Mexico and Central and South America, these guys keep things local by featuring a new local roaster every two months (they also serve Katz Coffee on the regular). Pick up a paper and an empanada, lazily sip a cortadito, and transport yourself to a way place way more relaxing than Houston.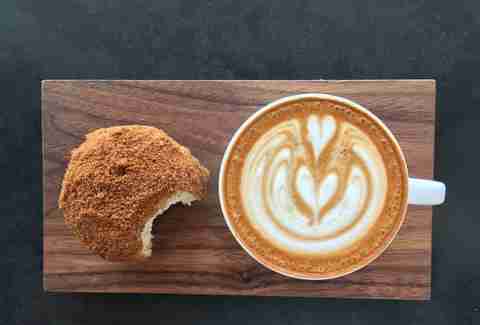 Heights
This coffee-forward eatery may be new, but it has some serious pedigree behind it. The latest venture from Greenway Coffee and Blacksmith's David Buehrer and Ecky Prabanto, the breakfast, lunch, and coffee stop has been luring fans with its incredible Greenway grinds, an entire matcha beverage program, and rotating menu of brunch stuff kissed by Southeast Asian and Southern touches. Sip café sua da alongside sambal-honey butter chicken biscuits, espressos with fritter accoutrements, or take turns dunking match-frosted numbers and cinnamon-sugar "cop doughnuts" into black coffee so good it can stand on its own.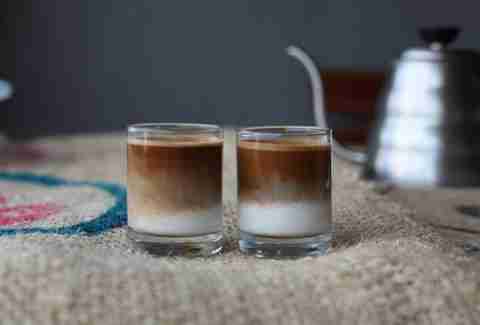 Heights
You may notice the name Boomtown making more than one appearance on this list, and for good reason -- they started life as a roaster, putting out small batches of perfectly scorched artisan beans daily and supplying shops around the city & state. Nowadays they have their own specialist java bar where you'll find big-bodied espressos, smoothly sweet milk & honey lattes, and addicting 12hr cold-brewed toddys alongside a solid lineup of café foodstuffs.
Montrose
Partially run by Catalina's Max Gonzalez, you'll find Amaya Roasting Co. beans going into the coffee at this espresso bar. You'll also find a solid rotation of guest roasts, and a cherry-picked selection of wines and artisan goods (think espresso bean aged stout and locally made hand pies) along with things like coffee makers, cookbooks, and accessories. Get a spot on cappuccino and croissant bigger than your head on average days, and a gelato cortado on days when you're feeling randy.
Montrose
You haven't really lived until you've had coffee siphoned out of a contraption that looks like it was stolen from the set of Breaking Bad. Well, Siphon will happily provide that experience for you -- this bulbous piece of equipment uses halogen burners to impart some pretty unique notes into a delicious selection of beans, as well as brewing them for slightly longer for a hefty kick. Though it's a cup of joe, the experience tastes almost like tea. But fear not: coffee fiends can still tame their demons through a solid roster of more classical brews.
​​​​​​​Sixth Ward
A reincarnation of the late Taft Street Coffee, this coffee refuge, housed in a refurbished paper factory beside the Ecclesia Church, serves the kind of joe you can get behind. That's because not only does it take care to responsibly source its on-site-roasted beans, but 100% of its profits go toward creating space for and feeding the homeless. Sip on pour overs, foamy macchiatos, and flat whites, and feel damn good while you do so. If you want to feel even more damn good, grub on their fresh new menu of eats, including Texas-sized burgers and Nashville hot chicken.
Montrose
Sure, this café is home to the world's finest and most-completely-necessary-to-order sausage, egg, and cheese breakfast biscuit – but it's the actual coffee that makes it so cultishly adored. The magic all started with coffee wunderkind David Buehrer's tiny Greenway Coffee bar in Greenway Plaza. Next, Buehrer and the Clumsy Butcher restaurant group dreamt up this larger shop on Westheimer, where his meticulously sourced roasts are served via lattes, cappuccinos, and cortados alongside that awesome biscuit, which seriously, you have to get. These guys support local, so look out for a series of rad collaborative pop ups on their website.
Washington
This grandaddy of the bean-brew game has been grinding since 2007, back when Houston's coffee scene was still in its infancy. With humble beginnings as a run-of-the-mill stop for commuters, owner Max Gonzalez's passion for quality led him to found the Amaya Roasting Company, and a small empire was born. Hit the café for expert pulls of espresso, flavor-forward roasts, and fresh pastries delivered daily from Houston's top baked goods purveyors.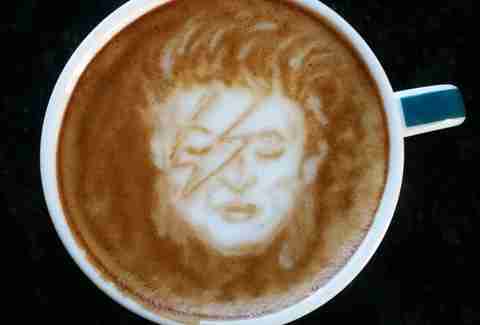 Montrose
Houston's craft-coffee game got that much cooler when this Lower Westheimer spot, which roasts Fusion-brand beans in-house, opened its doors in 2012. Its outside-the-box latte art brings a light-hearted feel to a coffee game that can often feel all too serious. For a little ninja kick with your caffeine, check out their collaboration with Brash Brewing, the Cortado imperial coffee breakfast stout.
Heights
This sister coffee shop to Black Hole shows a fervor for excellence with every sip of their excellent brew. The unpretentious spots is the kind of place you want to plop down on a couch with your laptop and stay a while ...which you probably will do, given the fact that they serve habit-forming 24-hour cold brews and cajeta (goat's milk) lattes alongside craft beers and wines, great eats, and local sweets.
Montrose
You'll find the same goat's milk lattes and hip, coffee house vibe at this sister to the Heights coffee shop Antidote. Both are run by the same folks behind the renegade whiskey dive Poison Girl, so you know the atmosphere and crowd will also be super chill. Park here with your laptop, iPad, phone, or whatever other cockamamie device you have your face stuck into while you don't talk to people today and fill up on fresh brews and snacks like fat Slow Dough pretzels and roasted beet muhammara spread.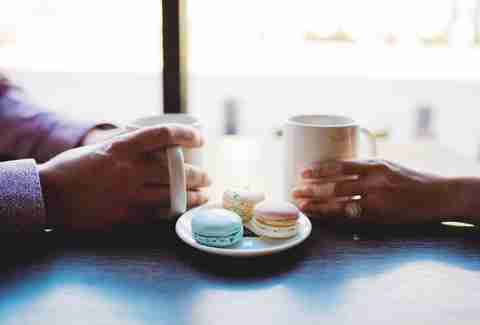 EaDo
This sweet shop and eatery has a coffee program curated by none other than Greenway Coffee's David Buehrer, making it easily one of the best in the city. The lineup runs the gamut from flat whites and nutty cortados to a creamy ca phe sua da, which is also available by the bottle. Take it all in with a serious selection of daily made pastries, including chocolate-dipped macaron, cheese danish, and an 18 layer cake MADE OUT OF CREPES.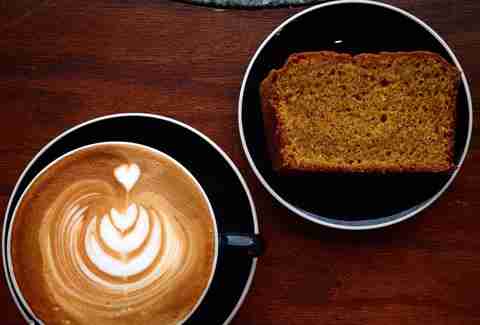 Montrose
You'll always find a steady crowd at this artsy Montrose haunt, and it's not just for the free Wi-Fi, La Mexicana breakfast tacos, and food truck parked out front (though those things probably help). The chalkboard menu of coffee and teas, which includes heavy hitters like salted caramel lattes, frozen chai creams, and Euro-way espresso Cubanos, are all pretty delicious, too. The recent interior refresh breathes new, airy life into the space, but you'll still find the rockstar beverage lineup that lured you in the first place.
Downtown
Great news! You can get all the charm of a New Orleans-style café without having to spend 5+ hours on I-10. Just hit this coffee shop and bar, brought to you by the aforementioned Boomtown coffee and the team behind places like Grand Prize Bar and Captain Foxheart's Bad News Bar & Spirit Lodge. You'll be just as happy chilling over mugs of expertly crafted cappuccinos during the day as you will be slipping into a sultry velveteen sofa for a liqueur-spiked coffee cocktail at night.
Sign up here for our daily Houston email and be the first to get all the food/drink/fun in town.