Impressive woodwork, exposed brick, sleek leather chairs, and ancient concrete flooring all work in making this Brooklyn-style vault feel and look cool as all hell. But perhaps the coolest part is the signature key-keg racking and lineup of taps sprawling the stark bar. Head here for 40+ craft brews and all kinds of good cocktails, plus a truly excellent house pretzel.
This eye-catching refuge from Bobby Heugel is the grandfather of Houston's craft cocktail movement. Exposed brick and a long, handsome bar give the stunner an industrial feel, while a laundry list of show-stopping cocktails -- served in cool glassware and mixed with fun things like house-made bitters, sodas, and infusions -- will give you all kinds of feels.
With antique crystal and brass chandeliers, old Hollywood-style banquettes, and low-lit candles, this dark and moody watering hole is so sexy, it may illicit a love affair -- at least with the bar's vintage-style highballs, which come adorned with cool things like house-chiseled ice, liquid nitrogen, and fire!
First opened as the Original Casino Saloon in 1882, this fine-looking space still has its original circle arch and barrel vault ceilings in tact. The structure is a central piece of artwork connecting two long and narrow exposed brick walls, with soaring skylights and a striking central bar rounding out the aesthetics. But the best part is the beauty on the inside: the saloon donates 100% of its proceeds to a different local charity every month. It's like the bar version of Inception, except you want to be in it.
Hotel ZaZa is the probably the most hot and eclectic place to stay in town (have you heard about the goth dungeon room???). So obviously the restaurant, bar, and lounge housed inside are not too hard on the eyes, either. The dark, plush space is sexy in an almost dangerous way. Just don't have too many whiskey smashes, you don't want to end up in the room we mentioned earlier.
True story: the bayou can be pretty. Head to this contemporary, Miami-esque patio bar to see the natural beauty for yourself. Partnered with luxuriant foliage and cascading waterfalls, the bayou makes a stunning backdrop for cozy happy hours and pre- or post-dinner drinks.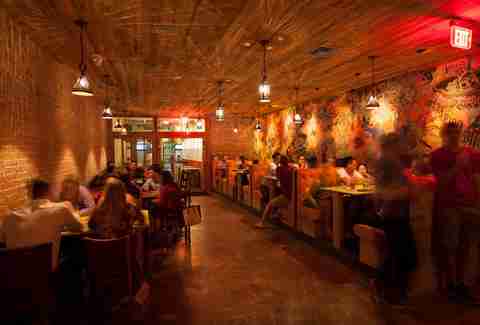 Strings of tea lights, colorful stained glass, and vibrant murals line the wood-paneled ceilings and walls of this funky, agave-focused mezcaleria. The intricate decor hints at the 1838 conflict between Mexico and France, with Mexican vibrance and French elegance detailed throughout. You'll always find a crowd packed around the colorful backlit bar, but it's worth waiting your turn to get a taste of the crazy good tequila and mezcal creations.
Housed in an industrial 1880s uniform factory, bourbon boss Alba Huerta's decidedly feminine, bright, and airy bar invokes old southern grandeur. Feel super decadent when sipping a house-spiced julep at the stunning copper-topped bar; or hit the the sophisticated back porch to slurp oysters and Sazeracs.
Transport yourself to a time when gangsters and flappers ruled the city with just one step into this insanely cool speakeasy. The European hotel-inspired space houses an über luxurious restaurant and Art Deco bar, accented with sleek leather seating, mood lighting, and an ornate mirrored wall. Plus there's the sexy 5,000sqft theater, made even sexier by performances from the burlesque troop, The Moonlight Dolls.
Make your way up the winding wrought-iron staircase to get a prime view of this 1920s throwback, complete with an old-school chandelier, impressive 17ft marble-top bar, and sky-high wall of tinctures. Then head back down because you're gonna want some delicious cocktails.
Housed on the first floor of the 1884 Cotton Exchange building (which, by the way, is a landmark on the National Register of Historic places… nbd), this Art Deco-style cocktailery is as gorgeous as ever. Plush sofas, gilded artwork, and striking arched crown molding line the space, which feels more like your wealthy aunt's sitting room than a bar. Either way, it's an excellent place to plop down and get a classy buzz on.
Complete with a twinkling ceiling, sleek indoor fireplace, open-air courtyard, and cabana-lined infinity pool, this Euro-inspired bar inside Hotel Sorella is way sexier than that Mona Lisa chick ever was.
Housing what looks like the largest private collection of reproduced Tiffany lamps, this art nouveau bar has vintage stained glass for days. It's the kind of place where you just want to lounge out on antique furniture and see if there's anyone who will take you up on your offer when you ask them to "draw you like one of their French girls."
Grand 50ft ceilings, glistening bulbs, and a breathtaking early 20th-century Tuscan chandelier make the Market Square location of this speakeasy one of the sexiest bars in the city, easily. It's housed in the historic W. L. Foley Building, which was built in 1860 and rebuilt by architect Eugene T. Heiner after a fire in 1889. But that doesn't mean the younger sister bar in Discover Green isn't just as hot. Both beauts showcase the Old World style and eye-catching elegance of days past.

Sign up here for our daily Houston email and be the first to get all the food/drink/fun in town.
Brooke Viggiano is a Houston writer who thinks all bars are beautiful, eventually. Follow her on Twitter at @BrookeViggiano.