The 39 Texas Beers You Need to Drink Before You Die
Texans have plenty of reasons to drink beer: the heat, football, Wednesday. Another reason? With every passing day there seems to be more and more fantastic beer made right here at home. With that in mind, here's a "Texas beer bucket list" consisting of 39 essentials, from instant classics to old favorites, that every Texan should conquer before it's all said and done.
American wild ale, ABV varies
Austin
If you've gone even part way down the craft beer rabbit hole, then you know that Jester King's fruited sours are the holy grail of beers in Texas and regarded as some of the best sours/farmhouse ales on the planet. They have released several versions, all of which can only be obtained at the brewery that sits on the border between Austin and Dripping Springs. The most notable of the series is Atrial Rubicite, which is refermented with fresh raspberries and aged in oak; however, they do several versions that repeat each year and also experiment with other fruits for one-time releases.
American IPA, 7%
Austin
Big, bold, bitter hops are accented with notes of citrus and apricot sweetness. A great drinking IPA that isn't too overpowering on any front.
Porter, 6.8%
Austin
One of the beers that truly put (512) on the map, a balanced porter with hints of pecans, subtle brown sugar, coffee, and chocolate. Make sure to try and find the yearly released whiskey barrel-aged version.
Imperial stout, 9.2%
Denton
This beer won a gold medal at the Great American Beer Festival in the Imperial Stout category. It is a very easy drinking stout, especially for a beer that sits at 9.22% ABV. The bitter and roasted flavors are balanced well with the addition of maple syrup.

Imperial golden stout, 10%
Denton
One of the craziest beers on this list, Brunch Money is a golden stout that is brewed with oats, lactose, maple syrup, roasted cacao nibs, vanilla, and coffee. Now that is a balanced meal.

American double, 10%
Austin
Try this beer fresh and it'll rival any of the big DIPA's out there. We're looking at you, Heady and Pliny.

Pilsner, 5.3%
Austin
The name alone practically demands it be added to any list associated with Texas beer. Its bright green can and contents have become synonymous with Austin culture as the session beer of choice for many a drinker.

Double IPA, 9%
Houston
Lots of bitter citrus in this guy, loads of grapefruit, but accented with malty sweetness to tone it down. What can you expect from a beer posting 118 IBU's, though?

American IPA, 6.8%
Seven Points
A nice, sessionable IPA from the guys at Cedar Creek, this one comes with lots of fruity/tropical hops, so expect a good amount of pineapple, orange, and a hint of some stone fruit as well.
Russian imperial stout, 10%
Dallas
Do you like stouts? Of course you do. Legion is a thick and chewy stout with some sweet and dark chocolate tasting notes, with hints of burnt sugar/caramel as well. Do you like whiskey? Of course you do! The marriage of this beer with whiskey and oak notes is absolute perfection; a world-class stout that you should be on the lookout for.

American IPA, 8.6%
Dallas
A single-hop IPA, with, you guessed it, Mosaic hops. This one has loads of grapefruit and pineapple flavors with the right amount of bitterness and sweetness to complement one another. One of the best, if not the best local IPA you will find on shelves in Dallas.

Double IPA, 8.5%
Dallas
Speaking of awesome IPAs, if you like your beer to fight back, then Dreamcrusher is a beer for you. Very potent and heavy with flavor, you feel and taste every bit of the 8.5% alcohol, but really in the best way. If you're tired of humdrum beers and need to wake up your mouth and senses, crack a Dreamcrusher and have it snap you back to reality.

Brown ale, 7.5%
Dallas
What happens when you pair a killer brewery with a killer coffee roaster? Well, you get a pretty freaking killer beer, Oak Cliff Coffee Ale hides most traces of alcohol behind super-smooth and bold cold-pressed coffee flavors. The result is creamy and rich, and the base of the brown ale provides a nice sweetness to offset the bitter and roasty coffee flavors.
American IPA, 7.6%
Dallas
No frills or bells or whistles, just a really solid IPA with a sweet can where the whole lid comes off. Fine, maybe that could be considered a bell or whistle, but it's a good one.

Bock, 7%
McKinney
Franconia is Dallas' local purveyor of all things German in the beer world. If you are ready to step up from Shiner Bock into a beer with more flavor and intensity, then grab yourself a sixer of this stuff.

Imperial stout, 10.2%
San Antonio
Freetail is making big waves in San Antonio. La Muerta is a big ol' imperial stout that generally drops sometime during the fall. If you are into smoked beers or Scotch, this will be a winner for you as the taste and nose is dominated by smokiness and then finishes with sweet, chocolatey malt.

Pale lager, 5.2%
Austin
Another beer with a pretty good Austin cult following, The One They Call Zoe is a pale lager that is a great step into the craft beer world for those who are just getting ready to take the leap past more familiar domestics.

Berliner Weiss, 4.5%
Austin
It's hot in Texas. Sour beers pair very well with the heat. Thus it's about time we had a local brewery pumping out a sour beer that comes in cans. We commend and salute you, Independence. Hopefully you have paved the way for this to become a trend.

Double IPA, 9%
Houston
Bursting at the seems with over 100 IBUs and consisting of Simcoe and Mosaic hops, Hop Delusion is full of big tropical fruit and berry aromas. Along with pine, citrus, and some earthy tones, this beer is dangerously drinkable given its 9% ABV.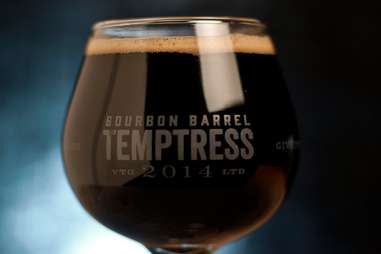 Milk stout, 9.1%
Garland
A beautifully made imperial sweet stout that has notes of milk chocolate, caramel, and light vanilla. But don't stop there...

Milk stout, 9.1%
Garland
Bourbon Barrel Temptress, French Quarter, Mole, Sin Mint... try them all if you can because this whole series is completely on point. The Bourbon Barrel Temptress spends six months in freshly dumped bourbon oak barrels and lends some sweetness, vanilla, and oak to the beer. French Quarter has barrel-aged coffee beans that spent time in bourbon barrels that previously housed the Temptress beer. After four months in the barrels, the beans were roasted and added to the beer along with chicory. Mole Temptress brings ancho, pasilla, guajillo, and chipotle to the spicy party along with cacao and a touch of cinnamon. Sin Mint would make any Girl Scout proud, just like the famous Thin Mint cookies; the beer is infused with mint, vanilla, and graham crackers.

Hefeweizen, 5.2%
Austin
The absolute essence, and dare we say, pinnacle of hefeweizens available. There are loads of banana and clove notes with some spiciness and yeast character, and the beer drinks extremely smoothly.

Weizenbock, 8.3%
Austin
Similar to their HefeWeizen, Primus is also a wheat beer but this one is brewed with dark malts as well, giving the beer a much higher ABV. It also gives additional notes of dark fruit and caramel along with the banana and clove from the weizen base.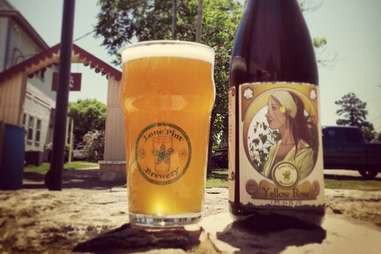 American IPA, 6.8%
Magnolia
The IPA that is sweeping the state by storm, Lone Pint Yellow Rose is loaded with Mosaic hops and drinks like tropical juice with hop bitterness. One of the best examples of an IPA you will encounter.

Lager, 4.6%
San Antonio
Is this the best beer in Texas? Probably not according to anyone who's made it this deep into such a crafty beer article, but damn it, it's an institution that started brewing in Texas in 1883. Do you really want to go through life not having downed one on a hot day? No, you do not (though let's be honest, you probably couldn't avoid it anyway). Thank you, Mr. Adolphus Busch.

Strong ale, 9%
Dallas
The name says it all for this one, a beer that's as strong as a hammer, but smooth as velvet. It drinks very easy at 9% ABV and has notes of caramel and brown sugar, but is not overly sweet as there are some beautiful bright and aromatic hops that tone down the sweetness.

Winter warmer, 10%
Dallas
A spiced winter ale that sits at 10% ABV to keep you warm all winter long. You'll taste nutmeg, cinnamon, and ginger along with a smooth alcohol burn and some mild English hops.

Winter warmer, 9%
Fort Worth
Let's keep the winter beers rolling, Rahr & Sons Bourbon Barrel Winter Warmer really helped open up the floodgates for barrel-aged beers in the Texas market. It was one of the first to barrel age in the state and has become a seasonal favorite for many in the DFW area.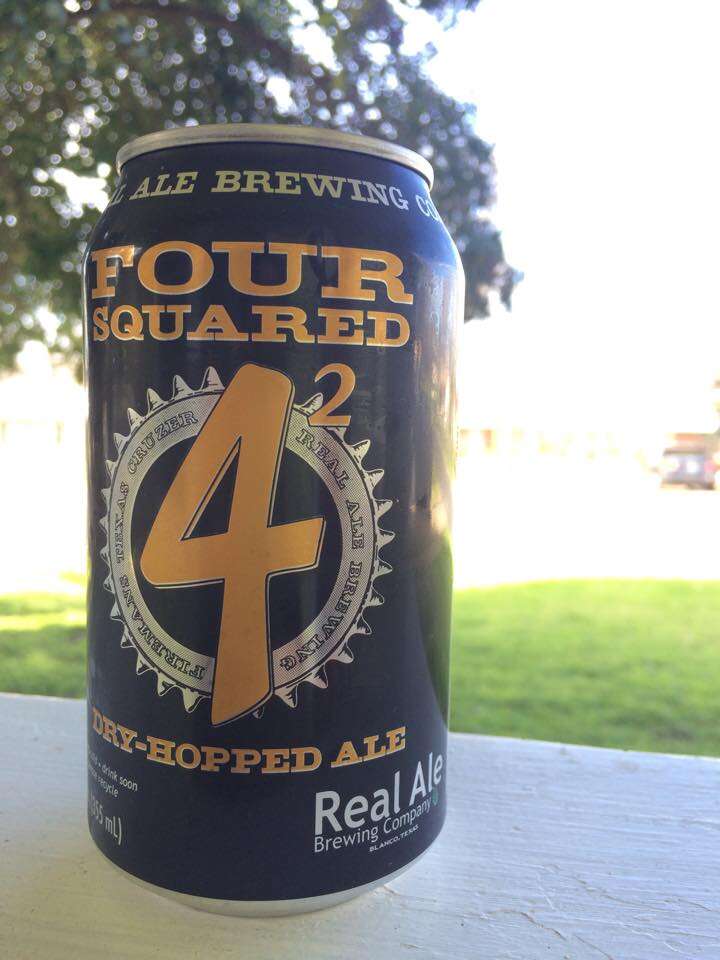 Blonde ale, 5.6%
Blanco
Firemans #4's older brother, Four Squared is a lightly hopped blonde pale ale that brings some great tropical tasting notes in a very drinkable beer.

Tripel, 8.1%
Blanco
Named after a stretch of Texas highway in the Hill Country, this huge Belgian lights up the taste buds with spicy yeast and hops profiles. Definitely don't let the color fool you on this one, it looks like a light beer, but it packs a punch.

Witbier, 4.6%
Blanco
Whether grilling or on the lake, a six-pack of this is sure to be perfect for the hot Texas sun. This is a perfect session beer as it sits low in alcohol, but you don't sacrifice any flavor. Brewed with orange peel & coriander and dry-hopped, this one is bursting with flavor.

Pale wheat ale, 7%
Granbury
A deeply hazy unfiltered wheat beer, which is sweet, spicy, and delicious. It is brewed with local honey & blood orange zest, and tastes sweetly floral with a nice mouthfeel with the unfiltered wheat base.
Style and ABV vary
Houston
Starting in October of 2012 Saint Arnold's began brewing their Bishop's Barrel series and have released nine beers in the series so far. Ranging from old ales, imperial stouts, and pumpkin stouts to wee heavy Scotch ales, they will put pretty much any beer in a barrel and the results have been fantastic. They have, for the most part, only been released for onsite consumption in bars and restaurants, but word is that may change soon.

Style and ABV vary
Houston
Though similar to the Bishop's Barrel series, the Divine Reserve series is a once-a-year release and is always a new recipe. The only thing you can count on for these brews is that they will be fairly big in alcohol.

Imperial stout, 10%
Houston
A yearly release from Saint Arnold that started out as their Divine Reserve #9 in 2009, it has become a staple and a favorite fall-released beer across the state. It is brewed with pumpkin, molasses, brown sugar, and spices and comes out around October 15th each year.

Bock, 4.4%
Shiner
Responsible for first showing many a beer drinker the world beyond lights and lites, Shiner Bock is about as recognizable a brand in Texas as anything in the state, and probably the first beer many think of when they think "Texas beer."

Imperial stout, 8.25%
Conroe
Buried Hatchet drinks a little bit lighter than traditional imperial stouts, but still packs in a lot of flavor. Roasted malts, light hop bitterness, and big notes of chocolate and coffee are all mingling together in the best possible way.
Berliner Weiss, 7.5%
Richmond
Possibly an oddball on this list as it's from a newer brewery and is a beer that's only been around for a year or so. However, it has earned a spot by being so stunningly good. A good amount of pucker meets you right away and some stone fruit flavors come through on the dry finish. It is a great beer to help keep you cool in the Texas heat and is a very well-executed sour, especially for their first go round.

American wild ale, 3.5%
Fort Worth
Last, but certainly not least, The Collective Brewing Project's Petite Golden Sour hit the scene running when it was released late in 2014. It's a really clean beer and drinks almost like a Berliner Weisse with its low alcohol. Right now it is only available in kegs and at the brewery, but will hopefully expand to bottles or cans at some point.