How to Make Cold Brew Coffee Liqueur
For a long time coffee liqueur was defined almost entirely by Kahlúa. Cast your mind back to 2004 and see if you can even name another bottle. But today, other wonderful coffee spirits dot the landscape, like House Spirits, Mr. Black and J. Rieger's coffee amaro—all of which are worth swirling into a White Russian—but it's also remarkably easy to make your own. And it's especially delicious and foolproof when you make it with cold brew coffee.
By using cold brew coffee instead of hot, you get a completely different result. The flavor profile of cold brew is richer and more chocolatey than hot coffee, so you'll end up with a liqueur that can work in cocktails (like the aforementioned White Russians as well as Espresso Martinis, Mudslides or Dirty Bananas). It can also be sipped on its own after dinner or even dumped on ice cream, if that's your thing. If you want to try your hand at a little caffeinated DIY, here's how to make your own cold brew coffee liqueur:
Tools:
1 pint Mason jar
1 quart Mason jar
Cheesecloth or very fine mesh strainer
Ingredients:
57 grams (or 7 tbsp) medium to coarse ground coffee
1 cup cold water
1 cup demerara syrup (substitute simple syrup if you don't have demerara sugar)
1.5 cups white rum
Step 1: Make Your Cold Brew Coffee
Add the coffee to the pint-sized Mason jar, pour the water on top and stir lightly. Seal and let the jar sit in the refrigerator for 12 to 24 hours. When the coffee has brewed, pour it through the cheesecloth or strainer into a bowl or large glass.
NOTE: If you have a cold brew coffee maker already, you can just use that, with a finer grind of coffee.
Step 2: Make Your Liqueur
Add the coffee, demerara syrup and rum to the quart-sized Mason jar and stir. Seal and let it rest in a cool, dark place for at least three days.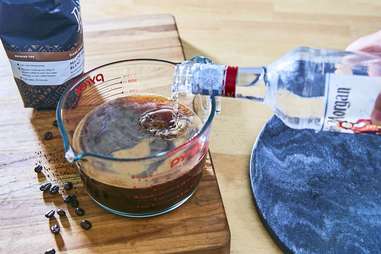 How Long Does It Keep?
Your cold brew coffee liqueur will stay fresh for more than a month, but like cold brew coffee itself, it is best used within two to three weeks.