For some reason, Jell-O doesn't include directions for making Jello Shots on the back of its packaging. That's not a problem, though—we've got you covered. Making Jello Shots is so easy, and once you master the basics, you'll be able to make a slew of different recipes, including Margarita Jello Shots, Fireball Jello Shots and even Jello Shots inspired by complicated tiki drinks. Here, step-by-step instructions on how to make Jello Shots.
Tools:
Large measuring glass
Whisk
Pot or kettle
Plastic shot glasses
Ingredients:
1 cup boiling water
1 packet Jell-O (your choice of flavor)
.5 cup cold water
.5 cup vodka (or your choice of spirit)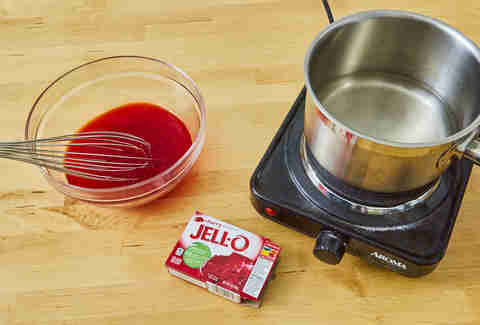 Step 1
First, boil water. Once it's at a rolling boil, pour one cup of the hot water into a large measuring glass and top with the Jell-O powder. Then, whisk until the mix has completely dissolved.
Step 2
Add .5 cup cold water and .5 cup vodka to the mix and whisk again. When making Jello Shots, you always need to have a hot liquid and a cold liquid.
Step 3
Arrange plastic shot glasses on a baking sheet (that will make it easy to move the shots into the fridge). Fill each plastic glass about three-quarters of the way up with the mix.
Step 4
Place the tray of shots in the fridge and wait for about two hours or until the shots are set. And enjoy!