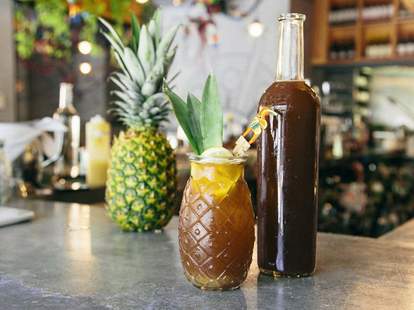 Straight Tepache at La Contenta / Marisa Chafetz / Supercall
Made from the rinds and leaves of fresh pineapples, tepache is a light, fermented drink that falls somewhere between beer and vinegar—almost like pineapple kombucha. Found at taco carts or street vendors throughout Mexico—especially in larger cities like Guadalajara and Mexico City—it has long been a Mexican staple, dating back to before Spanish rule (its name actually comes from the indigenous Náhuatl language).
While it is generally only found in Mexico—or in the southwestern United States where there is a large populace of Mexican immigrants—it can easily be made by anyone, anywhere. All you need is a pineapple, piloncillo sugar (extremely pure cane sugar) and water. Once you make your first batch, you can tweak the recipe by adding other ingredients like tamarind pods, clove, allspice, cinnamon or even habanero chilies. You can also ferment your tepache for longer or shorter amounts of time based on how alcoholic you want the beverage to be—and how funky you want it to be. Longer fermentation times will create a drink that tastes like boozy drinking vinegar and can reach up to 5 percent ABV. If you only let it ferment for one or two days, on the other hand, you'll have something that tastes like pineapple soda and is nearly alcohol-free.
Once you make tepache, you can either drink it straight—preferably over ice—or use it to make a variety of cocktails. In Mexico, bartenders mix equal parts tepache with beer or spike it with mezcal. One of our favorite ways to drink tepache comes from La Contenta Oeste in New York City, where Guadalajara-born bartender and owner Alex Vilencia mixes his own homemade tepache with Montelobos mezcal, fresh pineapple juice and fresh orange juice. Here, Vilencia shares his recipe for tepache, with step by step instructions and tips.
Marisa Chafetz / Supercall
Tools:
Stockpot
Cambro or large container
Muddler
Microplane or cheese grater
Cheese cloth
Ingredients:
1 Pineapple
2 cones piloncillo sugar
2 cloves
2 black peppercorns
4 cinnamon sticks
Distilled water (Note: However much pineapple juice you get from your pineapple, use half that amount of water)
Pineapple scraps / Marisa Chafetz / Supercall
Step 1
Remove the rind, leaves and core from the pineapple, and set aside. Juice the pineapple and measure the total volume of the juice. Reserve the juice as well.
Step 2
Add the distilled water (half the amount of juice you got from your pineapple) to a large stockpot. Grate the piloncillo sugar into the water using a microplane or a cheese grater. Cook until the sugar has fully dissolved. Cool completely before moving onto the next step.
Step 3
Combine the pineapple juice and scraps with the cooled sugar water, cinnamon and cloves in a large container. Cover with a large square of cheesecloth to prevent debris from falling into the container. Let ferment for about four days at room temperature.
The Tepache after its fermented / Marisa Chafetz / Supercall
Step 4
After four days of fermentation, move your tepache to the refrigerator for an additional three days.
Step 5
Strain the tepache through a fine sieve. Using a muddler, mash the remaining liquid from the leftover pineapple rinds. Add this additional liquid into the strained tepache. Your tepache will keep indefinitely if refrigerated.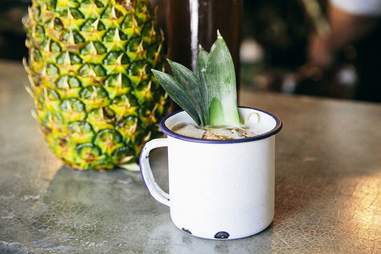 Vilencia's Tepache Apache, which adds mezcal to the tepache