Captain Morgan
Sponsored By

5 Must-Haves for Your Boat Party
Sponsored By

Summer barbecues and frisbees in the park are great and all, but if you really want to take it up a notch and celebrate the season in an unforgettable way, why not do it with a classic boat party? I mean, what better way to free yourself from the demands of work and responsibility than out on the wide open water? However you plan on catching a few hours of boat-centric leisure time, here are five essentials you'll want on board before setting sail.
Designated driver
First things first: To party on a boat, you'll definitely need a non-partier to drive said boat. If you or one of your friends has a boating license (or passed safety training, depending on what state you live in), you have a designated driver among you (and salute them like the captain they are). Alternatively, you can charter a boat, or shop around to hire a certified driver from a charter company (also known—and treated!—as a captain).
David Saracino
Waterproof camera
To preserve the memories of your three-hour tour of the ocean, or lake, without risking water damage to your smartphone, go to your local convenience store and spring for a pack of disposable cameras for you and your friends. They have waterproof models for as cheap as $10. If you can't swing that for some reason (say, the convenience store was inconveniently located off the route to the lake) and have to use your phone, we recommend getting a sealed waterproof case for it, or, at the very least, sealing it in a ziplock baggie (seriously, it works).
Waterproof bluetooth player
There's a lot to be said for the sounds of nature you'll hear out on the water, really there is. But this is a party, so you're gonna need some music at some (if not all) points. The best option is a sturdy, waterproof, UV-ray resistant, and anti-corrosive bluetooth player. Bonus tip: Crowdsource your playlist among your friends before leaving the shore. Then no one will be wrestling over the bluetooth player.
Advertisement
Photo courtesy of Captain Morgan
Next-Level-Delicious Cocktails
Before launching your next boat party, you need to lock in two kinds of essentials: the common-sense, safety-first ones, and the fun-party, gotta-haves. Hit a bullseye in the second category with a yummy, not-too-complicated cocktail option, like this berry delicious Berry Mojito featuring Captain Morgan White Rum. As easy as it is tasty.
Marine cooler
When you're rocking and rolling on the boat under the sun all day, surfaces are going to get wet and slippery. A non-skid, insulated, and UV-ray resistant cooler will come in handy for at least two good reasons: 1) you won't have to worry about the cooler sliding all around the boat and 2) you won't have to worry about the ice in there melting too fast.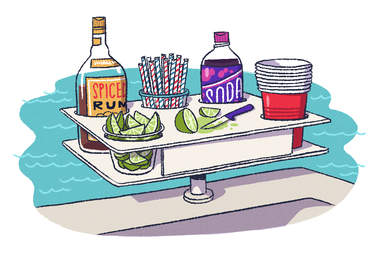 David Saracino
A cocktail bar for your boat, aka "Docktail" bar
Raise your bartending game with a ready-made, handy compartment that stores all your drinks and bottles neatly in one place. Not only will it turn making cocktails into an easier and more enjoyable activity, but having your own bar on the boat will also help you feel like you're on a yacht, even if your Yacht Ownership Plan is still simmering in Phase 1.
Bonus Tips!
Sun protection (of all kinds)
Everyone knows it's important to protect yourself during a day under the sun, but with all the planning, prepping, and socializing going on, an extra reminder can't hurt. Waterproof and sweatproof sunscreen, hats, and sunglasses are all essential party assets, don't forget 'em.
Candied ginger for motion sickness and cocktail garnish
Motion sickness is guaranteed to ruin a perfectly good time. Not only will crystallized ginger help prevent it, but it also makes a delightful cocktail garnish! Here's hoping you only need it for the latter purpose.
Shatterproof glasses
Speaking of cocktails, you're going to want to stock up on some inexpensive drinking glasses that won't break on board. Available in either plastic or silicone, these vessels can thwart accidents before they happen and ensure the party runs a smooth course.