We've all got great pride here in Indy, and our city is growing -- especially the bar scene. From swanky cocktail bars to hipster distilleries, there's an ever-shaking- and -pouring list of hot spots and watering holes worth every last drop. But as much as these new spots are all the rage, Indy's bartenders have some secret loves: underrated bars that deserve their own "cheers!" Take a break from the hype and pull up a chair at one of these lesser-celebrated watering holes. We promise the booze is still strong.
Mass Ave
Picked by: Curtis McGaha of Tini

Black Market is known for its inventive menu, which changes quarterly and includes adventurous items such as duck buns, pickles & peanut butter, and even the nose and tail of a pig. But flip over that menu and you'll find a list of wildly clever cocktails and a lengthy list of rum offerings to rival most any spot in all of Indy.

Curtis says: "Everyone knows them for their food, but they have the best rum selection in the city. Blows my mind. [Co-owner] Ed Rudisell is a complete nerd about rum. He's in love with rum. Just seeing him around it and how knowledgeable he is, I mean he's even taught rum classes. It's just a fantastic bar with fresh ingredients. Just fantastic."
Chatham Arch
Picked by: Michael Daniells of Hotel Tango Whiskey

Having opened in Prohibition times, Dorman Street Saloon has a long history and a list of maiden names. It was originally known as The Mahogany Bar or "The Hog," then became May's Lounge in 1982. The name officially changed to the Saloon at an unknown date. Can't keep up? Don't worry. Whatever you call this bar, just know that it's locally beloved.

Michael says: "Divey without being untoward, and polished enough on the cocktail list to keep me coming back for more. Plus their beer selection is on point. Their bartender, Andy, is my favorite, and he made their cocktail menu. I've been on a mezcal kick lately, and Andy's 'The Hill' is my favorite mezcal cocktail."
Broad Ripple
Picked by: Michael Toscano of Libertine

Head over to "The Cat" for a pop or two before a show at The Vogue, and you'll find well-made cocktails that are also easy on your wallet. If you can find the joint (its mailing address doesn't quite line up with the actual location), you'll end up in a welcome divey atmosphere where frat bros and suits sit side-by-side. Bring cash for the jukebox and the bar -- credit cards aren't accepted here.

Michael says: "This is a new addition to one of Indy's finest dive bars, 'The Alley Cat.' The owner has spent the last six to 12 months training his staff in the ways of proper craft cocktail creation. The entire staff have gone through the Southern Wine and Spirits Academy and continue to make their presence known at our monthly United States Bartenders' Guild meetings. There is a lot going on there and the cocktails are fantastic. If you haven't made it in to see these guys yet, do yourself a favor and make a trip to Broad Ripple this weekend. Ask for Corey Ewing and tell him Michael from Libertine sent you."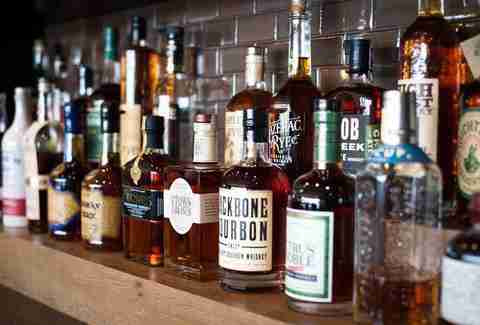 Nora
Picked by: Kendall Lockwood of The Ball & Biscuit

If you've got a hankering for rustic American barbecue, this is one of the top spots in Indy to get your meat fix on. Get the ribs, pulled pork, or Texas brisket -- don't forget the pimento cheese and cornbread! -- and you'll surely be satisfied. But what this joint isn't well-known for is its whiskey and bourbon offerings -- Kendall wasn't the only bartender to nod to The North End.

Kendall says: "North End has an amazing whiskey and bourbon selection. Their cocktails are always balanced and they have a very knowledgeable staff. Their drink menu changes all the time, but typically I just give them a spirit of my choice and tell them the flavor profile I'm feeling. They almost always hit the mood I'm in for cocktails spot-on."
Fountain Square
Picked by: William Mohring of Plat99

Entering this dive is like taking a walk through time -- the bar is a makeshift 1970s/1980s museum with mesmerizing memorabilia that includes old Sports Illustrated magazine covers and license plates from across the country. The cheap beer might be the best deal in town, and there's also a jukebox, darts, and even free popcorn at the ready. Silver Circle believers talk up the pizza, which may be a necessary sidecar to all that good, cheap beer.

William says: "Sam's is one of those iconic bars in what has traditionally been a working-class neighborhood. They have local beer on tap, the usual suspects on the back bar, and unique ambiance with posters and license plates adorning the walls everywhere. It's a nice break from the swanky and cocktail-focused bars I normally go to. The folks who work there as well as everyone I've met are all-around good people who deliver hospitality. There is never a shortage of good-hearted conversation."
Fletcher Place
Picked by: Josh Gonzales of Thunderbird

Need a beer with a side of grilled bologna? You got it. That's a common pair at The Dugout, which some say is one of the cleanest dive bars in the city. You won't find hipsters behind the bar, but you will find PBR on tap. The low-key atmosphere includes bartenders who seem to never forget a face. Oh, and besides bologna, the other beer chaser is the pizza.

Josh says: "A highly underrated staple of Fletcher Place, The Dugout is the epitome of a neighborhood dive. The bartenders know everyone by name, the drinks are cheap, and they serve some of the best Indianapolis-style pizza in town. I make sure to take all of my friends visiting Indy to The Dugout for a beer or two."
Broad Ripple
Picked by: Steve Simon of Marrow

Right in the thick of B-Rip, just across from the Egyptian Cafe & Hooka Bar and Taste of Havana, is a great spot for the beginning or end of a night -- or even to watch a game on the many TV screens in the back. Daily specials pull in regulars and those just passing through who want a relaxed setting for a conversation or a game of pool, all while enjoying a craft beer on tap and a long-ish list of classic pub fare.

Steve says: "Not every bar should be a cocktail bar, so when I just want to relax and have a beer, I head to the Broad Ripple Tavern. They don't make fancy cocktails, but they will make you feel right at home. Great beer selection and some of the better pub grub around. If you decided to stop in, tell Nikki I said hello!"
Lockerbie Square
Picked by: Drew Johnson of Cerulean

That medieval red lion on the sign is a clue to the experience at Lockerbie Pub, but you can't feel the history until you walk through the doors. Regulars point to the owner to relay the history of the place, but the TVs everywhere allow you to stay in current time to keep up with your favorite sports city -- Indy, of course! From cocktails to beer, this place has anything your little heart desires, including mini tacos, fried pickles, and an Indy staple: pork tenderloin.

Drew says: "James, the owner of Lockerbie Pub, has lived in the neighborhood for years and can tell you a ton of awesome Downtown Indy stories. The burgers are legit, even the turkey burger. There's always a great local tap selection, and a solid whiskey/bourbon lineup. A lot of regulars come here, and it just has a feel that you are part of their family."
Irvington
Picked by: Ryan Gullett of Bluebeard

When you work late -- like most of the bartenders we talked to -- it can be tricky to find that spot that's open late where "everyone knows your name." J. Clyde's may be the spot you've been overlooking all this time. The cash-only policy says it all -- it's an economical hot spot full of beer options available 'til late into tomorrow morning.

Ryan says: "I fell in love with J. Clyde's in my early 20s. I used to play shows at the Emerson Theater right around the corner, and all of the bands would go there and drink. On the east side, three-way licenses [a permit to sell beer, wine, and liquor] are very hard to come by, or non-existent, so it's a 3am bar that you can hit up after work, and just unwind. It's kind of become an east side industry hangout."
Sign up here for our daily Indianapolis email and be the first to get all the food/drink/fun in town.