Making and selling craft spirits has only been legal in Indiana since 2013, but already a small cadre of entrepreneurs is turning out everything from award-winning whiskeys to niche oddities like bizarrely flavored liqueurs and fruit-infused gins. If you'd like a nip (by the bottle, cocktail, or flight) visit the tasting rooms of these Hoosier spirit makers. Who knows, you might even meet the guy (or gal) who made the very drink you're imbibing.
Gnaw Bone
Bear Wallow is situated in the tiny town of Gnaw Bone (a name we're totally not making up) about an hour south of Indy, and made its reputation with moonshine. Most of Indiana's artisan distillers also dabble in this product because it's one of the quickest spirits to make -- just put feedstock and water into a vat, ferment, run it through a still and you've got a ready-to-serve beverage that's clear as a baby's conscience and hits harder than Conor McGregor. Unlike vodka, however, moonshine has a distinct "green" flavor —a corny bouquet imparted by the Indiana-grown grain used in the mash.

Though Bear Wallow (named after an area moonshiner who escaped the law by hiding in a bear wallow) also offers house-made bourbon, rye and other aged whiskeys, its moonshine still rules. Grab a seat in the distillery's ample, barn-like tasting room and sample Hoosier Hooch Corn Whiskey Moonshine (100 proof fire water that hews closely to traditional backwoods recipes), Hoosier Hooch Flavored Corn Whiskey Moonshine (infused with fruit essences), and Bear Trap Barrel Strength White Whiskey -- a pure, straight-from-the-still product that might also come in handy for, say, stripping oil off your car's engine block. Get the lay of the land by trying the Whiskey Lovers Sample Flight. If you'd like your rocket fuel with a twist, get a Moonshine Shake-up -- a moonshine-based cocktail civilized with fruit essences and other mixers.
Mass Ave
This outfit gets its vaguely science-y name from its owner, a former chemist. Not surprisingly, there's a bit of a mad scientist vibe to its products, including Isotope Liqueur that's offered in rhubarb, ginger and cranberry flavors, with more iterations rolling out regularly. Broken Beaker also offers lots of infused gins (Goji Berry Mint Gin, anybody?) along with fruity takes on the joint's signature Pendulum Vodka.

If vodka's your thing, you might visit Broken Beaker's full-service bar for a Bill Nye Elysium (seriously, the science theme is everywhere), made with grapefruit juice, orange zest syrup and strawberry-basil infused vodka. The menu is packed with fancifully named stuff, and the bar's mixologists crank out new cocktails constantly. Drinks are served in actual beakers, because of course they are. But try not to break them. The establishment's name is a joke, not a suggestion.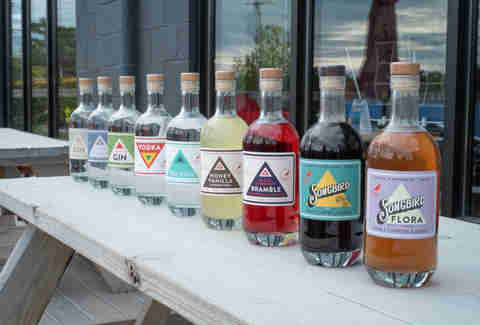 Bloomington
This Bloomington outfit's state-of-the-art still is fit for experimentation. Its ever-expanding lineup includes a utilitarian-sounding Standard Dry Gin, vodka (no clever name, just vodka), Terra Botanical Gin, Lake House Spiced Rum, Songbird Coffee Liqueur, and Tiki Rum. You can sample three spirits in a $5 tasting flight, then get $5 off if you buy a bottle of anything.

If liqueur is your thing, give the Songbird Floral Liqueur a shot. Made with raspberries, elderflower, jasmine and hibiscus, then sweetened with agave nectar, it tastes the same way a garden smells. Or if you'd like something hearty for winter, try the Black Bear Bierschnaps, which is distilled from Upland's Teddy Bear Kisses stout -- a powerful beer obtained from the nearby Upland Brewing Co. Take it by the shot, or visit the establishment's vaguely modernistic tasting room/bar for a Paddington Flip (Bierschnaps, Tiki Rum, raspberry and egg white).

Cardinal Spirits really, really wants you to try its Moscow Mule, but everybody's drinking those these days. So instead, switch it up and sample the Bramble Mule, which gets its kick from Cardinal's Black Raspberry Bramble, infused with black raspberries, hibiscus leaves and agave nectar.
Fletcher Place
Located in a refurbished 19th century carriage house, Hotel Tango is the brainchild of distiller and ex-Marine Travis Barnes and his wife, Hillary. The first letters of both their names are expressed via the military phonetic alphabet as Hotel and Tango—hence the name -- and the distillery's spirits get similar treatment, including the Victor Vodka, Mike Moonshine, Romeo Rum, Lima Limoncello, and Golf Gin.

Unfortunately the system breaks down for whisky, because the military phonetic designation for W is already whiskey. This isn't an issue yet, because Hotel Tango's first batch is still maturing in barrels. Until its debut, console yourself with the Romeo Rum (silver medalist at the 2015 New York International Spirits Competition) or the Golf Gin (bronze medalist the same year). This place is so big on gin that they've dedicated an entire still to its production. If you want to try some, repair to the cozy, brick-walled tasting area, cuddle up by the fireplace and have a Gin Mule, composed of lime, mint, ginger beer and Golf Gin. Or if you'd like something more winter-friendly, try the Hot Cider made with cinnamon, orange and that silver award-winning house rum. While you imbibe, say hi to the joint's feline mascot, a tailless, grayish mixed breed named Fletcher.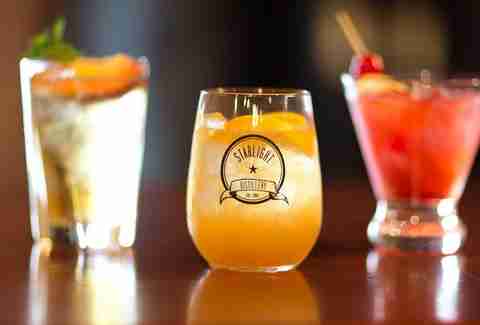 Starlight
This establishment two hours from Indianapolis is part of Huber's Orchard, Winery & Vineyards, a southern Indiana tourist mecca that draws more than 600,000 visitors annually. It's had a winery for years, and in 2001 secured the state's only permit to make brandy (basically, distilled wine) using fruit grown on the property. Master distiller Ted Huber is really, really good at brandy—so good that he helped the staff at Mount Vernon make peach brandy based on George Washington's own recipe. The company's Barrel Aged Blueberry Liqueur recently won Best of Class: Distilled Spirits Specialty in the 2016 American Craft Spirits Awards.

Huber tinkered with his own bourbon and whiskey recipes for years before it became legal in Indiana to produce these spirits for sale. Now that it is legal, Huber and team have gone bonkers, distilling a long list of potables including 1794 Barrel Finished Gin; Blackberry Whiskey, Single Barrel Bourbon Whiskey, Apple Brandy, Private Reserve Brandy, and Peach Brandy (matured for more than two years in oak casks). If you want samples, head to the tasting loft at the next-door winery, which offers tastes of five spirits for $12--or $2 a taste if you want to go a la carte.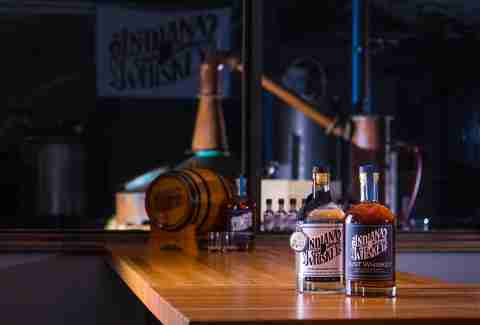 South Bend
This operation strives to use only Indiana products in its beverages, from the grains to the still — a hulking, one-of-a-kind affair that was built by a local company and nicknamed Chester. Unlike the stills at most US operations, which use a water jacket to more evenly distribute heat, Chester relies on direct heating, just like old-timey Irish and Scottish whisky makers. Chester produces all of this distillery's staples, including Silver Sweet Corn Whiskey, a clear, moonshine-y spirit made mostly from corn and bottled at a modest 80 proof, creating a slightly sweet concoction the company calls a "young and approachable drink." It won the silver medal at the 2014 World Spirits Competition.

If you're looking for a more traditional beverage, try the Straight Cardinal Red Whiskey, a mixing whisky aged two years, and one the management promises can "bring order to the most chaotic drinks." Or try the Hoosier Heat, a more refined take on cinnamon whiskey, featuring locally sourced flavorings. Enjoy them in the distillery's smallish tasting lounge, equipped with leather couches, a couple of chairs and a small bar. Hours are variable, but your best bet is Whiskey Wednesday, a weekly 5-to-9 pm. event.
Fletcher Place
The second of the two distilleries located in the Fletcher Place neighborhood, 12.05 takes its name after the date (Dec. 5) that Prohibition was repealed. The idiosyncratic lineup includes the only Indiana-made rye whiskey, Four Finger Rye (in remembrance of the Brad the distiller's missing left pinky, sacrificed during 12.05's construction), White on the Line Wheat (the only Indiana-made wheat whiskey), Barreled Porter (whiskey made from a porter beer from a local brewery), and 12.05 Gin, packed with nine different botanicals, including cucumber and peeled grapefruit, and an Artisan Spirits Awards silver medal winner.

The Repeal restaurant, located next door (but with a huge window opening onto the distilling space) serves as the 12:05 tasting room and its menu lineup can be just as quirky as the alcohol they serve. Recently they staged a "finger food" night to mark the second anniversary of the loss of Brad the distiller's finger. For $8 bucks you can try a flight of four house-made whiskeys, or get the full "12.05 flight," which adds a vodka and a gin
Sign up here for our daily Indianapolis email and be the first to get all the food/drink/fun in town.