O
K, Indianapolis is not exactly ablaze with World Cup mania -- after all, our game is basketball. But there are still plenty of places in town for dedicated soccer fans to watch the action, which goes down in Russia this year from June 14 to July 15. And it's not just about which bar has the biggest screens -- or at least, not
totally
about that. To really enjoy soccer's High Holy Days, you need good food, plentiful drinks and, perhaps most importantly, a crowd that's just as into the sport as you. Here are the
best bars in Indianapolis
to watch the World Cup, and don't forget to check back for more updates as the games heat up.
Mass Ave, Fishers
The place to go if you're really, really into soccer
If Indianapolis had a ground zero for soccer fandom, this is it. While other establishments show whatever sporting event is hot at the moment, this English-style pub keeps its battery of HDTVs tuned to the English Premier League, European Championships, UEFA Champions League, and -- of course -- the World Cup once it cycles back. It's one of the few places in the city where you can spout off about soccer to the guy on the next barstool and not get a blank stare. Expect an immense list of imported beers and local craft brews, all your pub grub favorites (you can't go wrong with the fish and chips), and most likely standing room-only crowds. Like we said, this is soccer central, and everybody knows it.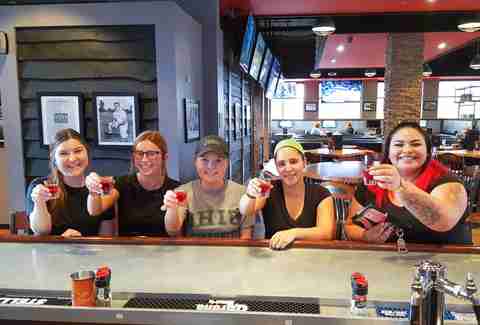 Downtown, Northside and Southside
Classic sports bar with locally brewed beer
Sure it's a chain, but it's a local chain. The Downtown location, across the street from Bankers Life Fieldhouse, serves up a hoard of TVs, a can't-miss comfort food menu that includes the Piggy Mac Grilled Cheese (pulled pork with honey barbecue sauce, melted between layers of Cheddar cheese and macaroni & cheese, and served between slices of sourdough toast), and beer straight from Thr3e Wise Men brewery, just down the road in Broad Ripple.
Downtown, Speedway, and Greenwood
Enough Guinness to drown a small army
Everything about this small chain of Irish pub joints screams tradition, from the food, to the beer, to the TVs, pretty much everywhere you look. OK, maybe the televisions aren't traditional, but after you've sampled the Guinness beef stew, and maybe a couple of regular Guinnesses (Guinnessi?) you'll be way past caring.
Broad Ripple
A neighborhood mainstay that's both a dive bar and a sports bar
Looking for a dive bar/sports bar fusion? No? Well, you might want to reconsider. Average Joe's has been a Broad Ripple fixture for decades. Every spare bit of wall space is covered with local sports memorabilia and tributes to "weekend warrior" athletes -- at least the parts that aren't covered with TVs, that is. Avail yourself of a domestic beer, load up on nachos, pizza, or wings (there's literally nothing on the menu that requires utensils), and play a round of pool while the World Cup unfolds.
Butler Tarkington
Basically a student dive without the students
The restaurant is only a couple decades old, but the fact that it was carved from three old buildings makes it seem like it goes back much farther. The three dining and drinking areas are equipped with gear salvaged from other establishments, including counters and bar tops made from the volleyball courts used at the 1987 Pan American Games. There are plenty of local and imported beers on tap, a surprisingly long wine list, and cleverly designed cocktails. Definitely try our pick, the Bourbon:30 -- Maker's Mark on the rocks with ginger ale, triple sec, and orange juice. Even the salads are innovative and tasty, especially the Forest Chicken, which is made with chopped apples, pecans, and Gorgonzola cheese on mixed greens. Just save room for the also-excellent pizza.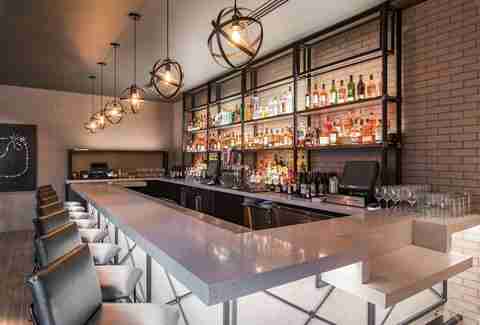 Downtown
A hotel bar uniquely suited to capturing every second of action
Granted, this is a hotel bar (located inside the massive JW Marriott), but if you want to see the World Cup, you could hardly miss it here. Literally every available vertical surface sports a massive plasma TV. So order a Hoosier-style pork tenderloin sandwich (served with jalapeño coleslaw and slathered with poblano mayonnaise), select from the comprehensive beer and wine lists, or maybe enjoy a Blackberry Jack (Jack Daniels, cranberry juice, and blackberry puree).
Broad Ripple
Team USA die-hards can commiserate here
Expect a highly partisan crowd, because this soccer hotbed is also the official watch party location for American Outlaws Indianapolis, the local chapter of a national group that supports the United States national team. So expect a very soccer-friendly atmosphere -- even if Team USA is not competing this year. Just be advised that on game days and nights the place fills up fast. So get there early, order an Indy-style deep-dish pizza (40-minute cook time), knock back a Smithwicks Irish red ale (or two), and await the game in style.
Mass Ave
Yes, they have haggis
From the carefully curated selection of malt whiskeys to the haggis sampler platter on the appetizer menu, everything about this smallish establishment screams Scottish-American authenticity. World Cup fans will feel right at home, too, because the walls are covered with soccer memorabilia. If you work downtown, this is the perfect place to sneak away at noon to catch a match over a long "lunch." But brace yourself for a crowd, because you won't be the only person to do this.
Broad Ripple
Not a lot of TVs, but plenty of relaxed atmosphere
If you're looking for someplace low-key to enjoy a game, Indiana's oldest brewpub may be just the spot. Established in 1990 by British expat John Hill, it sports the dark decor of a classic English pub, complete with dart room. Enjoy a full lineup of house-made brews (along with a healthy assortment of OPBs, or Other People's Beers) and a menu that includes everything from traditional scotch eggs to the not-so-traditional vegan fish and chips. But if you're the sort of person who's prone to screaming "Gooooooooaaaaaaaallllllll!" at the top of your lungs, look elsewhere. This place is a little too laid-back for that.
Downtown and Broad Ripple
Lots of TVs, BBQ, booze, and games; zero kids
Kilroy's has two locations, but the Downtown one is the most spacious. It's an over-21 joint offering 32-ounce Long Island iced teas, barbecue that's smoked on-site, and more than 40 TVs. If there's a lull in the action, play a round of shuffleboard or blow some quarters on the old-school video games.
Castleton
A hidden hot spot for sports and funky beers, next to a shopping mall
Though its location next to a giant shopping mall may not look promising, this establishment is in fact a sports watchers paradise. It's typically more of an NFL redoubt, but in June count on the establishment's innumerable TVs to be tuned to the World Cup. You might want to get a quirky-sounding local or regional beer, because they've got literally all of them, from an Aloha Traveler pineapple shandy to Preacher's Daughter red ale. Pair up your pint with some shredded pork belly tacos, and you're good to go.
Downtown
Daily drink specials in a shrine to coaching
This place looks like a dive from the outside, but the inside is brightly lit, inviting and absolutely bursting with TVs. Envisioned as a tribute to coaches, it's also bursting with reasonably priced alcoholic beverages, and an extensive menu serving everything from a Buffalo chicken dip appetizer, to pan-seared ahi, to the Breakfast of Champions -- a burger topped with a fried egg, hash browns, bacon, and American cheese. No one will mind if you order it for dinner. Coaches' drink specials shuffle up every day of the week and vary from $3-$5; its website helpfully lists all the regular ones.
Sign up here for our daily Indianapolis email and be the first to get all the food/drink/fun in town.