The Best Damn Beer Bars in Indianapolis
To be considered a great beer bar, there have to be a few essential components besides just a top-notch draft list: a welcoming atmosphere, some good food (preferably good before you started drinking), and a staff that appreciates beer just as much as you do. The list below hits on all those points, packed with locally loved suds from a number of close-to-home pubs. So, whether you're checking out new ones or revisiting the places you already know, definitely enjoy a few pints at some of the best beer bars around Indianapolis.
Mile Square
This one may be part of a chain, but every Rock Bottom franchise employs a legit brewmaster, and Indy's own Nathan Scruggs sure as hell knows his beer. Just ask him; he'll be happy to tell you all about it if you order the Brewmaster's Choice. Sure, this place is using already established Rock Bottom recipes, but there's no shame in ordering up a Raccoon Red Ale or the Special Dark. It's a great spot to sit and relax with a pint, offering a number of consistently good choices that keep people coming in (whether there's a convention Downtown or not).

Broad Ripple
You might have been there when it was still Chumley's, but the Village Tap Room took over in the college stomping grounds' footprint just last year. And yes, it is still pretty much exactly the same bar it once was: walls lined with local and regional taps, an ever-rotating lineup of beers, and breweries Hoosiers can't help but love. Of course, this place won't give you hell for ordering something that comes from one of the mega-brewers, but why would you? Being in a bro-heavy part of town doesn't mean you need to drink like one.

SoBro
You might call Twenty Tap the Brewpub's modern successor to the throne. There are well over 30 taps at this point, and a good amount will get you a pint of something locally brewed that's an easy drive away. Just like at Brewpub, the servers here are true beer aficionados, so definitely consult with your bartender or server if you need a recommendation for something to go with your food. Of course, if you'd rather take our suggestion, just get the Central State House Belgian Blonde.
Broad Ripple
It started out in the headwaters where Indiana Boilermakers are made and drifted down south to us from Lafayette. Good thing, too, because HopCat is known for having literally hundreds -- yes, hundreds -- of beers on tap, from local craft brews to macro-brewed pints. However, what made it famous is the crack fries: beer battered fries sprinkled with salt and sugar. They definitely make each pint slip down pretty easy. A bonus: HopCat is one of the few places in Broad Ripple where you won't have to fight over parking.

Reagan Park
The guys who brought you Central State Brewing now bring you a petite pint bar on the near Northside, just a door down from Goose the Market. It's a nice little bar with a handful of local taps dedicated to the brewers' favorite beers from around the state and region. (A popular one right now appears to be Central State Brewing's very own Lazer Raptor.) This is a bar meant for beer drinkers who know what makes a good beer bar, and that's the beer.

Castleton
It's all kind of right there in the name, isn't it? But here's another detail you might want to know: between the bottles and draft lines, you have over 200 beers to choose from. And when it comes to bar food, the Ale Emporium is easily serving one of the best pizzas you can get in the city, part of the mile-long menu packed with anything you could want at your dream Super Bowl spread. Also, there are TVs on every inch of free vertical space.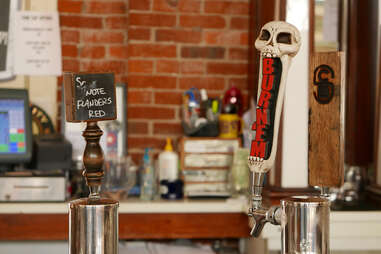 City Market
Up on the second floor of City Market, Tomlinson Tap Room allows patrons to take in some great views of the bustle of the market while sipping on some locally brewed pints. The tap lineup changes all the time, but this place only taps craft beer from around Indiana. The best way to stay in-the-know for what's being offered is to keep up with the bar on social media. It has a current lineup of some Indiana favorites, such as Spice, Spice Baby; Lazer Raptor; and Honey Badger, but of course, that'll soon change.

Broad Ripple
Belgians are serious about their beer, and Brugge is the kind of beer bar that caters to a serious beer drinker. There will be no house brew available here that is "light and easy" or "just whatever your version of Bud Light is." No, no. Go to Brugge if you want a big, bold tulip cup of deliciously fragrant Tripel De Ripple. But don't stop there; be sure to check out the great, always-changing guest lineup, which offers a handful of taps featuring some prime regional breweries.
SoBro
The Ship is an easy bar to love: there's a great staff, some good food for both carnivores and vegans alike, and best of all, an outstanding draft beer lineup week in and week out (here's the current lineup). There's also a jukebox, some pool tables, and you can get fresh-fried donuts whenever you want. Plus, it's always open until 3am, so you can get your local craft pints even if you work late. How could you possibly want anything else out of a bar?

Chatham-Arch
While we tried to keep this list from being a rundown of brewpubs, this is one where the experience of drinking in the bar is one you really can't miss. Housed in a restored church on College Ave, St. Joseph Brewery is one beer bar that begs you to come in and get a tall glass of Absolution. (Seriously, that's a beer, not just some lame joke.) As you might have guessed, a lot of the offerings are pretty church-related: the Nun Bigger Imperial Stout, the All Saints Golden Wheat, and the Confessional IPA are some of the best examples... and samples!
Mass Ave
Our list wouldn't be complete without this longtime favorite: the very massive, very German, Rathskeller. Sure, you could fill up on sausages and schnitzel and pretzels, and still have a great time at The Rath, but adding a few craft pints turns the knob up to 11. This place has a huge outdoor beer garden with a stage and a gorgeous vaulted-ceiling dining room that has that grandiose Hogwarts vibe. Best of all: it's right off of Mass Ave, so the Uber ride is cheap and fast.

Broad Ripple
Amid the strip, there's this glorious, oak-covered English pub where Broad Ripple soccer fans gather in droves to watch a game, grab a few pints of ESB from the tap, and undoubtedly chow down on the best fish and chips basket in Indianapolis. Union Jack's has been around since 1979, and has pretty much been a landmark in the city ever since. If you're stopping by for brunch, it's the perfect place for a nice, refreshing snakebite -- especially if you're looking for more than just a mimosa.

Downtown
Could you get some scotch at this Scottish bar and restaurant? Yes, of course… and it would be fantastic. But better than that, you could get a pint of the Belhaven Scottish Ale: a zaftig, nitro-tapped brew that roils in the glass like golden seafoam. (It's called a "Scottish Milkshake.") Go hungry, too, because MacNiven's serves big, hearty plates like Beef Manhattan and haggis -- the real deal. Save this one for the weekend because you're going to need a nap afterwards.
Broad Ripple
The Wise group of restaurants might be best known for Scotty's Brewhouse, but Thr3e Wise Men caters to beer lovers and those who like to have a few pints in house, fill their growlers, and then take them home. Even better: this place will bring freshly brewed beer to your party if you have them cater the food. And as is the law in beer bars, the pizza here is great as well.

Broad Ripple
Before there were breweries on every corner in this city, Broad Ripple Brewpub was one of a handful of places where you could get a really great local pint. Whether it was brewed in-house or down the road at Upland or Oaken Barrel, you could always count on this place to have an intimidating lineup of true craft brews. And 25 years later, you still can. The fact that it's still going strong and is packed every weekend after years of brewing trends is proof of how vital it is to our local beer culture. Head over to get some of its own crafts, or try some from the OPB menu (Other People's Beer).

Mass Ave
Mass Ave has its own star standout for quaffing with a little FIFA football: Chatham Tap. It's the hangout for downtown-based soccer fans, meaning it's a good spot for when you're craving a draft import and a plate of crispy, saucy wings. If there's no game on, you can still get your fill of Guinness and pizza, though you'd be crazy not to do it up right on the pretty little back patio.
Sign up here for our daily Indianapolis email and be the first to get all the food/drink/fun in town.
Sarah Murrell is a food writer and hospitality consultant in Indianapolis, and (only) blogger at The Sensualist. Follow her on Twitter if you don't mind a malt-filled mouth with a sharp tongue.