The Best Dive Bars in Indianapolis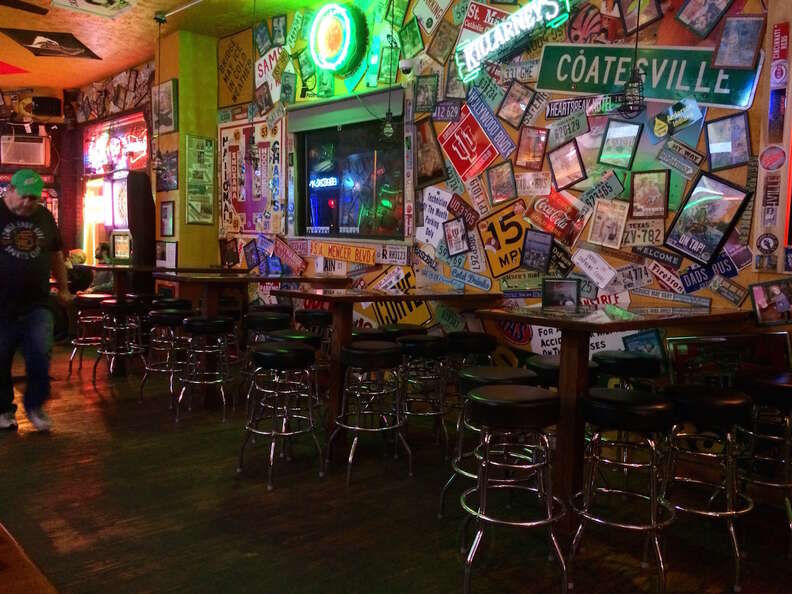 What makes a great neighborhood dive bar? Start with grungy decor, then throw in a cast of colorful neighborhood regulars, a long history, cheap drinks and eats, and some funny and/or quirky drink specials. Oh, and it doesn't hurt to have a couple of cheap-but-potable domestic beers on tap. These are Indy's finest, grungiest, homiest, cheapest, and greatest. Bask in the ambiance, sample the food, imbibe the spirits -- but steer clear of the bathrooms.
Est. 1940s/Broad Ripple
Fine cocktails in a gritty setting
True to its name, the Alley Cat's traditional entrance sits in a dark, grimy, graffiti-filled alley just off Broad Ripple's main drag. Step inside and you'll find exactly what you're expecting (a dark sanctum with a diverse crowd) and a few things you're not -- including a list of expertly executed cocktails. There's also a newish Front Room with a Carrollton Avenue entrance that's a bit more sophisticated and quiet (read: no jukebox). Drop in just about any time; the Cat's open 7am to 3am, seven days a week, as is the kitchen. Just remember, they only accept cash.
Est. 1918/Haughville
Awesome burgers, but no late nights, at this ancient establishment
This 101-year-old bar and restaurant looks retro, but it isn't. It's just old. The storefront operation is into its third generation of family ownership, and it shows. The floors are worn and the tables knicked, but the lunch crowds are as big as ever, and the grill's mashed-with-a-spatula, crunchy-on-the-edges burgers are still absolutely legit. Expect everybody from factory workers to college kids, but don't plan on making a night of it, because this cash-only establishment closes late afternoon.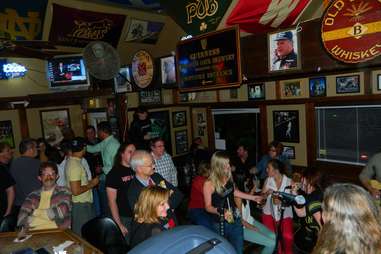 Est. 1979/Broad Ripple
A great place for all things Irish -- if you can find it
Located on a secluded backstreet in a house near the canal, Connor's is known for its selection of Irish beers and whiskeys. And also one of the city's most comprehensive "party food" menus. Hankering for tater tots at 2am? You're covered. And the same goes for house-made cheese balls, wings, and pickle chips. The house cheeseburger is killer, too.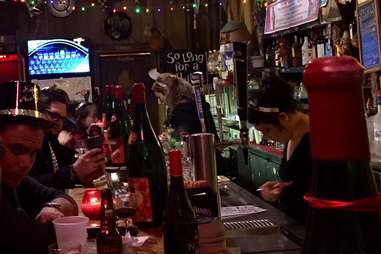 Est. 1982/Mass Ave
The dive with live jazz
When the current owner bought this space in the early '80s, it had already been a bar for decades -- as its decrepit interior proved. He decided to keep the shabby look (complete with linoleum floors that have eroded away to reveal the wooden subfloor) and add nightly jazz concerts, which proved an instant hit. The joint is jumping pretty much all the time, what with talent ranging from local bands to Wynston Marsalis taking the tiny, tiny stage. You can get pretty much anything you want at the bar (which, in keeping with the rest of the place, looks like it could collapse at any moment). As for food... this isn't the place. Though they probably have pretzels or something if you're really hungry.
Est.1933/Meridian-Kessler
The drinks have been pouring since the repeal of Prohibition
If there's such a thing as a highbrow dive bar, this is it. Established shortly after the end of prohibition, this storefront operation still doles out beer, food, and live music just as it did 80 years ago. There's a jukebox spinning vinyl 45s, model airplanes hanging from the ceiling, and an antelope head behind the bar. And also, on most nights, wall-to-wall crowds. The regulars included noted musicians, artists, and authors, including bestselling novelist (and Indy native) Dan Wakefield.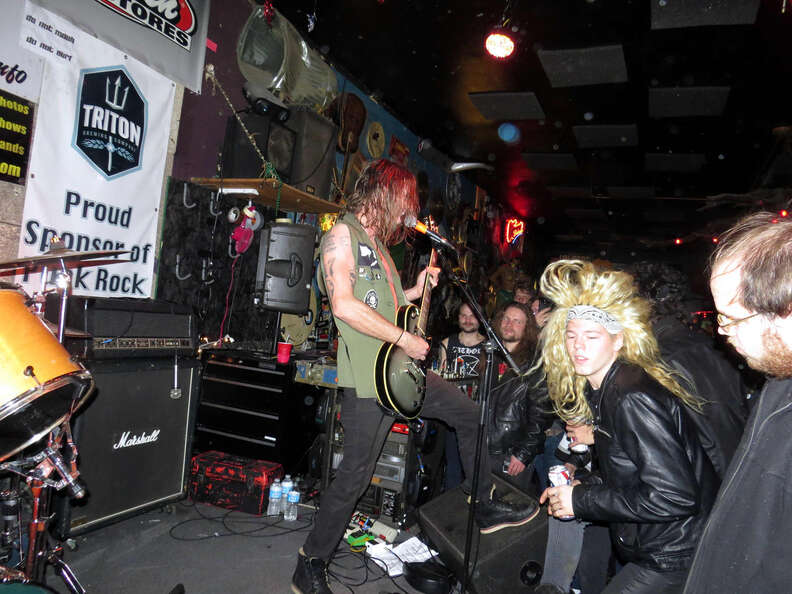 Est. 1935/Butler-Tarkington
On-point jukebox and live music, from metal to rockabilly
Between the live acts and the joint's carefully curated jukebox, the music never stops at the aptly named Melody Inn. If there's a live act (which is most of the time), you're probably looking at a $5 to $7 cover charge. But there's also plenty of free, nearby parking. Amenities include the Smokers Garden and the original oak bar, dispensing "high performance social lubricants."
Est. 1954/Fletcher Place
When it comes to food, this place is a home run
The Dugout has been around since the '50s, but lately it's gotten a lot cleaner and trendier -- just like the neighborhood in which it sits. The main dining area is quite modern-looking, but the bar is still comfortably dark and dated. The food's good, and you get a lot. Try the deep fried pepper jack cheese balls, or the half-pound pulled pork nachos. There's also limited sidewalk seating if the weather cooperates.
Est. 1938/Fountain Square
This place has more personality than 90% of the world's humans
Welcome to sensory overload, featuring an interior "decor" consisting of floor-to-ceiling signs and magazine covers. The pizza's good (some say great), and there are regular karaoke nights. The beer is both plentiful and cheap, and there's a strong jukebox selection, along with darts and free popcorn.
Est. 1900/Cottage Home
If it was good enough for John Dillinger, it's good enough for you
For much of its existence this place was known as The Mahogany Bar, or The Hog for short. And legend holds that infamous bank robber John Dillinger knocked a few back here while casing a local bank (which he subsequently robbed). Back in the day, the place brought in all kinds of rough trade, but now it's more famous for its cocktails, pool tables, and eight rotating taps.
Est. 1934/Englewood
If you like Irish bars, they don't get much more Irish than this
The Golden Ace has catered to Indy's Irish community for going on 100 years with live gaelic music and a copious selection of Irish alcoholic beverages. There's also trivia nights and one of the city's best cheeseburgers. Try the Ace's signature shot, the Irish Flag -- Creme de Menthe, Bailey's, and Irish whisky in layers that resemble an Irish flag. And yes, the bar's St. Patrick's Day celebration is legendary.
Sign up here for our daily Indianapolis email and be the first to get all the food/drink/fun in town.