The Hotel Bars Indianapolis Locals Should Hit Up This Weekend
In Indianapolis, hotel bars aren't just for hotel guests -- many have cocktail and food menus that would rival many of their non-hotel-affiliated counterparts. In fact, a handful of hotels that popped up for the 2012 Super Bowl have become mainstays in the bar scene. So whether you're looking for a hidden gem of a happy hour spot, or aching for a mixologist to serve up a hand-crafted concoction with an herbal-infused spirit (possibly with a lemon-wedge set on fire), these bars prove it's time to hijack the phrase "hotel bar" and revamp that connotation.
Courtesy of Severin Bar
Severin Bar
Local Hoosier roots are the focus at the Omni Severin, which offers a hearty historic spirit in a modern, sleek brick and wooden decor that pay homage to Indy's Wholesale District. Artisan foods from Just Pop In! popcorn and Broad Ripple Chip Co. are paired with Indiana breweries like Sun King and Upland, and an occasional live band. Making its debut back in fall 2012 after usurping Olive's Martini & Cigar Bar, the bar's two signature cocktails are the bourbon-forward Whiskey Daisy and the Perfect Manhattan, but the menu lineup also includes international wines. You can also expect farm-to-table fare, such as bacon on a stick. 'Nuff said.
Tastings
Purchase a reloadable card and indulge in a huge selection of "wines-by-the-taste" at Tastings, which offers more than 200 bottles in stock and on tap. Wine guides can help you find your favorite varietal by the tap, which doles out 2oz, 4oz, or 6oz pours. Grab a seat on one of two patios to enjoy people watching on one of the city's busiest streets or stop by on Wednesdays, where $30 gets you food and wine pairings presented by a sommelier. Lean more toward beer and liquor? Never fear, there's a full bar at your ready.
High Velocity
That fantastic, midnight blue glass-encased, game-changing prism of a hotel that opened for the Super Bowl is home to a modern, stylish and sporty watering hole. Dubbed as Indy's version of a modern "Black & Tan" for its mixture of modern style with a classic sports bar, you can duck into High Velocity to watch Andrew Luck or Peter George on the dozens of TV screens, or grab a local beer (including the elusive Gumballhead from 3 Floyds Brewing Co.) before heading next store to Victory Field for an Indians game. High Velocity is an easy "pre-game" option before settling into a hearty and romantic Italian dinner at Osteria Pronto (also in the hotel).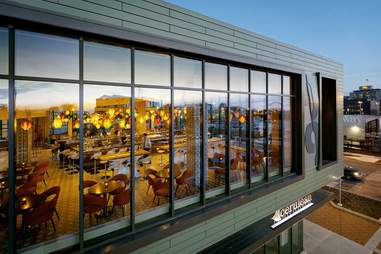 Courtesy of Plat99
Plat 99
If complimentary truffle popcorn doesn't seal the deal, the cocktails will without contest -- inventive cocktails like the Marie Antoinette with pear and cinnamon infused Cardinal Queer Indiana vodka, or The Cat in the Hat made with hibiscus syrup, are all served under the Wonderland-esque bulbous lanterns that make for an easy conversation starter or an enchanting date. Artist Jorge Pardo designed the lounge to be a "work of art," but pay for your drinks and take them for a stroll to the first few floors of The Alexander Hotel for an art gallery experience. Check out an exhibit honoring the first self-made female millionaire, Madam C.J. Walker with 3,840 plastic combs, or the one dozens of birds carved from vinyl records by Paul Villinski. The bar also has a retro Vinyl Night on Thursdays and, but steps away, an incredible $9 lamb burger at Cerulean.
Spoke & Steele
The bar at Le Meridien Indianapolis -- Spoke & Steele -- is a stirred cocktail in it of itself: part edgy and sexy, part rustic, farm-to-table. The name is an homage to Indy's racing history with a splash of upscale modernity, served up in the former Canterbury Hotel. S&S's cocktail menu may have you asking the bartender for advice on how to decide between craft beer from one of the 10 taps, thoughtful draft cocktails, and S&S Originals options. Make Johnny Appleseed proud with the Adult Apple Cider, or if you can't decide, opt a taste of four with the draft cocktail flight.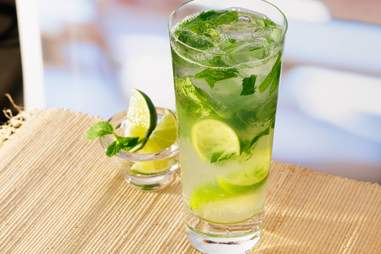 Level One

| Hyatt Regency Indianpolis
Level One
Don't be surprised if you're rubbing elbows with politicians at this bar that's kitty-corner to the State House. Originally built in 1977, Level One was recently gutted and reopened in March 2016 with a new retro-modern feel (think filament lights, vinyl walls, and subway tiles) that spills into the hotel lobby. Grab a martini or Manhattan and lounge under the 20-story atrium, or catch a game on the multiple flat screen TVs that line the bar. Alternatively, grab a pre-dinner drink and head up to the Eagle's Nest restaurant, has a 360-view atop the hotel.
Sign up here for our daily Indianapolis email and be the first to get all the food/drink/fun in town.
Carson Quinn believes the negative "hotel bar" connotation will only change if there's a good selection of rosé wine. Follow her and more of her stories on Twitter @NewsCarson, and Facebook.