These Are the Best Beers to Drink This Spring in Indiana
The sun has finally come out to stay for a few months, which means we just got the green light to pour some ice in our buckets, stuff them with beer, and take this party outdoors. Springtime beers need to strike a balance between being refreshing as the warmer weather approaches while still having enough flavor to be interesting. After all, it's really in the summer that we want that in-your-face, ice-cold, ultra-light beverage, which means spring is the time to get the best mix of drinkability and flavor before it's too hot to taste. Here we have a list chock-full of wheats, saisons, and lighter hop-forward beers. And the only thing you'll need to pair them with is your pair of shades.
5.9%
It's sour, it's funky, and it bites you right in the palate. If you're a sour lover, grab a can of Lazer Raptor, Central State's cranberry-and-lime-tinged Brett sour. It tastes great with other strong, bossy flavors like Thai food and funky cheese. But of course, it's just as good all by itself, straight from the can. No matter how you consume it, the laser-red brew will wake up your sleepy winter taste buds and give you a refreshing kick of sourness for the springtime.
7%
Hop nerds should make their way north to Camel's Grand Junction tap room for a taste of the Ghost Lager this spring. To make this magic happen, the brewers used Mandarina Bavaria hops to impart a citrus flavor. If you're looking to bring the beer home, bring your growler carrier along -- that's the only way you'll be able to do so. But really, why not hang back and enjoy a messy (but delicious) pork sandwich, or a plate of hot wings, to go with your pint of Ghost Lager?
6.4%
Indy's favorite hop-heavy seasonal really shines this spring (as denoted by the bright green label). This edition of the quarterly, rotating IPA is described by the brewers as featuring Centennial, Mosaic, and El Dorado hops, which gives the beer a tropical fruit and citrusy taste. If you want to try a beer that's more on the beginner side of the IPA continuum, the spring edition of Fistful of Hops is a great introduction.

5%
It tastes pretty much exactly as it sounds: like a tall, ice-cold glass of vacation. This kölsch completely steals the title "the champagne of beers" with its ultra-refreshing, soda-esque fizz, and is a beer that almost requires bright sunshine and a cool breeze... because what kind of vacation would it be otherwise? Grab a glass if you're looking for one of those malty, yet light, beers that you can enjoy all by itself while you have a nice long porch-sitting session.
4.5%
This blonde ale has been dry hopped "for an enticing tropical fruit aroma," according to the brewers, appealing to lighter beer drinkers or those enjoying the newly warm weather so much they just aren't ready to pack it in after a few hours. Whichever one of those you are, swap your heavy IPA for this one during the first cookout of the year, as it makes just as nice of a beer to pair with your dinner as it does to drink by itself in front of the grill.
6.4%
If you like light, dry wine, you'll love the gentle taste of Chilly Water's farmhouse-style ale. It's an easygoing version of the more bossy cousins the brewery offers, and it pairs well with a funky cheese and some fruit. It also goes pretty well with a charcuterie-heavy panini if you stop into the brewery for a quick lunch. The signature farmhouse flavor of this beer makes it a great choice if you need a one-and-done beer that isn't overpowering.
5.3%
This is another delicious and easy drinker if you're new to hoppier brews. It has a great citrus-forward nose and finish, and a nice punch of malt matched with a bit of bitterness in the middle. Be careful, though: cans and pints of Natty Lib (as it's known locally) go down dangerously easy for IPA fans. Get it with a side of charcuterie at the pub in Irvington and take it out on the sidewalk patio.

4.6%
Cold snaps are bound to happen, as they always do in spring. When they do, reach for Triton's Belgian-style wit, which has a touch of those wonderful mid-winter spices that make you feel warm, but in a light beer that still tastes refreshing. It's a good pint to drink when a warm spring day is transitioning into a cool night by an outside fire.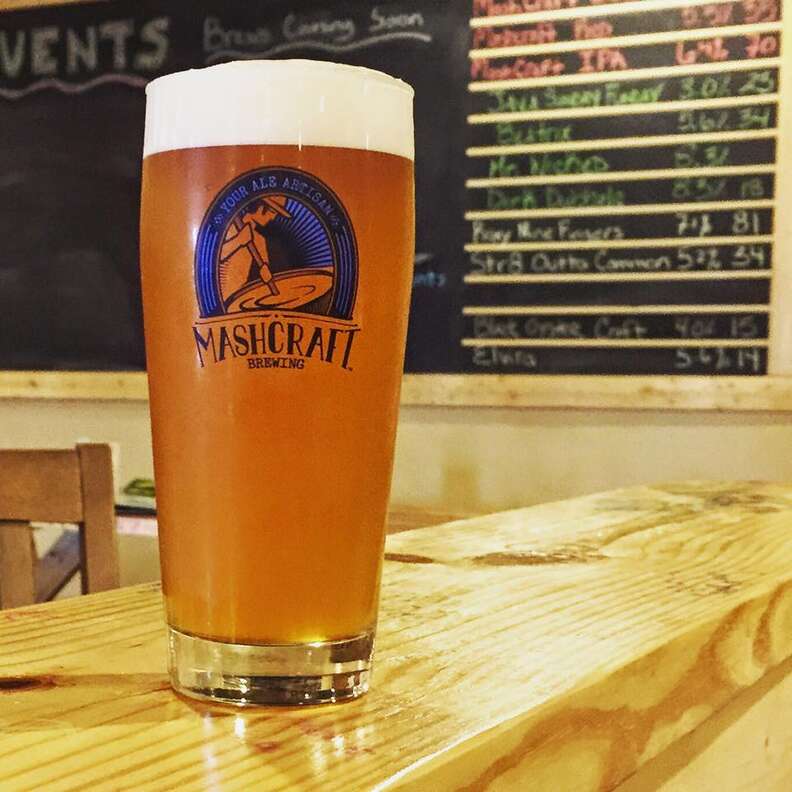 5.5%
Speaking of cold snaps, there are sometimes straight-up frigid nights in spring. For those, grab a Spice, Spice Baby from MashCraft, which is like the beer version of mulled white wine. It's not a dark beer, so you won't feel heavy after one or two, but there's plenty of spice to perk you up on a frosty early spring evening.

7.4%
Yes, we know we're supposed to get hyped about Gumballhead and Zombie Dust, also from 3 Floyds. But we can't get enough of this brand of farmhouse ale. It's a slightly spicy, funky saison you can get in a big ol' 22oz bomber. So save those Gumballheads for the sweltering summer heat, when you'll want the refreshing crispness. This spring, get your fill of the delicious complexity of the Rabbit while it's still temperate outside.

11.5%
Once a year, Taxman makes a stout with a very impressive amount of alcohol by volume. Death by Taxman (formerly Death & Taxes) comes out during Taxman's big yearly festival, where you can sample not only this beer, but also the juice of 27 other Hoosier booze-makers. But among them all, it's this walloping dark brew that brings people by in droves. Reserve your ticket now and get up to four bombers on the day.
Sign up here for our daily Indianapolis email and be the first to get all the food/drink/fun in town.
Sarah Murrell is an Indianapolis-based food writer and author of The Sensualist. She prefers to drink her beer on a porch of maximum enjoyment. Follow her on Twitter.