The Best Wine Bars in Indianapolis
Whether you're knocking back bottles of the good stuff or something from the grocery bargain bin, there's a certain relaxation to drinking wine. And despite our reputation as a chardonnay-two-ice-cubes city, Indianapolis has plenty of terroir on tap. This list is about the wine bars that prove just that, ones tailored to the real grape lovers -- from weekenders to hardcore connoisseurs.
Broad Ripple
CWB is about as close as you can get to the vibe of a Paris cafe, especially if you stop by in the summer and grab a table outside. It's one of the few truly wine-centric restaurants in the city, with a formidable lineup of dishes made to be enjoyed with a glass of vino. If you want to save a little cash, ask about the manager's $20 bin selection or get a flight to visit many vineyards in one night. If you're lucky, you'll show up on a night when they're playing live bluegrass in the basement bar.
Mass Ave
It might be a franchise, but that just means you'll get a wide and constantly changing selection of wines by the bottle and glass. Best part: when they're almost out of one variety, the price goes down. With a menu of dressed-down appetizers and sandwiches to go with your grapes, Louie's is a great spot to taste some good wine and grab a snack after work.
Herron-Morton
Though it's technically a restaurant, the wine and small plates selection makes this a good place to hang out when you want the wine bar vibe and a delicious bite. It's also a good choice if you want to learn a little about your wine or you need some suggestions to go with food, as the staff is well-educated on the list. The restaurant frequently hosts vintner dinners where the chefs create a complimentary menu and a winemaker comes to talk about the wines being served. Keep an eye on their social media feeds to get the latest updates.
Wholesale District
This wine bar is basically an arcade for adults. You load a card with however much money you want to spend, then you go around and swipe it and sip 2oz pours until the cash runs out. Sundays are great for getting $5 mimosas and bloodies, and they offer reservations for dinners featuring a flight of wines to go with each course. If you get a little out of control, grab yourself a room at the adjacent, and swanky, Conrad Hotel.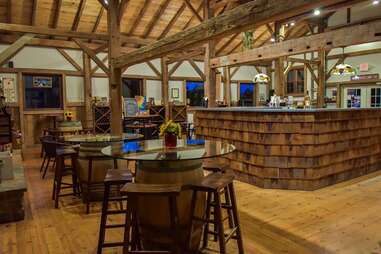 Bargersville
While Indiana might never be famous for wines, there's something fun about sitting on the deck at Mallow Run and sipping on a glass of homegrown Traminette -- one of a handful of grapes that grows well in Hoosier soil. The tasting room and surroundings at Mallow are gorgeous and worth the drive when you need a little taste of Napa in Naptown. Be sure to make a plan to go in mid-summer when the garden is in full swing and go for a walk with glass in hand.
Broad Ripple
Brugge is famous for its selection of craft brews, but the owners pay similar homage to terroir with their wine selection. Though it's limited, the wine list goes well with just about anything on the Belgian menu, from steak frites to waterzooi. Summer is the best time to visit; you can settle into an outdoor table for an evening of vino and crepes while watching foolish joggers pass by on the Monon.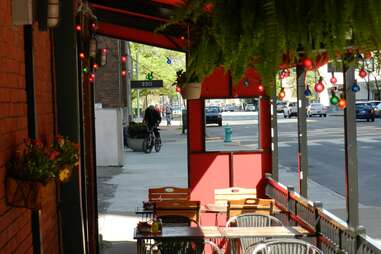 Market District
Lots of tapas and all the sangria you can drink makes for a fun time at BARcelona -- sometimes too much fun when it starts coming out in pitchers. Get a few small plates of cheese and olives, and then tuck into the offerings at the bar one glass at a time to keep things from getting too crazy. Sunday brunchers in search of value will also love this place; they offer an all-you-can-eat buffet of Spanish brunch favorites that comes with a glass of sangria to boot.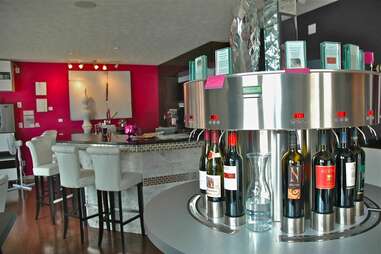 Mass Ave
With a similar dispensing system as Tastings, you can explore the world of wine with the swipe of a card. The spot is tucked into a cute shop on Mass Ave, has a sexy interior, and tons of communal seating if you need a new place to meet up with your after work wine club. They do serve food, but insiders know the real draw: that vino.
Herron-Morton
Indy finally has a cafe that serves the beverage needs of the masses at all hours of the night. The Thirsty Scholar will be happy to serve you a beer, a glass of wine, or a cup of hot espresso. One of the best ways to spend an evening here is to get a solo seat at the bar and sip and snack the night away while you watch the crowd turnover from night to late night.
Mass Ave
It's a shop! It's a cafe! It's both! There's probably no better place in town to shop for wine than at MAW. First, you'll get the benefit of an extremely passionate and knowledgeable staff. Second, you can stick around and have a few glasses after you've made your selection. Third, after you've had those glasses, you can eat all the cheese you want. Everyone wins.
Carmel
Going along with the shop-n-drink theme, this brand new restaurant inside the bougiest grocery store in the city is not a bad place to end an otherwise uneventful Tuesday. Sadly, you can't drink and shop at the same time, but you can uncork the bottle of your choice to enjoy within the legal confines of this restaurant. So go ahead: tell your family you're going to the grocery store, then have a few glasses with some friends. After all, it's not technically lying.
Herron-Morton
It's not exactly a secret, but Goose the Market's Enoteca is probably one of the least-known (and best) places to drink wine in the city. Goose is a gourmand's paradise, so their mini basement cafe featuring small charcuterie plates and a huge selection of wine is, unsurprisingly, delicious beyond comparison. Choose a wine off of the menu or have them open whatever you select from the shelves along the walls, and make sure you get a bite of cheese and meat from Goose's outstanding selection of artisan foods to go with the wine. It's completely worth it.
Market District
This isn't your standard great wine list. Vida is newly opened and has a cellar with some of the rarest labels available in Indianapolis. It's a carefully curated list put together by certified sommeliers, so it might be a little intimidating to the new drinker. That said, the staff is more than happy to offer user-friendly advice on what pairs best with what, and early reports say the menu is a knockout.
Sign up here for our daily Thrillist email, and get your fix of the best in food/drink/fun.
Sarah Murrell is the writer for Indy's food and sex blog, The Sensualist, and she thinks those card-swiping wine dispensers at Shiraz and Tastings are nothing short of magic. Follow her on Twitter.