From Bordello to Blues: Inside the Slippery Noodle Inn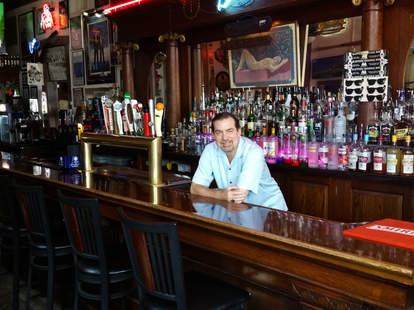 Nestled on a corner in the Wholesale District is the Slippery Noodle Inn, Indy's oldest bar and an institution. Today, locals and tourists head to the Noodle to listen to live blues music seven nights a week, but this 170-year-old bar is jam-packed with history that beats barely beneath the surface.
There were many names given to the Slippery Noodle Inn before it garnered its silly (and potentially euphemistic) one. The space opened in 1850 as The Tremont House, a tavern owned by a German immigrant, then became the Concordia House (1860), Germania House (through WWI), Beck's Saloon (after WWI), Moore's Beer Tavern (before Prohibition), then Moore's Restaurant (during Prohibition), back to Moore's Beer Tavern (after Prohibition), and then Boris' Place (late 1940s).
At times in between, the building was a stop on the Underground Railroad, produced beer in the basement during Prohibition, was the scene of a John Dillinger shooting (bullet holes remain as "proof"), and was even a brothel. In fact, if you ask the owner nicely, you might be invited upstairs to peek into some of the rooms -- many of which have been reverted to their earlier decor, complete with one small bed and a hole in the floorboards to stash cash, drugs, or perhaps the lady herself.
Hinging on all that history is the notion that the place could still be visited by the paranormal community. We'll leave that feeling up to you and the hairs on the back of your neck.
But while you could slip in at the Noodle back in the day, it's long been a family establishment. Hal Yeagy's family has owned Slippery Noodle since the 1960s, but he personally took it over in the mid-'80s and has been running the joint ever since. Under his management, the Noodle has transformed from bar and restaurant into a staple of the local music scene (with a bit of national buzz, too).
Blues reigns supreme at the Noodle, though you'll hear other types of music as well. While Yeagy dreams of having Eric Clapton visit the Noodle, he's had all types of musicians stop by. He's met Dan Ackroyd multiple times; Billy Joel's stopped by without a keyboard; Gene Simmons showed up even just to show off his tongue. John Mellencamp, the Allman Brothers, Jason Bonham, Kid Rock -- you name it.
"There was no well-thought-out business plan. It was 'I'm going to take over, we're going to add music -- oh crap we're busy! We need to expand, we need new restrooms, we need to be bigger," said Yeagy.
He's expanded the building at least four times over, first with one stage, then another, then an atrium and a finished basement. He may be the leader, but it's a family-owned establishment -- his sons are involved, his employees have worked for him for years, and Yeagy is very proud of what it has become.
So while Indy grows, how do we get to enjoy such a gem for all these years? Yeagy sat down with Thrillist to give his history on the place, and what's next for the Noodle.
Carson Quinn
Thrillist: So, c'mon, what does "Slippery Noodle" really mean?
Yeagy
: My dad was a comedy writer during World War II, and he couldn't go fight when everyone else was fighting, so he ended up with the USO tours writing comedy and performing in stage plays. He kept writing comedy as time went on -- he always had a bit of a different streak.
Fast-forward to when my parents bought the place in the 1960s. It was called Boris' Place, named after its owner Boris Petercheff. Dad didn't want to call it that; Dad also didn't want to call it Harold's Place, [because] Dad went by Harold.
My two brothers are both older than me, and were throwing names out, and Dad threw out "Slippery Noodle Inn" because he wanted something with the word "Inn" in it, even though that part of the place had been shut down for years. The Slippery Noodle part was part of a catchphrase he had used in part of his comedy writing.
So, he said "Slippery Noodle: once you heard it, you know you'd remember it." Ultimately, depending on your frame of mind, it's a double entendre.
You took this over from your parents in the 1980s. Why?
I have two older brothers who worked here back in the early 1960s, when my mom and dad bought the place. One of them even wrote a letter to them saying it wasn't worth a "plugged nickel." And it wasn't at the time, there was nothing Downtown. But because I grew up in the place, I never understood why they kept saying it wasn't worth taking over.
My dad was diabetic, and over the years he had lost one leg. He still bartended, he was blind. But the only thing we had at the time was the very front bar room. My mom would come in every day. We were only open until lunch at the time. They'd open at 10 in the morning and close at 6pm and I would come down after I got off of work at Lilly and stock their beer for them and help them clean and stuff. My dad went into the hospital and passed away during surgery to remove his other leg.
So, while I had a good job, my kids were living in Houston with my ex. All of a sudden my mom was stuck running the place by herself. There were some people wanting to buy it from her for like nothing. Being a small business, your retirement is what you've got and what you own at the time.
I tried working both for about six months and then one day I came into the bar and handed mom my resignation letter at Lilly.
Courtesy of The Slippery Noodle Inn
How did the Noodle start hosting bands?
One of the things that I wanted to do was get music in the place. I started keeping it open past 6 pm, to have a piece of nightlife here. Indy started to get a couple little nightclubs Downtown. I was remodeling what we call "The Old Music Room" in the summer of '85. It took us 10 months to get it ready.
In 1986, we started doing our "Blues Jam" on the front stage, and have been doing that ever since -- it at first was called the "Working Man's Blues Jam" because it started at 5 o'clock after work, then it moved to 5:30, then it moved to 6, and it finally was starting at like 10 o'clock at night... and now it starts at 8:30. But we're the longest-running jam in the country, because it's been continuous since 1986.
I had been dating Carol, who is now my wife, and we got married in 1987. She has made sure that the place has kept the same feeling over all the years -- not to mention she has booked all of the bands for the last 15-plus years.
One night a bunch of waiters from St. Elmo Steak House -- this was the mid- to late '80s -- came in and wanted to play. They had the place packed and charged like a $2 cover. When they finished they looked at me and said "How much longer you gonna be doin' folk music?" So then we started playing more blues and building in more bands, and just kind of centering around blues.
We got busier and busier and opened up the back room in May of 1990. So we moved the bands from the front stage to the back stage. We had all the music back there for about nine months until it was built back up and we started doing two bands on the weekend, and we've been doing that ever since. By the start of 1991, we were doing two bands every weekend.
Because we haven't tried to be the hot new place or change with the times, we've stuck to what we know. The floor's been updated a few times, the stages have been updated, everything has changed, but it hasn't. It still looks close to the same, and we do that on purpose.
Why did you choose the blues and why is it so popular?
Blues music, somehow, I figured out that I liked it best. No particular reason other than it's what I liked. I had grown up with rock 'n' roll, but a lot of their roots came from blues. I mean if I was going to be here six or seven days a week, it had to be something I liked.
As they say, "the blues had a baby and they named it 'rock 'n' roll,'" so growing up with rock 'n' roll and just transferring it back. A lot of it is the same or similar music, just how loud or how amplified it's played.
Courtesy of The Slippery Noodle
Incognito or on stage, who's shown up at the Noodle?
Every artist is a little bit different. Some travel with an entourage because they want everybody to know that they're who they say they are. Others dress down and walk in with a high school buddy, and unless somebody takes a good look at them, they can sit here all night long and not be recognized.
John Mellencamp has been in the place, but his band has been in here continuously in the early days. Larry Crane, his guitarist and co-songwriter, just played here a few weeks ago. But since Mellencamp didn't really drink he'd say, "Good gig guys" and then he would leave.
Some more famous people walk in and want to play, some don't want to play. Some of them want to play different instruments than what they normally play. Which can be fun, at times.
We had Gregg Allman come in, and he played the entire Allman Brothers' show that they were playing the next night, other than he was playing the guitar and had someone else playing keyboard behind him. It didn't quite sound like the Allman Brothers doing it.
One of my favorite stories is of Kid Rock on Race Weekend. I didn't know much about him. He comes in, he's got his entourage around him, his long hair and his hat. He's in the back room with his group and all of a sudden he's like "I want to play." So I'm like, "OK, follow me." So we walked around and Gene Deer Band was playing on stage. I said "Gene, Kid Rock wants to play."
So Gene gives him a guitar and Kid Rock gets on stage to huddle up and talk real quick to see what they're gonna play together. Turns out Kid Rock, years ago used to play blues; that night he was on stage for more than an hour playing blues with Gene. Both seemed to have a good time.
That said, we treat everyone the same. If they want to come in and have a drink and listen to the music, great. If they want to play, great. We do ask the band that's already playing on stage if they're interested in having this person join them, and typically they say yes, but we give them the option.
Jason Bonham has been in a few times. I didn't know who he was, other people did, but I knew his dad from Led Zeppelin.
Back when Billy Joel came in in the '80s, before social media, he walked in the door and my doorman said to him "You look a lot like Billy Joel but you're too damn short." And then Billy Joel looked back at him and said "I am Billy Joel," and walked right by him. We didn't have a keyboard at the time, but his band played for a good chunk of the night because we had all their instruments. He came back the next night and we had quickly gotten a keyboard for him. His security wouldn't let him out of the bar, but again his band played the second night as well.
When some artists come through, they stay in a house we have especially for artists. Sarah Potenza, who was on The Voice, was here all the time until she got on the show. She and her husband will come through town and they'll stay at the house.
Indiana hosted the Governor's Conference in 2002 or 2003. They out of the blue called us up and said they wanted to have a party here. We said OK. They said, "You realize you have to close it to the public, no one else can come in." We said OK. "You realize you've got to let us bring Secret Service through with bomb dogs." So they came through and searched the entire building.
There were about 35 of the governors along with their staff, all at once. I'm out front with two of my staff members [when] a yellow cab drives up and Gene Simmons from KISS gets out and tries to walk in. Secret Service stops him and says, "Sorry sir, we're closed for a private party." He's like sighing, and then he says, "I'm Gene Simmons." The Secret Service kinda looks at each other and says "Oh well, he kind of is." They took his ID and ran his ID and then after like 20 minutes they let him in. He walked into the back room, he's just sitting there, not really having a clue what the party is. Then a couple of the governors' wives noticed him and kept asking him to stick his tongue out. That was one of the funniest damn things in the world. Since then, he comes in whenever he's in town.
Courtesy of The Slippery Noodle
How has social media affected the Slippery Noodle?
Before social media and Twitter and Facebook and all that, if someone famous came in, there was a rush to the pay phone to tell everybody. Now, social media is so fast that word gets out quickly. That said, many stars don't like their photos taken when they're just trying to be regular patrons, so that changes things a bit. But overall, it's gotten the word out faster than before. Sometimes someone will tweet something out and the next thing we know half of Downtown is at the door.
As Indy is growing, how does it feel to be the owner of such an institution?
I'm very proud of it. I still think of it like we're one little bar, on one little corner, in one little city. It's not like we're changing the world, but we certainly do our best to make it a better place in this one little area.
[Yeagy begins to tear up] I wear my dad's wedding ring and my mom's diamond. I had the two pieces put together after my mom died. I think about them every day. I've always been a person that believes that if it needs to be done, do it, and don't worry about it, and lead by example. That's why I think my staff has stayed with me for so long.
It takes a lot to keep the place running, and every set of hands can be used. Both my boys work here and have for years. They'll take over the business. I started out with one little room, with one other employee. So we've grown. It's not a huge business, but we work hard to adapt to the growth of Indianapolis.
Sign up here for our daily Indianapolis email and be the first to get all the food/drink/fun in town.