Johnnie Walker Master Blender Jim Beveridge on love, life, and making porridge even more delicious
Dr. Jim Beveridge has a cooler job than you. It's nothing to get upset over – as Master Blender for Johnnie Walker® Blended Scotch he's got a cooler job than almost everyone. On the occasion of the US release of Johnnie Walker Platinum Label®, we stole a few minutes to ask him about where he's been, where he's going and what we can do to make our porridge taste better.
How does one become a Master Blender?I joined the company 34 years ago, straight out of university, in 1979. Obviously, being in Scotland, I'd had a general interest in scotch, but having studied chemistry, I also saw how you could apply science to its production. I spent my first 10 to 15 years as a flavor chemist, working with malt and grain and understanding how they mature in the wood. In the '90s, I took off the lab coat and started moving towards the blending table, and became Master Blender around the millennium.
Before you came on board, was hard science an emphasis for the company?Johnnie Walker had invested heavily in scientific research starting about 20 years before I arrived. I was very fortunate, in that by the time I joined, the analytical techniques those men had pioneered had blossomed into something very useful. Standing on the shoulders of those giants, I was able to apply their learnings in a much more fruitful manner.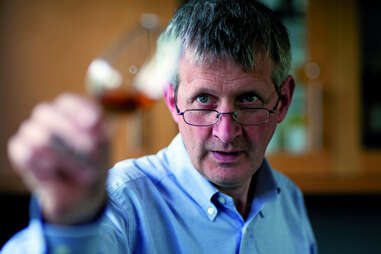 Is blending simply in your nature? Do you often find yourself mixing and matching other things besides whisky?
I'm not a cook, but I do always think about combining flavors. If a waitress asks me if I want still or sparkling, I ask for a mix of both. With porridge, it's quite nice if you drizzle some honey on top of it and then add some yogurt for sharpness and acidity to balance that sweetness instead of cream, which is very rich.

What's the hardest part of the job?
I think of my job in three ways. The first is the sense of being responsible for all these wonderful blends, and ensuring the consistency and quality of existing products. Another is innovation – new expressions. The third part, the trickiest part, is foreseeing the future. With something like Black Label or Platinum Label, I'm making decisions that will have to hold for 12 or 18 years. You're leaving a legacy for those who come later.
What drove you to create Johnnie Walker Platinum Label?
I wanted to create a rich, dark, intense 18-year-old whisky, a contemporary-style blend with slight smokiness, sweet vanilla and mature Speyside fruitiness – end of season, end of summer, almost like exotic fruit. Beyond that though, there's a heritage of special occasion private blends that we've done for friends and special customers. Platinum Label comes from that tradition, and to me, that describes the blend.

Johnnie Walker Double Black® was more of a reinvention, whereas Platinum Label is a whole new creation. Which was tougher to produce?
I always start out with a flavor profile in my head, and the challenge is to create that profile using existing stocks. Both of those whiskies had their own challenges, but with Double Black, the volume of that blend was significantly greater than that of Platinum Label, which was a bit tougher, because its whiskies are quite rare.

So you've created Johnnie Walker® Blue Label®, Double Black, and Platinum Label, among others. And you've achieved one of the loftiest titles any man could aspire to, "Master Blender." Are there any worlds left to conquer? Astronaut?
I'm quite happy where I am. That sounds like it's not very ambitious, but considering the aspirations we have for Johnnie Walker, to be Master Blender and continue to grow in that role, well, that's actually quite ambitious.



PLEASE DRINK RESPONSIBLY. JOHNNIE WALKER PLATINUM LABEL® Blended Scotch Whisky. 40% Alc/Vol. ©2013 Imported by Diageo, Norwalk, CT.PLEASE DRINK RESPONSIBLY. JOHNNIE WALKER® BLUE LABEL® Blended Scotch Whisky. 40% Alc/Vol. ©2013 Imported by Diageo, Norwalk, CT.PLEASE DRINK RESPONSIBLY. JOHNNIE WALKER DOUBLE BLACK® Blended Scotch Whisky. 40% Alc/Vol. ©2013 Imported by Diageo, Norwalk, CT.