Vegas pretty much hits you square in the jaw with all of its party-fury, and some people don't even leave their hotel, let alone the Strip, during their visit. Don't be one of those people. Instead, check out this collection of can't-miss off-Strip gems that ranges from tiki bars, to Philly cheesesteak huts, with a Rat Pack-frequented steakhouse thrown in for good measure.
Recommended Video
You Can Now Get Artisanal Twinkies Delivered to Your Door in NYC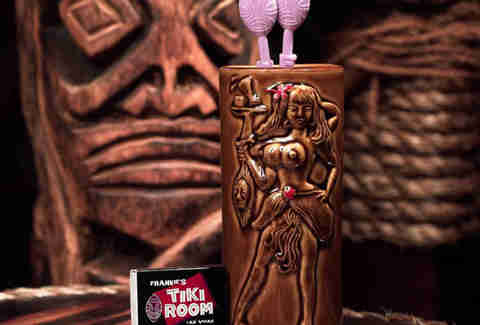 Frankie's Tiki Room
Located downtown, this amazingly authentic tiki bar has been designed by the "foremost tiki bar designer in all of the world" (according to Frankie's website!), Bamboo Ben. Drinks like the Lava Letch and the Polynesian Pile Driver are equally authentic, with potency measured from 1 to 5... skulls.
Velveteen Rabbit
The recently opened downtown bar is about "creating experiences" through an ever-changing list of craft beers, curious cocktails that include stenciled rabbits, flaming lemon peels with peppercorn bacon bitters, and two sisters who experienced growing up in Las Vegas, which is an experience on its own.
Double Down Saloon
A hidden staple (if that's possible) since the early '90s, Double Down is as far from a Vegas nightclub as you can get, thanks to psychedelic murals/videos on the walls, billiards, pinball, live music, and their specialty "Ass Juice". It's classy.
Golden Steer Steakhouse
You'll feel like you've been transported back to 1958 (the year it opened) when you enter this downtown steakhouse, which was frequented by Frank Sinatra, Dean Martin, Sammy Davis Jr., and those other guys from the Rat Pack whose names nobody cares about, and still features some of the best prime aged beef in town. It also seems like the guy making their famous Bananas Foster was the inspiration to The Hangover's Mr. Chow.
Mob Bar
Sitting across the street from the Mob Museum, this Prohibition-styled cocktail lounge specializes in whiskey and wood grain, amidst which you can "hit the flask" with their rotating list of infused shots served by decked-out flappers.
The Bootlegger Bistro
Bootlegger has been around since 1949 and is still owned by the original Italian family that brought it to Vegas, and who will still fill you up with 24/7 Italian dishes like osso buco and seafood diavolo while you listen to live music on the weekends.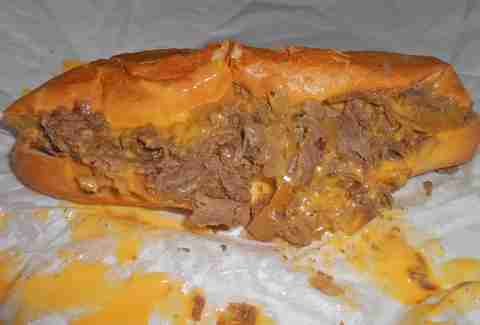 Pop's Philly Steaks
Sometimes after yet another boring night in Vegas, you need something to excite your stomach. 24/7 Pop's provides just that: authentic Philly cheesesteaks that can be made with your choice of cheeses, from American to other things that don't matter, because you better get the Whiz. Nobody beats it!