If you thought this was a story about the Virginia Dirt Karting Association, you are really, really up on your acronyms. But also wrong. VDKA is actually Encore's casino bar, which keeps the decor frills-free and puts all the attention on a worldly selection of vodkas from Vietnam to Moldova.
The wall of Russian juices also includes famous bartender-curated picks of rare and unique diet tonic-accompaniers, like Clix (a vodka from the Buffalo Trace dudes that has been distilled 159 times, because 160 is outlandish), or Stoli Elit Pristine Water, which costs $250 for. A. Single. Shot.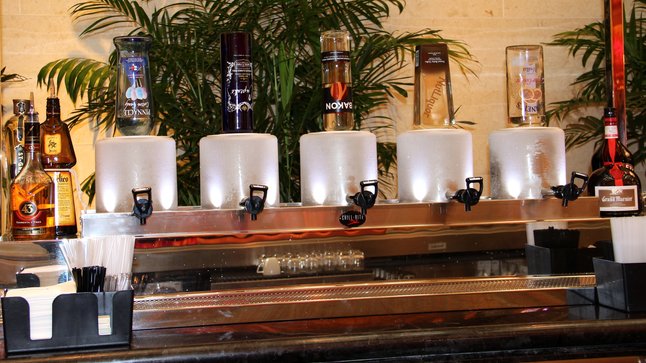 Awesomest of all: the "Shock-A-Vodka" speed draft system, which turns out perfectly chilled pours of a rotation of flavor-infused vodkas like the dubiously named NutLiquor Peanut Butter Vodka.
They've also got a slew of specialty cocktails perfect for you…r girlfriend (including the Cotton Candy Swirl), plus dude-friendlies like the Bacon & Maple made with Bakon Vodka, Applewood bacon-infused Crown Royal Maple Whisky, and Sapling Vermont Maple Liqueur, which can't be topped, unless it's with bacon... which it is!