Vegas Has a New Speakeasy Hidden in a Donut Shop at Aria
A first look at Sin City's latest speakeasy.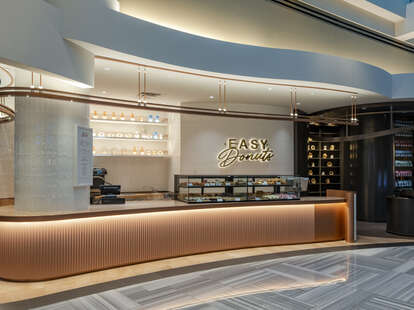 Photo courtesy of Easy's Cocktail Lounge
The secret's out. Easy's is now mixing craft cocktails with eye-catching presentations and live music at the Aria Resort & Casino. As the name suggests, the stylish cabaret lounge is the latest speakeasy in Las Vegas, hidden behind Easy Donuts & Coffee at the Proper Eats Food Hall, which just opened in December. Easy's aims to be an alternative for those who appreciate Las Vegas nightlife but enjoy it even more without the crowds and chaos of Sin City's nightclub scene.
"What we created with Easy's was an intimate, cool cocktail lounge," says Andy Masi, founder and CEO of Clique Hospitality, the operation behind Proper Eats. "It's not about bottle service. It's about quality cocktails and entertainment with great bands. It's not DJ-driven."
There's no special trick or password to get into Easy's. Just look for the velvet rope in front of the donut shop. (And, in case you're wondering, any pastries in view after 6 pm are for display purposes only, with a fresh batch ready for customers again the following morning.) Reservations are a good idea—Easy's seats just 42 people with a total capacity of 75.
The lounge is a sophisticated space designed by Alessandro Munge of Toronto's Studio Munge. The lights are kept low with an illuminated back bar keeping the focus on a carefully curated spirits selection. Opposing floral designs on the floor and ceiling mirror each other like a reflection with subtle dark green tones and velvet accents. The stage is just large enough for a four-piece band, allowing performances to feel more like an intimate private party than a concert. The acts vary from night to night but tend to have throwback charm, with jazz and soul performers taking the spotlight.
However, the cocktails by mixologist Eric Hobbie are the real star of the show, illustrated in detail on individual pages in a menu divided into three sections. The Show Stoppers are based on elaborate, experiential presentations with dry ice, lights, and even supplemental scents, all part of the package. Light of the World is an illuminated gin cocktail, arriving at the table inside a smoking lantern. The Heart of the Ocean represents a day at the beach with a presentation that includes San Diego seashells, sand, a slab of boardwalk, and coconut oil mixed with dry ice to smell like suntan lotion. The drink—Casamigos, blueberry spirulina, orgeat, and lime—is served inside a Spanish hand-blown glass shell with salty egg-white foam to simulate an ocean wave on your lips. "If someone doesn't take a picture of that cocktail before they drink it, I feel like I messed up," says Hobbie.
The $50 price tag for the Show Stoppers is ambitious, even for Strip standards. If it helps ease the sting on your wallet, two are shareable. The Smoke Show combines bourbon, banana liqueur, sweet vermouth, and chocolate bitters in a pair of pipe-like glasses, presented in a smoking cigar box with an ashtray and pack of old-school candy cigarettes. Shroomin brings together gin, matcha, lemon honey, and dry ice in two sugar-coated mushroom-shaped glasses that "grow" when laid on the table in a mushroom and moss-filled tray. "It looks like you're drinking out of a forest," says Masi.
Customers can also choose between a lineup of classics (like a Manhattan, Negroni, or Daiquiri), priced at the new Vegas normal of $22, with special attention given to every detail, from the spirits themselves to the garnish, ice, and glassware, which is selected to match the drink with texture in mind. "Everything has a purpose," adds Hobbie. "Everything is there for a reason."
The price inches up to $27 for the "Speakeasy Libations,' which are 'original recipes with playful, inventive touches. Try the 3 Lil Bears, a modified Cosmopolitan with Belvedere, prosecco, white cranberry juice, and Solerno (an Italian blood orange liqueur). Watermelon, honeydew, and cantaloupe juices are molded into the shape of teddy bears, slowly melting into the cocktail and allowing the taste to evolve while you drink it.
Each table is greeted with a two-tiered dish of chocolates and strawberries. If you need something more to feed your appetite, guests can order Sasanian caviar, presented in a faux Fabergé egg with blinis, creme fraiche, chives, and egg as the accouterments. Two shots of vodka are included.
"It's a nice little nibble when you're in a high-end environment," says Masi. "We didn't want people sitting there having a cheeseburger or wings. I'm not against cheeseburgers or wings, but it's not really the vibe for it."
You'll find plenty of comfort food outside the speakeasy at any of the nine food-service counters at Proper Eats, from the sushi and hand rolls of Temaki Bar to the breakfast sandwiches of Egghead and the Korean fried chicken of London's Seoul Bird. Even DJ Steve Aoki is in on the act with Pizzaoki.
The food hall is fast becoming a status symbol for casino resorts in Las Vegas. The same old food court with familiar national chains just won't cut it anymore. Caesars Palace was ahead of the trend, giving its Forum Food Hall a relatively eclectic collection of quick-serve counters, even if the atmosphere wasn't anything unusual. The Fulton Street Food Hall is a long-running staple at Harrah's, but it feels more like a buffet divided into pay-as-you-go offerings instead of a collection of different brands. Block 16 at the Cosmopolitan seized on the model in a major way, bringing together acclaimed culinary concepts from around the country, and Famous Food Street Eats followed suit at Resorts World with a strong preference for Asian dining options.
The trend recently arrived Downtown with the opening of the Fremont Food Hall at the Fremont Hotel & Casino. The lineup isn't overly ambitious. There's a Steak 'n Shake and Dunkin' Donuts, after all. But the resort showed it meant business by signing up Craftkitchen, a local Henderson restaurant known for its pastries, fresh ingredients, and some of the valley's best breakfast and lunch dishes.
"There's tremendous upside," says Craftkitchen chef and owner Jaret Blinn about joining a food hall. "Anytime you have the foot traffic you get in Downtown, it's completely different from what we see in Henderson."
Of course, mixing in a little booze doesn't hurt, either. Both Block 16 and Famous Foods have speakeasies of their own, but Proper Eats doubles the fun. In addition to Easy's, the food hall has Proper Bar, a cocktail lounge out in the open to complement the food counters directly. In addition to nine signature cocktails, the bar has six classics on draft, including an Old Fashioned, Margarita, and Espresso Martini, to minimize time or fuss. And just like the food, you can order one by scanning a QR code.
Easy's, meanwhile, is off to a great start and will only get better in the weeks ahead. According to Masi, the lounge is "98 percent finished," and operates in soft-opening mode until a new set of custom-designed Italian furniture arrives after a shipping delay. Once complete, the speakeasy will take on a vintage residential feel similar to a classic parlor or New York townhouse.
Rob Kachelriess
has been writing about Las Vegas in Thrillist for more than nine years. His work has also appeared in
Travel + Leisure
,
Trivago Magazine
,
Sophisticated Living
,
Modern Luxury
,
Leafly
,
Las Vegas Magazine
, and other publications. He's covering the tip. Follow him on Twitter
@rkachelriess
.